The Mayor and the Mystery Man (Single Dads Club #2), A.J. Truman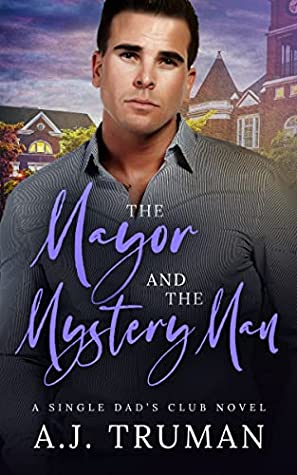 Rating: 4.5 Stars
Publisher: Truman Books
Genre: Gay Romance
Tags: Contemporary, Fake Boyfriend, Friends-to-Lovers, Humor, Local Politics, OFY, Opposites Attract, Romance, Series
Length: 274 Pages
Reviewer: Cindi
Purchase At: Amazon
Blurb –
An MM Fake Relationship, Friends to Lovers Romance
To win this election, I should be trying to kiss babies, not my best friend!
My chances of reelection have gone from slam dunk to nose dive.
What happened? A former hookup sold me out to the press, complete with screenshots. In my defense, between being mayor and parenting twins (double the puberty!), I have zero room for relationships that go beyond one night.
My campaign manager says I need to change the narrative, aka get a boyfriend ASAP to make me seem more (ugh) likeable. The only person I trust with this ruse is my charming best friend Dusty.
Despite living 3,000 miles apart, thanks to endless text chains and 2 a.m. phone calls, we've been the constant in each other's lives, navigating through single dad fails (me) and breakups with cruel ex-girlfriends (all him).
Each day we spend as fake boyfriends feels more real, which is odd because Dusty is straight.
And yet our playful banter is shifting from friendly to flirty.
And he doesn't stop holding my hand when the crowds leave.
And was he always this attractive?
With reporters sniffing for the truth, exploring these feelings could mean the implosion of my political career and our friendship.
The Mayor and the Mystery Man is book 2 in the Single Dads Club series, but can be read as a standalone. Join Leo and Dusty as they stumble toward their happily ever after!
Review –
I normally avoid books that have even the slightest hint of politics. I read to escape all that, not get drawn into a fictional world about it. Even so, I knew I'd be reading The Mayor and the Mystery Man after reading The Falcon and the Foe, book 1 in the series. While that one was enemies-to-lovers, the second book is friends-to-lovers.
Leo is in trouble. The mayor of Sourwood for the past eight years, he thought he'd be a shoe-in to win the next election. Apparently, that's not the case at all, especially when one of his former hookups he met on an app decides to publish an article about Leo, including sexy photos of the fine mayor. The article's b.s. – the guy who wrote it was a one-time thing and nothing more – but it does its damage. A city councilwoman is running against him and uses the hell out of that to get ahead of Leo in the polls. His friend and campaign manager has an idea – find somebody to be in a fake relationship with, just until after the election. He knows right off who he'll be asking – his best friend of 24 years, Dusty.
As mayor of Sourwood, I'd spent the past eight years dedicating my life to serving our community, making this town I've called home my entire life a wonderful place to live. But none of that will matter because any minute, my constituents were going to see my dick.
Dusty lives in California. He's just been dumped, lost his job, and basically became homeless. When Leo calls asking him if he'd be willing to pretend to be his boyfriend for a while, Dusty jumps on it. One, he'd do anything in the world for Leo. Two, he's just been dumped, lost his job, and basically became homeless. 😉
When Dusty arrives in Sourwood, the little ruse works perfectly – maybe too perfectly. Leo has always had a crush on his 'straight' best friend, so when said 'straight' best friend suggests they kiss a little here and there – you know, to make their relationship look real – Leo's all over it. Well, apparently so is Dusty who's enjoying kissing his best friend a little too much. It's not that he never noticed Leo was a good looking man. He always saw that. It's just that suddenly he's wanting more of those kisses, maybe a few touches here and there, and if he gets turned on (and does something about it) when he looks at Leo's sexy pics in the article that started all this, nobody has to know.
Only it's kind of hard for certain things to go unnoticed. *snort*
Vernita said every time I kissed him, his numbers went up. Something of mine went up, too.
The campaign has kicked into high gear, with the woman on the other side playing a little dirty. The reader doesn't know exactly how dirty until long into the book, but she's definitely not somebody you want leading your city. As the campaign heats up, so does Dusty and Leo's relationship. After Dusty basically saves Leo's butt after his opponent kicks things up a notch, one celebratory kiss turns into a WHOLE lot more and they end up sleeping together.
We were well past the nice kisses. This was hardcore making out with an end goal. I wanted Leo inside me. I wanted him on top of me. Nobody tell Scarlet O'Hara, but I had a feeling my heterosexuality was gone with the wind.
That was hot as hell.
I was today years-old when I took a dick in my mouth.
~
The only poll I cared about was the one he was going to impale me with.
They try to go back to where they were with their friendship but neither one really wants to. Thankfully, the 'will we do it again?' or 'will we not do it again?' doesn't drag on for long and before they realize it, their fake relationship has turned into a real one.
Twenty-four hours ago, I was mostly straight. But after two vigorous rounds of lovemaking, I was a big ole question mark – and a fan of anal sex.
~
For a guy who spent forty years not sucking dick, judging by the moans coming from above, I'd say I had a natural gift. But who was bragging?
But the bitchy opponent isn't done. I mentioned her playing dirty, but nothing could prepare Leo for what she does just a few days before the election.
I don't want to give it away so I won't say more than that about the actual story.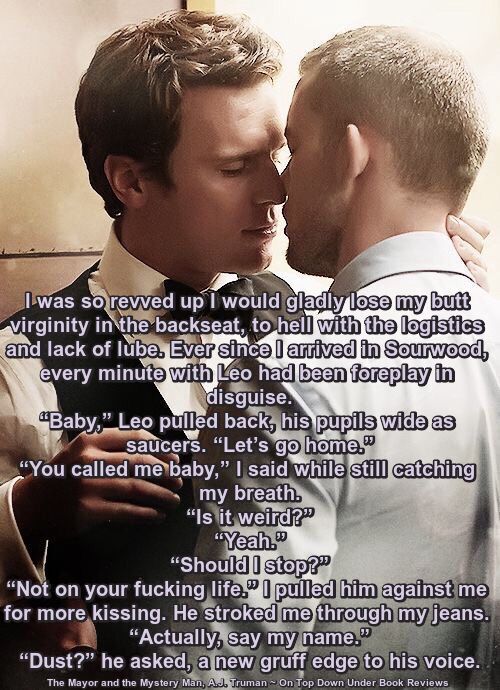 This is the ultimate friends-to-lovers story. The reader is able to feel how much Leo and Dusty love each other, both as friends and more. We can also feel the friendship from the others in the Single Dads Club – Mitch (whose story is next) and Cal and Russ. There's also the sense of community one gets from a small town. You're able to see who stands behind Leo and who doesn't. There are also Leo's twins who are pretty amazing. I wasn't overly thrilled with Leo early on when he openly compared the two because they had different interests that their father didn't understand. Dusty did, but Dusty was the favorite uncle of sorts. Even so, Leo gets his act together in that regard pretty quickly so it's all good.
I loved seeing Cal and Russ again. Cal is still the unorganized mess and Russ is still the anal-retentive 'if you're not ten minutes early, you're late' Russ we both hated and loved in The Falcon and the Foe.
There's humor, which I love. There's just enough to keep the story from dragging during the political parts, but not so much it gets annoying. Leo and Dusty are really as different as night and day, but they work and they work well.
I can't wait to read Mitch's book, The Barkeep and the Bro, though I admit I'm a little hesitant with Mitch's love interest being his daughter's ex. Even so, I have no doubt it'll be just as good as the first two.
A really good book.