Guarded (Guardian Angels Security #1), Sean Ashcroft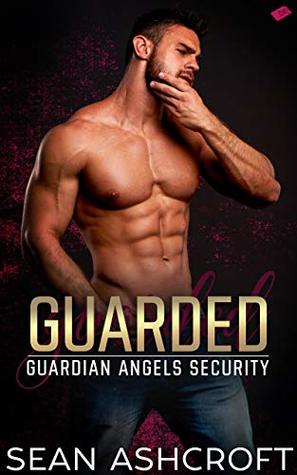 Rating: 4 Stars
Publisher: Sean Ashcroft
Genre: Gay Romance
Tags: Contemporary, Mystery, Romance, Series
Reviewer: Cindi
Purchase At: Amazon.com
Blurb –
Hooking up with a hot bodyguard? Sounds awesome. Until you actually need one…
Miles: All I could think as I answered the door to my hotel room was jackpot.
Gray turned out to be a fun hookup—and a professional bodyguard, which was hotter than I ever would have admitted.
Then I suddenly needed one, and, well… who else was I going to hire? I didn't think it was anything serious at first, but now my life is being turned upside down and I'm just as scared as I was when I was a kid. Gray's more than just easy on the eyes—he's safe. He makes me feel safe.
I know I can't keep him when all this is over, I know he'd never want a skinny rich kid for a boyfriend, but it's hard not to dream…
Gray: I'd given him my business card, hadn't I?
Miles had been cute and fun when I first hooked up with him, and I'd been hoping for a call. What I hadn't expected was for the call to end in a job offer, instead of another round in a hotel room.
But Miles really does need my help, and I need a new client to stop my fledgling security business going under. It's a match made in heaven, right?
Or it would be if I didn't want to wrap him up in a blanket and kiss him to sleep.
Guarded is a full-length, complete gay romance with a HEA ending, and the first book in the Guardian Angels Security series—wait until you meet the rest of the boys! It contains: a hotel room hookup, a self-defense dress shoe, a rainbow bookshelf, two jars of cookie butter, steamy sex scenes, a not-quite-mustache-twirling villain, and true love conquering all.
Review –
It all starts with a blowjob.
Really, it does.
All I could think as I answered the door to my hotel room was jackpot.
The guy Miles matched up with on a hookup app is at the door of his hotel room. He's blown away by how hot the man is. Miles wastes no time before he's on his knees. When it's over, he makes it clear he's not interested in going another round. That's not Miles. It's always one and done. He has his reasons for it – reasons that come out in the book
I'd started out my evening wanting to suck a cock, and there was a hot, willing man in my hotel room right now. Why the hell should I pretend to be coy, or shy, or like I didn't know exactly what I wanted and wasn't going to reach out and take it?
Gray, the receiver of said blowjob, would love to stay the night but the other man makes it clear that won't be happening. Just in case he changes his mind about seeing him again, he leaves his business card, doubting Miles will ever contact him again.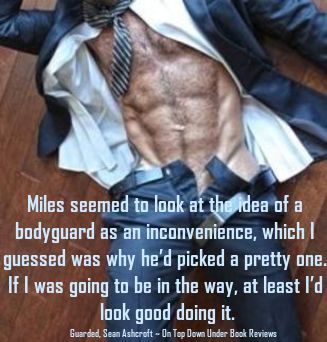 Miles is the wealthy heir to a medical research company that's been around for decades. He's anything but what you'd expect for somebody who's been given everything his entire life. He's anything but typical. He works hard for the company, even heading up his own projects. When there are two break-ins – one being his car and the other being his office – his father insists he hire a bodyguard. Miles doesn't believe that he himself is in danger as the only things taken in the break-ins were files of reports that would be made public at some point anyway. His father insists, but Miles knows nothing about how to hire a bodyguard or personal security. But then he remembers the business card given to him by his most recent hookup. He has his assistant call Gray and set up an appointment.
Yes, he hired a bodyguard based on a business card and the fact that the man was nice to look at. Whatever works, right? 😉
"And you called someone you hooked up with over the weekend, because…?"
"Because I don't personally know any other bodyguards and you're not exactly offensive company. And I like the way you look."
Miles thinks his father is overreacting so he doesn't exactly put a whole lot of research into who he hires. His assistant makes it clear – to both Miles and Gray – how she feels about it, but Miles is the boss so she mostly keeps her opinions to herself.
When Gray, the owner of Guardian Angels Security, arrives for his appointment he's shocked, to say the least, when he sees Miles. He's done nothing but think about the man since he was basically shoved out of his hotel room a few days before. As much as Gray would love to pick up where they left off at the hotel, he knows he can't. His business is new and in desperate need of clients, even if he has to fight to keep his hands off this particular one. Miles has the same problem, though he fights it. He's never had anybody hang around because he's convinced they think he's needy and weak. He's not, but he has his reasons for feeling like that.
For Gray to be a bodyguard, he didn't do a whole lot of guarding, but that was Miles' fault. I've always been under the impression that when somebody hires one the bodyguard is always nearby to ensure the safety of his client. Miles didn't allow that, which had me thinking, "Why even bother hiring the guy?"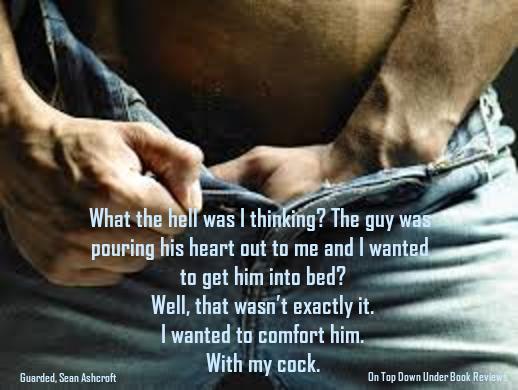 But then things started heating up and I'm not referring to just between Miles and Gray. Miles' apartment gets broken into while he's sleeping in the next room, and later, there are random knocks on his door, and even someone trying to open the door while Miles is on the other side. During these instances, he's forced to contact Gray, who's all too eager to protect the man he's quickly starting to care for. Miles tries his damnedest to not let Gray see how much he needs him, and not just to protect him. They eventually do allow themselves to play a little, though Miles is constantly doubting himself and Gray. Gray gives him no reason to but he can't help it.
Just when you think they've gotten it together, and are actually going to be a real couple, the truth of who's been doing the break-ins and the reasoning behind it comes out. Miles has an epic meltdown, which was understandable. A project he's worked on for years has been put in jeopardy. On top of that, he's angry and hurt over how Gray went about finding out the truth. I could understand it to an extent, but he was a bit irrational. Thankfully, he knew he'd been irrational almost immediately after his outburst. Even so, he feels like the ones he loves have abandoned him when he needs them most. They didn't, but Miles isn't exactly thinking straight at the moment. And history has proven that people don't hang around when he needs them most. Gray has done nothing to imply that he's anything but sincere, but there were others in his life who'd also claimed to care right before they walked out of his life.
It takes something pretty huge for him to finally throw away his pride and contact Gray again.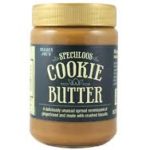 After feeling sorry for himself, and believing he's thrown away the best thing that's ever happened to him, Gray's close friend and business partner (Fox) pushes him to go after who he loves. It just happens to be when Miles needs him the most.
I loved Fox in this book. His story is next.
The bad guy (s) in this book are kind of in your face right off. This isn't one of those stories where you think, "No way, that's too obvious." The reasons for it are not that obvious, though you may have suspicions.
I enjoyed this. I especially like how it started in Miles' hotel room. The reader can see that both men want more, even after just one encounter. For Miles, a wealthy heir who could hire anybody he wants to protect him, to hire Gray just because he's nice to look at? Yeah, that wasn't the smartest thing in the world, but it worked out, and I thought it was funny. These two guys are perfect for each other, even if I did roll my eyes a few times at Miles for not seeing what – who – was right in front of him. Gray is one of those characters you can't help but love. Miles had me shaking my head a little, but I liked him a lot, too. Nice story.