Ranch Daddy, Silvia Violet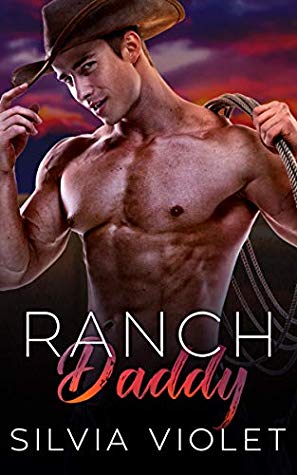 Rating: 4 Stars
Publisher: Silvia Violet
Genre: Gay Romance
Tags: Contemporary, Age Gap, BDSM/Daddy Kink, Romance
Reviewer: Cindi
Purchase At: Amazon.com
Blurb –
Riley needs a Daddy who believes in him.
My life is a mess. I've become the loser my father expected me to be, and now I'm stuck on his ranch. The only good thing in this scenario is the foreman, Blake. I never thought a hot, older man like him would notice me, yet he sees the hidden part of me that longs for someone to care.
I wasn't sure I wanted a Daddy, but I love the way Blake takes care of me, challenges me, pushes me to be my best self. I want to make him proud. I want to keep him, even though we seem to belong in different worlds.
For far too long, I've let life come at me, believing myself powerless to fight for what I want. Maybe now I can use the strength Blake believes I have to give us a future together.
Review –
This is a nice story with a bit of Daddy kink and spanking.
Riley, twenty-one, has just failed out of another college. His father has summoned him back to the family ranch and he's told he'll be working there until he (the dad) can figure out what to do with him. Riley's dad is a horrible person and has always treated Riley and everybody else bad. He's demeaning, condescending, and finds pleasure in making others look bad in from of people. He doesn't bother to ask his son why he's having problems in school. All he cares about are appearances and Riley falling in line with whatever his father's expectations are. A bit of a rebel, and as a bit of an eff you to his dad, Riley's taken pleasure in acting like the spoiled brat people seem to think he is. But there's a lot more to Riley than most know. Now he's back home and he has to learn how to work the ranch with the ranch foreman whether he wants to or not. Not just that. The foreman – that would be thirty-eight-year-old Blake – has to give Riley's father daily progress reports. Blake knows all about how Riley's father is so he refuses to throw Riley under the bus to look good for his boss. He's been working for the man for a long time, even having watched Riley grow up.
Blake and Riley haven't seen each other in the four years since Riley left for college. When he does see him? Let's just say that young Riley has grown up nicely. 😉 Working with him, however, isn't something Blake's eager to do. If Riley's father is to believed, Riley's a spoiled brat who's going to fail at everything right off. It's like the old man wants him to fail. Thankfully, Blake sees something in the much younger man that others don't. Riley makes mistakes but Blake doesn't let him give up. He's hard on himself but Blake is there to encouragement him. His dad has treated him so bad for so long that he feels he's not good for much, that he's useless.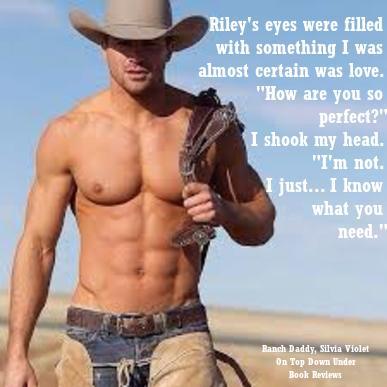 Blake and Riley want each other right off. Blake tries to be hold back but that doesn't last long. Riley needs a Daddy, someone who will take care of him. Blake has a desperate need to be the one doing it. Not much time passes before they're giving in. During the day they work hard. In the evenings, they're all about each other, with Riley easily falling into the role of Blake's boy. They know they have to be discreet. If even a hint of them being together gets back to Riley's father Blake will lose his job and Riley will be shipped off somewhere far away from the ranch and Blake.
But then his father makes the decision to send him off somewhere anyway. Thankfully, Blake comes up with a compromise that he surprisingly goes along with. Riley has two months to learn everything there is to learn about running a ranch. It takes years to learn these things, so again, he's wanting him to fail. If his father is satisfied that he's learned enough when the time's up, he'll release half of Riley's trust fund to him and he can leave. He doesn't really expect Riley to succeed. Like I said, he doesn't want him to. But Riley has Blake, who will do everything he can to keep his boy nearby and to prove to the old man that Riley's better than he thinks he is.
All good things must come to an end, so of course, the truth about them comes out. When it did, it broke my heart for both Riley and Blake. But then there's a medical emergency that forces Riley to use everything he's learned over the past few months whether he's ready or not. He has to do this without Blake by his side.
The sex in this story was pretty hot, but I don't think I've read a Silvia Violet book where it wasn't. Blake is the perfect Daddy and Riley is a good boy. They both fall pretty hard pretty fast, even believing their time together is limited.
Things are eventually resolved nicely. I thought it was sweet the way it happened. I loved these guys together and was happy to see them get the perfect happily ever after.
Another really good book by Silvia Violet.