The Swap Masquerade, Annabella Michaels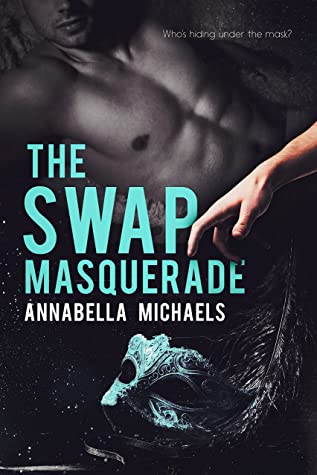 Rating: 2.5 Stars
Publisher: Annabella Michaels
Genre: Gay Romance
Tags: Contemporary, Age Gap (12 Years), Professor and Student, Romance, Virgin
Length: 219 Pages
Reviewer: Cindi
Purchase At: Amazon
*This review has spoilers.*
Blurb –
"A night of passion and pleasure awaits you. No names, no faces, just the chance to live out your wildest fantasies. Leave your keys in the bowl and let fate decide who you'll end up with." After years of hiding his sexuality from his family and teammates, Elliott Stone is tired of living a lie. However, with only three months left until the baseball season is over and he graduates from college, he's determined to keep his secret for a little bit longer. But the words written on a party invitation offer another option. One that might allow him to finally explore what it's like to be with another man. Gavin Holt loves being a college professor, but living and working in a small, conservative town makes discretion essential when it comes to his sexuality. That's why he likes going to Swap Masquerades. Hiding his identity under a mask is the only way he can truly feed all of his desires without anyone finding out. Behind a mask, is the one place they can both let their inhibitions go, but what happens if the person finally revealed is someone who's off limits?
Review –
I'm having a really hard time with this review. On one hand, I liked the book. On the other, I had some issues with it.
Elliott Stone is the star pitcher on his college baseball team. He's also deep in the closet. In three months, college will be over and he will finally – hopefully – be able to come out and live his life for him. Not his father. Not his team. Him.
Only Elliott's having a really hard time waiting. Sure, he's only 22, and has already waited this long, so what's another three months? To him, it's like waiting forever. Not that he expects things to go smooth when he graduates college. Who knows how his parents will react when he tells them he's gay? His dad's the main one he's concerned about, and with good reason.
Something had to give. The pressure had been building inside me with each passing day and I was no longer convinced I could make it another three months. I was tired of hiding who I was and what I wanted from everyone I cared about, but most importantly, I was tired of hiding from myself.
Gavin Holt is one of Elliott's new professors. Gavin's classes are always full, with more classes being added to his schedule each semester. His classes are popular because Professor Holt is hot, simple as that. Elliott had never seen him before his first day in his class so the man's looks had nothing to do with why he signed up for the class. That first look, though? Let's just say that Elliott has a really hard time in class.
Pun totally intended. *smirk*
Elliott is printing something in the library one day when he sees something stuck in the printer. He's surprised, and more than a little excited, when he sees that it's an invitation to a Swap Masquerade, a party for men only who can let their hair down for a few hours because each guest will be wearing a mask. To Elliott, the perfect opportunity for him to explore his sexuality privately has just been dropped in his lap.
Being gay in a convervative town and teaching at a conservative college doesn't make it easy for Gavin to date or even to hook up. The higher ups at the university know he's gay, but it's kind of a don't ask, don't tell thing. He'd long discovered the Swap Masquerade parties and has frequented quite a few. It's anonymous, everything goes, and there's no judgment. When he receives the latest invite in his email he knows he'll be going. What he doesn't expect is to have such a strong reaction to one of the many masked men at the party. Gavin's already playing with somebody,  but he doesn't stop what he's doing when he sees the man in the teal mask who doesn't take his eyes off Gavin. He doesn't stop having sex with the guy. If anything, having Mr. Teal Mask (best I could come up with) watching him has him having one of the best orgasms of his life. Of course, that had a lot to do with him grabbing the guy in the teal mask and pulling him in for one hell of a hot kiss right before he came. After the kiss ends the man rushes out and is gone before Gavin's even pulled out of the one he had sex with.
Of course, they both end up at the next Swap Masquerade party, each man only there hoping to find the other. They play around a little before deciding to meet next time at a hotel. They'll still keep their masks on, but they won't be around other people. And Gavin wants to meet him away from the parties for another reason. He doesn't want anybody else touching his new man who had never even kissed a guy until Gavin. There's something about his innocence that calls to him in a lot of ways, and not just sexually.
Elliott is blown away by the reaction he has to the man at the Swap Masquerade. He's even more blown away when they meet up in a hotel room and the man takes his virginity. It was so sweet because he'd taken his time, making sure Elliott's first time was perfect. The one thing not so perfect? When he wakes up alone. He's made to feel even worse about pretty much everything when texts to his mystery man go unanswered after they'd agreed to see each other again.
Then there's Professor Holt who's been acting, well, rude all of a sudden. Elliott and Gavin weren't just professor and student. They'd become friends working side by side at a Habitat for Humanity house – part of Elliott's assignment in his class – and Elliott had opened up to him in ways he never had with anybody else. Now all of a sudden Gavin's not showing up at the HFH house, and he's going out of his way to avoid Elliott.
And here's where the story took a nosedive.
Gavin was horribly rude. Elliott had no way of knowing Gavin and the mystery man were the same guy, though his not knowing was so unrealistic it was almost laughable.
So here's Elliott who has spent his whole life hiding who he really is. He finally opens up to his professor as a friend and a mystery man who's his first everything. He's living his true self, at least with the latter, only to be ignored? To be treated like the mystery guy had used him to get his jollies and then nothing?
Even better… I copied and pasted my notes from when I was reading it. I never do that – copy and paste my notes into my reviews, I mean – but below is my exact reaction when I read that part of the book.
Wow at the way Gavin handled things when he found out who Elliott was. The kid had poured his heart out, trusted him with his virginity, only to have him not just ignore his texts like a using bastard but to also throw away the friendship they'd had at school. What an absolute prick.
I get it. Gavin was terrified upon learning he'd had sex with a student. This could have immediately ended his career. But wasn't a conversation in order instead of just ghosting Elliott? When that conversation came, it was ELLIOTT who initiated it, not the so-called adult professor.
Elliott was 22, by the way, and Gavin was 34.
Let's just say it took longer for Elliott to realize his hot professor was also the man who'd taken his virginity.
Now to Elliott's family. His mother was amazing. Trey, his younger brother by 9 years, was more than amazing. Elliott's dad? Yeah, no. Elliott's baseball wasn't Elliott's dream. It was his father's dream. What went from having fun playing catch with his dad when he was a little boy turned into a chore that felt more like a job than anything else. He was good at baseball, had earned a full scholarship because of it, but going pro had never been Elliott's dream.
Talking baseball with my dad always left me feeling like a fraud and I was getting increasingly tired of it.
Not only was every single conversation with his dad taken up with nothing but baseball and Elliott's future in baseball, Trey was always left out by their dad, like Trey – who wasn't into sports at all – wasn't significant in the family like Elliott was. Thankfully, Elliott adored his little brother and made sure he was never left out, though their dad mostly forgot Trey was even in the room.
Then there are Gavin's best friends, Curtis and John, that I loved. I also really liked Adam, Elliott's long-time roommate.
Now to the main thing that bugged me about The Swap Masquerade…
Elliott and Gavin saw each other in class. They spent hours and hours together building a home for Habitat for Humanity. There's no way on this planet they wouldn't have at least recognized each other's voices. And as much as Elliott lusted over Professor Holt, he damn sure would've recognized his body, his build. Same with Gavin and Elliott, only more so because Elliott was around 6'3″ and muscular from his years in the gym and playing sports. When he was the mystery man, Gavin went on and on about Elliott's muscles. Had the author made Elliott around 5'11" or even 6′ with an average build, I could almost see it, but not 6'3″ and muscular.
One thing I did love was when Elliott had enough with his dad and finally stood up to him. Not just stood up to him about baseball and his dad's future plans for him, he also told him (and his mom and Trey) that he's gay. Mom and Trey handled it perfectly. The dad, not so much. He made good later but it wasn't enough.
Just like Gavin making good with Elliott after ghosting him wasn't enough.
And that right there is why I'm not rating the book any higher. Elliott had confided in both Gavin and the 'mystery man' only to have Gavin turn his back on him. I don't care that he was his professor. He could've spoken with him privately. Hell, they'd already been meeting up privately for sex, so why not have a conversation? He let him down. I couldn't get beyond that, nor could I get beyond the 'not even recognizing each other's voices' thing.
Gavin battled with himself so he wasn't unaffected during it all, but to me, it wasn't enough.
They do get their HEA, and there's a nice epilogue that takes place a little under a year later. I just felt that everything came together too quickly for my liking. I remember looking down at my Kindle to see I was at 90% of the book and thinking there was no way the author would resolve everything to my satisfaction in the last 10%. It turns out I was correct.
Nice premise. It worked for me, but not enough. Had it been maybe a little more realistic, and had Gavin not hurt Elliott by ignoring him, I would've definitely enjoyed it more.