Grounded (Guardian Angels Security #4), Sean Ashcroft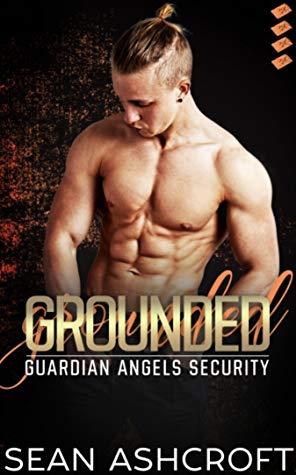 Rating: 4 Stars
Publisher: Sean Ashcroft
Genre: Gay Romance
Tags: Contemporary, Age Gap, Romance, Series
Reviewer: Cindi
Blurb –
—This short novella is book #4 in the Guardian Angels series, with all the other boys in the picture. You could read it first if you wanted, but it'll be more fun if you read in order.—
Newly married for the sake of his immigration status, Lucas heads to help out his new husband–Doc, the army doctor he's always had a ridiculous little crush on–with Thanksgiving preparations for the whole Guardian Angels family. Sparks fly from the moment he arrives and soon enough, he's falling into bed with his own meant-to-be-fake husband.
Both men have their share of rough edges, but there's solace between the sheets and a chance to be each other's home…
… as long as they're both brave enough to take it.
Review –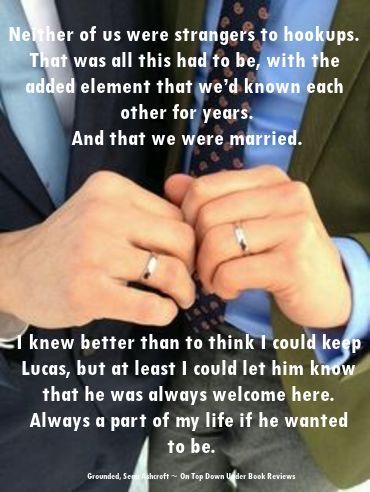 This is the final book in the Guardian Angels Security series and tells Lucas and Doc's story. Lucas has been in the other books a little, though a lot wasn't said about him. Doc has been mentioned a lot, but he was never on-page. It was mostly understood that Doc was a little older than the others and he'd patched them up when they were all in the military. He's like family.
The book starts with Lucas and Doc getting married. It's not a love relationship (yet). It's done to keep Lucas in the country and Doc is all too willing to make sure it happens. Legally, he should already be an American citizen, but lost paperwork and government bureaucracy has held up his citizenship. They go their separate ways as planned, but they keep in touch just as they (and the others) always have. Lucas has always been considered the baby of the group at twenty-eight. Doc, being forty-one, is the oldest. He's like the unofficial father figure.
Unlike the other books, Grounded doesn't show anyone on an assignment. It's Thanksgiving and all the guys and their significant others are traveling to Doc's – a large cabin basically in the middle of nowhere – for the holiday. Lucas arrives a day early to help Doc prepare. There's a bit of snuggling – Lucas is a big snuggler – that leads to a bit of naked play time later. They'd never done anything together before but they're both totally up for it (in more ways than one… snort). With extra guests coming (Lucas' sister and her girlfriend) Lucas and Doc have to share the master bedroom, which is perfect now that they're discovering each other in ways they never had before. And nobody thinks anything about them sharing a room because they've all at some point been in close quarters together.
Lucas has always had a crush on Doc. Doc has always seen Lucas as attractive, but he never thought he'd have a chance with him. It wasn't even something he'd considered.
When everybody else arrives – Gray and Miles, Fox and Quinn, Logan and Ashley, and Lucas' sister and her girlfriend – things don't slow down in the bedroom between Doc and Lucas, though they do keep it quiet from the others. Doc knows that the rest of the guys would never let Lucas live it down if they even suspected that he and Doc were hooking up. Of course, it's all too easy to figure out by the way they look at each other and act around each other.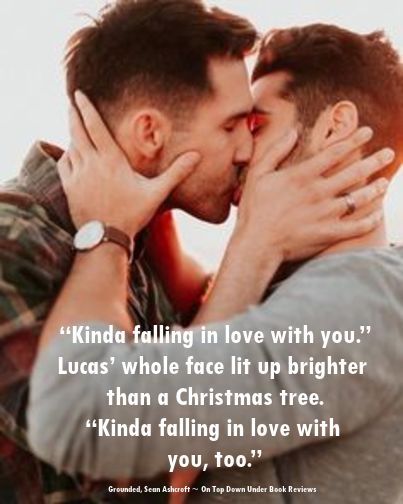 I loved seeing the others, especially Miles, Quinn, and Ashley. You can't not love Ashley. Seriously. He's blunt, funny, and a big flirt. Oh, he's all about his man Logan, but he does like to play around with the others (just not that way). I could've easily filled this review with nothing but Ashley quotes but it's not his story.
When the holiday is over, it's time for everybody to leave and head back either to work or to visit other family members. When it's only Lucas left at Doc's, decisions have to be made about what will be happening between them.
That's all I'll say about that. I don't want to tell the entire story.
I enjoyed this. Like I said, I loved seeing the others. I really liked Lucas and Doc together. I only had one problem with the story. While it wasn't a huge issue, it was still there. It was mentioned in the very first book, Guarded, that Doc and Gray had almost gotten together years before, had even kissed once, I think? Okay, no big deal. Logan had had a crush on Fox too before he'd even realized he was bi, but it didn't go anywhere. My issue here is that I felt that there was too much 'Gray and Doc almost got together' mentioned. Everybody basically walked on eggshells around Gray about Lucas and Doc. Uh, why? He's happy with Miles. I know there's no 'thing' between him and Doc now, so why keep on about it? I love Gray. Until Logan and Ashley he was my favorite character in the series. He's still a favorite – it wasn't his fault people couldn't let things go about him and Doc – but it was still a bit much.
Overall, a nice ending to a nice series. With the exception of a couple of minor things, I'm finding myself really enjoying this author's books. I'm eager to read more.
Note that this book is not available on Amazon like the others are. It's a freebie by the author. While it could maybe be read as a standalone, I don't recommend it. I don't think I would've enjoyed it as much had I not already known the other guys and their stories.