Christmas on Firefly Hill, Garrett Leigh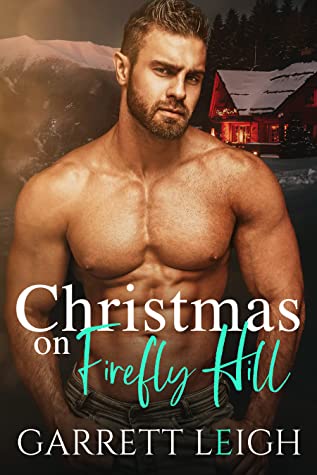 Rating: 5 Stars
Publisher: Fox Love Press
Genre:  Gay Romance
Tags: Christmas Theme
Length: 206 Pages
Reviewer: Kazza
Purchase At: amazon
Blurb:
The single dad and the rootless vagabond. Expect: a shy, hunky firefighter and an ethereal dancer down on his luck. A sizzling contemporary MM age-gap holiday romance. Mild hurt-comfort, found family, and friends-to-lovers galore.
Firefighter Logan Halliwell doesn't have much time for romance. A relentless work-life-balance and an expensive divorce have sucked the festive cheer from his days. All he wants is to be a good dad. A fun dad. Especially at Christmas.
He doesn't know how lonely he is until he meets Remy Collins, a gorgeous fire dancer at a sultry summer festival.
Their instant connection blows his mind, but their fleeting encounter is over before Logan can catch his breath. One kiss and they're strangers again. That wicked brush of lips nothing but a dream.
Long months pass. Then fate brings them together again at the summit of Firefly Hill, and absence has only strengthened the current thrumming between them. The heat. The precious chance of true happiness they both so desperately need.
Only fear stands in their way.
And Logan's dangerous job.
It takes a tough lesson and a dose of winter magic to learn that loving each other means Christmas all year round.
Christmas On Firefly Hill is an MM holiday romance, featuring a burly single dad firefighter, and a vagabond dancer/jewellery maker. Delivering a guaranteed HEA, all the Christmas feels, and a hefty dose of British snark.
Review:
The blurb of Christmas on Firefly Hill really says it all and there are already more than a few reviews on Goodreads, amazon, etc. Just my thoughts and some quotes are below.
The writing is ethereal. Otherworldly. Remy glides. It seems like he moves from one place to another fluidly and stealthily so as to leave as small a footprint as possible. He is almost magical but this isn't a fantasy story. Logan is the sort of attachment figure of bigger, wiser, stronger, kind. It works. They just slot together like some couples you meet or see who seem to have rekindled their love in different lifetimes. It's like they just sense one another and then grow into what they were – are – so easily and readily yet again.
The name Remy gave to Logan – Papa – felt natural and was used effectively from the first time Remy called Logan by that moniker. It's because he has children. It's because it is evident that he loves his twin boys, that he gives himself to them tirelessly, something the wandering Remy hasn't known. It's because Logan is responsible in a lot of aspects of his life. From parent to firefighter to man.
Two cute faces stare back. Two identical faces, and it dawns on me that not only is Logan the sweetest kiss I've ever had, he's also the daddy bear from the park this morning.
***
"You're right," he says when he calms down. "You're never boring, Papa."
It confounds me that I like that nickname. That he even has one for me when we've been reacquainted such a short time.
I loved how fleeting but memorable the first connection Logan the fire marshal and Remy the poi twirling fire dancer had. A whisper of a kiss… then gone. Through sheer necessity and expedient means Remy ends up renting a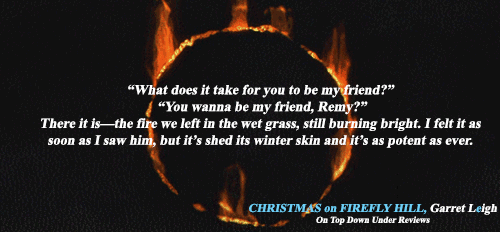 shed he can use his unique skillset in to see him though the winter – he makes things out of copper pennies. He very much needs somewhere to be warm(er) and so he can get by and work. Wonderfully, for him, them, and us, it just so happens that the nephew of the shed owner is Logan and the two men who have been thinking about each other since that kiss at Greenfest meet again, and they have a name to a face, to a kiss. It's sweet, sweet serendipity and I got right behind it. Logan lives below Firefly Hill, where the shed is. Of course it is. Of course it is set around Christmas, the title gives you that. And, of course, there's serendipity. So, of course their connection grows into love. Sometimes these kind of 'of courses' can lead to plenty of eyerolling. In this case, all the 'of courses' make this the addictively heartfelt, beautifully romantic story that it is.
Every time Firefly Hill got a mention it gave me a nice feeling. The name was whimsical perfection, which suits this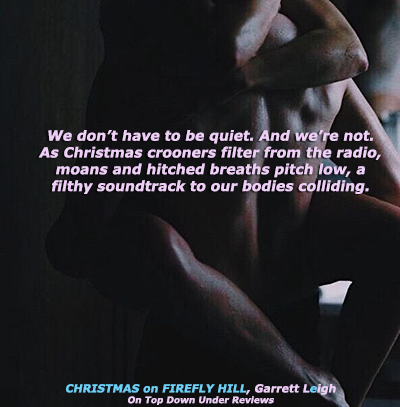 story and this pair. I found myself humming Salisbury Hill.
Christmas on Firefly Hill is deliciously sexy, but not over the top. For me it's the goldilocks of sex to story ratio. There is insta-attraction then a slowish burn to the incendiary parts below the surface.
Overview: 
If you are like me and can only stand limited Christmas cheer in your reading. If you like to be selective in general, and I sure try to be, if you want a memorable experience, with characters who draw you in and give you a contemporary but magical experience, then Christmas on Firefly Hill is absolutely a must read. It's gorgeous reading from the first word until the very last. 5 Stars!