Jilted: Jaren (The Foster Brothers #1), Nora Phoenix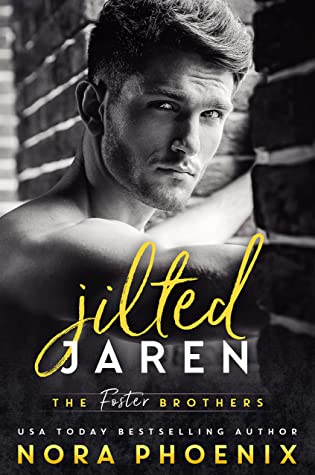 Rating: 3.5 Stars
Publisher: Nora Phoenix
Genre: Gay Romance
Tags: Contemporary, Friends-to-Lovers, OFY, Romance, Series
Length: 386 Pages
Reviewer: Cindi
Purchase At: Amazon
Blurb –
Years of pining.
Years of keeping his distance.
Years of lusting after Jaren, the one man Reid couldn't have.
Because Jaren is straight.
Worse, he's engaged to Reid's sister. In other words: he's off limits. Impossible.
But a day before the wedding, she calls it off, leaving Jaren with nowhere to go.
So what's a man to do? Well, offer Jaren a place to stay, of course.
A shoulder to cry on.
A bed to sleep in.
And maybe someone to share that bed with?
Jilted is the first book in The Foster Brother series, a contemporary MM romance series about four men who chose to be brothers. It has hurt/comfort, found family, bisexual awakening, first time gay, and a guy who finally realizes that what he wanted most was right in front of him the whole time.
Review –
This book starts with the introduction of Jaren twenty years before in Chicago. He's just been placed in a group home after an incident with his mother. It's there where he meets Nordin, a boy he would grow to love like a brother. Later came Hadley and Lagan, but Nordin was Jaren's original protector in a system that didn't do enough for foster children.
Now it's the here and now and Jaren is twenty-four hours away from marrying Bridget, the woman he's been with for four years. He's in a fancy hotel room with his brothers trying on his tux. He's happy. All that happiness disappears when there's a knock on the door. When he opens it, he sees Reid, Bridget's brother. Reid's not there with good news. Bridget has called off the wedding and was too much of a cowardly bitch to tell Jaren herself. As Reid put it, he drew the short straw, so to speak. In an instant, all Jaren's well-laid plans go up in smoke – his future marriage, his career – he works for Bridget's father – his everything. He even sold his condo and used the funds from the sale to help pay for the lavish wedding that Bridget insisted on having. You know, the wedding she cancelled and was too much of a coward to speak with Jaren about herself.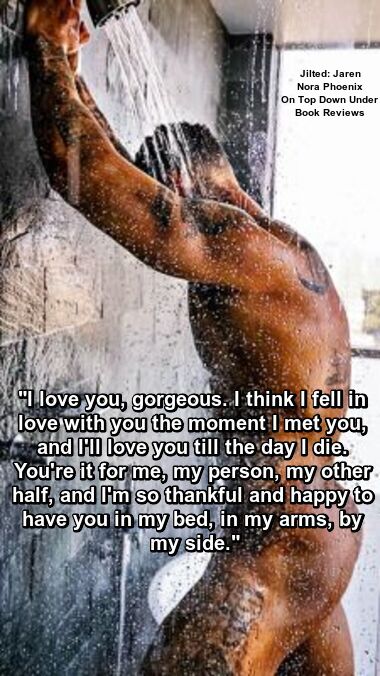 Bridget and Reid come from a very wealthy family. Bridget is a snob who doesn't get why in the world Jaren would expect to be reimbursed the 40+ grand he personally put into the wedding. She has zero idea what it's like for somebody who has to work hard for what they have, nor does she care. All she cares about is walking away from the four year relationship and engagement. She doesn't even care that he's being fired from his job, and that he literally has nowhere to live.
So here's Jaren with no job, no money, and no home. He temporarily moves in with Hadley and Lagan in their tiny apartment. That changes when Reid offers to allow him to stay with him. Of course, Jaren thinks that's odd considering that Bridget's brother had always come across as rude to him, like he just didn't like Jaren. It wasn't that at all. Reid had met Jaren, basically fallen for him, and couldn't be around him because he was engaged to his sister.
Jaren agrees to move into Reid's loft apartment temporarily. It takes no time at all before Jaren learns that Reid is nothing AT ALL like his sister. He owns a tattoo shop. He didn't go the route his father wanted him to go professionally. He's also compassionate, unlike his sister. His offering to allow Jaren to stay with him until he could get on his feet was done to help Jaren out, sure, but it was also done for selfish reasons. He's had a crush of sorts on Jaren for a couple of years, though he would say it was much more than a crush.
After that, not a whole lot happens other than them becoming good friends and Reid eventually confessing his feelings to Jaren. Jaren may have always identified as straight, but it's kind of obvious he's not. Even Bridget (later) said she knew he wasn't. The whole book is basically Reid pining for Jaren, Jaren starting to see Reid a little differently, and Jaren coming to terms with the real reasons why he and Bridget didn't work out. He was always on with Bridget. He was the perfect boyfriend. He never argued or caused drama. He went with the flow, even spending entirely too much money spoiling Bridget with material things simply because that's what she wanted. He never told her about his childhood or what he and his brothers went through. She really didn't know him at all. But strangely, he's comfortable sharing those things with Reid.
Reid doesn't keep it a secret that he wants a relationship with Jaren, even if he was engaged to his sister. Jaren eventually realizes he cares about Reid, can be himself with him, and they start something together, though it tended to drag on quite a bit before it got to the end.
I liked both Jaren and Reid. I loved Nordin, Hadley, and Lagan, though I would've preferred to see more of them. I know they get their stories later, but I would have liked to have seen a little more of them here. I'm especially curious about Nordin.
While I liked Reid and Jaren together, in the back of my mind throughout the entire book I kept going back to Bridget.
Jaren was engaged to Reid's sister, and came within twenty-four hours of marrying her.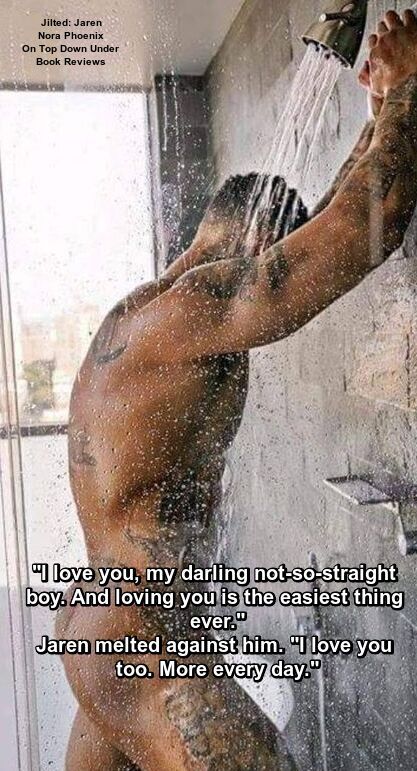 I had a hard time getting past that. I also had a hard time understanding how Reid could fall for Jaren after one quick meeting a couple of years before. And it should be noted that while Jaren realized a few weeks after the wedding was called off that it was the right decision, he'd also happily planned to marry Bridget – and would have married Bridget – had she not gotten cold feet and ended the engagement. I also couldn't get how things were resolved with Bridget and even her and Reid's parents. Nothing could have had me liking her, and I don't think it's very realistic that she and her parents accepted Jaren with Reid after he'd been with her for so long.
Jaren's childhood is discussed, though I would've liked to have seen more. I'm not usually one for flashbacks in books – I'm usually the first one to say I hate them – but I think they would've been necessary here.
In a sense, I also felt bad for Reid, even if I felt that he was a little too quick on sharing his feelings with Jaren, though Jaren did not reciprocate until WAY too long into it. Even so, they have their happily-ever-after. I just think it dragged on too long before they got there.
I'm a big fan of Nora Phoenix. The Perfect Hands series will always be a favorite. Unfortunately, I just couldn't have that same kind of love for Jilted: Jaren. Maybe it needed a little drama, a little more angst. Everything just came together too neatly, too easily. I had a hard time with that, especially considering how Reid and Jaren ended up getting together.