Loathed: Lagan (The Foster Brothers, #3), Nora Phoenix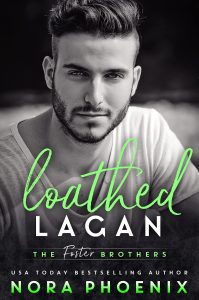 Rating: 4.5 Stars
Publisher: Nora Phoenix
Genre: Gay Romance
Tags: Contemporary, Age Gap (15 Years), Enemies-To-Lovers, Professor/Student, Romance, Series
Length: 360 Pages
Reviewer: Cindi
Purchase At: Amazon
Blurb –
When mutual hate turns into something else entirely…
Lagan absolutely despises his law professor, Killian Evans. He's an arrogant, snobby know-it-all who looks down on anyone who's not up to his standards.
If only he wasn't so damn hot.
If only he didn't make Lagan want an entirely different lesson from him…
Killian absolutely despises his student, Lagan Foster. He's a lazy, flying-by-the seat-of-his-pants C+ student who barely can be bothered to pay attention in class.
If only he wasn't so damn hot.
If only Killian didn't want to teach him an entirely different lesson…
Loathed: Lagan is a steamy enemies to lovers MM romance that has insta hate mixed with a solid dose of insta lust, an age gap, found family, and two men who discover they're much more alike than they thought. It is the third book in The Foster Brother series, a contemporary MM romance series about four men who chose to be brothers that can be read as stand alones.
Review –
The only positives were Nordin, Hadley, and Jaren. They had met in the group home they'd all ended up in, and they'd become instant friends. They'd promised each other they'd stick together, each have each other's backs. Their families had all deserted them, so now they were each other's family. Brothers.
I've had horrible luck with books this year. I've had so many DNFs that I stopped marking them on Goodreads. Of all the books I've read, only a couple stood out. As I was grumbling about it to Kazza, she reminded me of how much I enjoy Nora Phoenix's books. I remembered how I didn't finish this series, so here I am.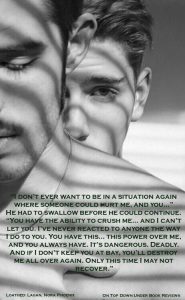 I'd already met Lagan in Jilted: Jaren and Hired: Hadley. There was also a prequel to the series, Marked: Myron. I liked Marked: Myron, thought Jilted: Jaren was okay, and I loved Hired: Hadley. We knew that Lagan hated his college professor. We learn why in Loathed: Lagan.
The title is fitting for his book because Lagan and Killian seriously despise each other. The book starts with two prologues. The first one is from fifteen years before, and the second one is nine years before. The first one shows Lagan as a child and somewhat explains why he went into the foster care system.
The second prologue introduces Killian.
Killian is Lagan's older (by fifteen years) law school professor who immediately took a dislike to Lagan on his first day in his class. Killian constantly snapped at him, lectured him for being lazy because his grades weren't perfect, and just treated him bad. Lagan couldn't figure out why the guy hated him so much, but the feelings became quite mutual as a result.
Why on earth someone would pay this much money for law school only to squander the opportunity was a mystery to Killian. So far, Lagan had only gotten mediocre grades, a B-minus being the highest. What was he even doing here?
What Lagan didn't know was that he and his professor had already actually kind of met, nine years before, and that's the main reason Killian hates his student so much. Unprofessional, but it is what it is.
"Do keep in mind that people in glass houses shouldn't throw stones, though. Before you lecture me on rejection, you might want to examine your own behavior a little closer.
I'm going to just go ahead and throw this out there… while I totally understand why Killian didn't like Lagan the first time they met, I could not picture Lagan doing what caused Killian to hate him so bad. That just seemed so out of character. The reader doesn't really know what it is until much later, but still. And it seemed a bit like overkill that he's held the grudge as long as he has for somebody he only spoke to briefly.
Lagan's life is crazy busy. He works a full time job as a paralegal in one of the biggest law firms in the state, he volunteers for Legal Aid, and he's trying to get through law school. He has no time for anything outside of work, studying, and Friday night dinners with his brothers (Jaren, Hadley, and Nordin). Not brothers by blood, but brothers just the same. Lagan has a car that's on its last legs, and is barely making enough money at his job to make ends meet. He only has a nice apartment because Hadley's man Sebastian insisted on buying one in a better neighborhood. Even then, Lagan refuses to accept charity so he pays rent like he did in his other apartment. The last thing Lagan needs is to deal with a mean professor who seems to hate him simply for breathing.
Then there's a charity bachelor auction for the Legal Aid office where there's a bit of a bidding war between Sebastian and Killian over Lagan, which makes zero sense at all. Sebastian bidding on him, yes. He does it as a favor. Killian bidding on him? Yeah, no.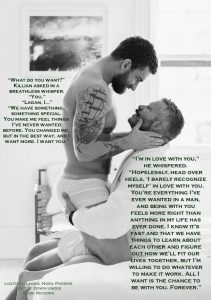 Everything changes when a family issue pops up from Lagan's past. Thankfully, Killian is there when the call comes in and he takes charge. Lagan knows he should contact his brothers who would drop everything to be there for him but he doesn't. He doesn't because he knows they'll come running when they're all out of town for different reasons. He also hates, as the youngest, always depending on them so much. Which was a bit strange considering that he was totally depending on Killian to take care of things.
I understood where Lagan was coming from, but he really should've told his brothers what was going on. They'd always been there for everything, good and bad, and he should've allowed them to be there.
Killian jumps in and handles flight and hotel reservations, along with other details that must be dealt with. This is when the reader sees a different side of the grumpy professor. It's also when the two men discover how sexually attracted they are to each other. I mean, they already knew, but now they're acting on it a little bit. Sharing a hotel room in Chicago means they can't exactly hide from each other, and it had already been established that while the hate was there, they were totally hot for each other. The reader also is allowed to see a softer side of Killian.
Something major happened in Killian's past that prevents him from getting too close to anybody. What he's starting to feel for Lagan is terrifying. He'd already been hurt once. He can't risk getting into something with Lagan to possibly have everything ripped out from under him again. Unfortunately, or maybe fortunately, after the few days with him in Chicago, neither man can just turn their feelings off, no matter how hard they try. The professor/student thing makes it a thousand times worse because they're seeing each other, but they can't act on what has now gone way beyond sexual attraction.
Even the smallest misstep with Lagan could cost him everything he'd built. His career, his reputation, everything.
Regardless of the pain of his past, Killian can't stop thinking about Lagan. And Lagan, who never saw himself in a relationship, is falling so hard for his formerly grumpy professor that seeing him each week in class is almost too much to bear.
Something happens in class one night, making it where neither man can deny it anymore.
I'm going to have to stop there or I'll be saying way too much.
I really liked Killian and Lagan together once they figured things out. The reader can just feel how much they love each other, though they fight it every step of the way.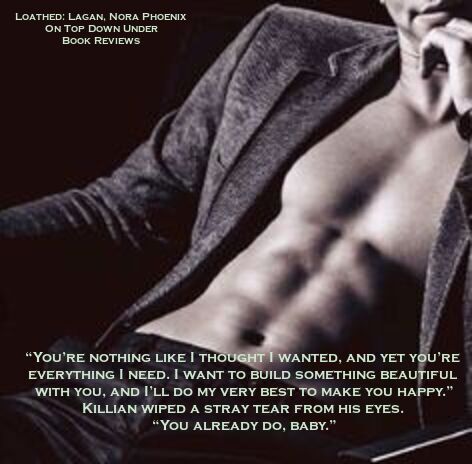 I loved seeing Jaren, Hadley, and Nordin again, especially Nordin because he's been my favorite since I started the series. His book is next, which I'll be jumping into after I finish this review. I'm really glad I waited to come back to the series until it was complete because certain things with Nordin are fresh in my mind right now.
I went back and forth on my rating for this book. Most of it would totally be an easy 5 stars, but there were a couple of things I couldn't get past, which is why I'm rating it 4.5.
Without giving too much away, the first thing that bugged me was Killian and Lagan's very first meeting nine years prior, as I mentioned above. Again, I just can't picture Lagan doing what he did. I know people can change, but this was something pretty cruel. The second thing that bugged me was something to do with the university when Killian decided to leave his teaching position. I needed to know what happened there because of the build up with everything that had happened in Killian's past. I thought it would be in the epilogue, but it was never mentioned again.
Overall, another really good book by Nora Phoenix.
A huge thanks to my amazing blog partner for pushing me back in the right direction.