The Unmasking of Kelly James (Tavern Boys, #1), Belle Chapin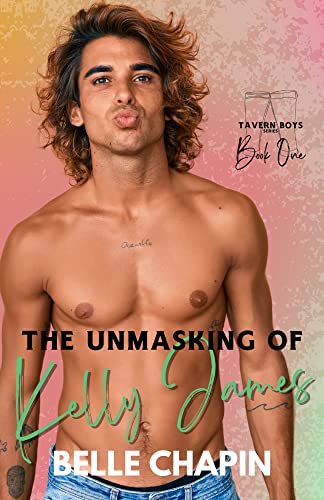 Rating: 5 'Coffee, black!' Stars
Publisher: Danvers Writing and Publishing
Genre: Gay Romance
Tags: Contemporary, Age Gap, Bi-Awakening (Explained in Review), Family, First Time, Humor, Opposites Attract, Romance, Series, Slow Burn
Length: 227 Pages
Reviewer: Cindi
Purchase At: Amazon
Blurb –
After college, I was on my way to my own happily ever after. But three years later, I'm back in town–jobless, homeless, and heartbroken. My life needs a restart–and my chance comes in the form of a grumpy widower with three charismatic daughters and a desperate need for a live-in nanny.
Jonah Thatcher is moody, sullen, and expects his house to be ruled with an iron fist. It's safe to say he isn't thrilled by the chaotic sunshine I bring into his posh home. But the more I entangle myself with his family, the more I realize that Jonah is so much more than the gruff man he shows to the world. Curiosity leads to friendship, and friendship leads to more–but is the risk of loving a secretive man like Jonah worth the potential heartache?
Review –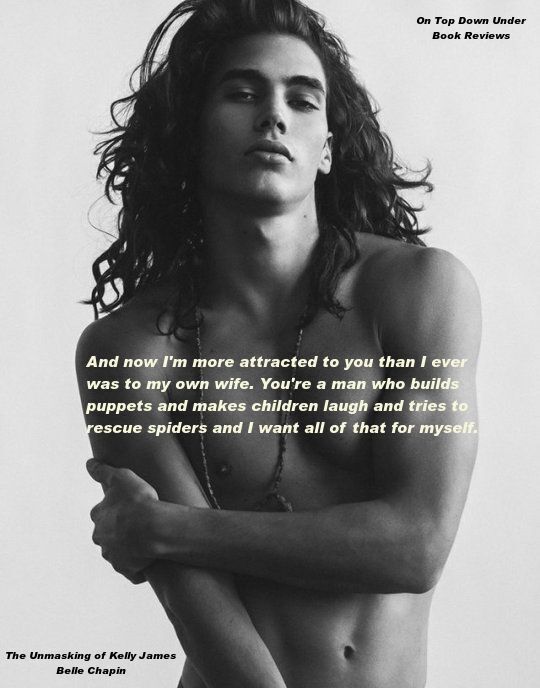 The first thing I'm going to say is look at that cover. I love books that have cover models that actually look the way the characters are described. This is 100% Kelly.
The book starts with a prologue, opening the door for the series. It introduces Kelly and his best friends, Dylan, Henry, Zane, and Julian. They're about to head out in different directions in life and don't want to lose touch, so they make a pact to all show up at Emerald Tavern every spring.
Only that doesn't happen.
It's three years later and Kelly has just walked in on his fiance Elliott and the UPS guy hooking up in Kelly and Elliott's bed. Thankfully, Kelly doesn't fall into the same b.s. Elliott had been throwing out since they got together. He knows he has to go, so he does.
Kelly tosses a few things in a bag, calls a cab, and heads back to the one place he knows he'll be welcome, Emerald Tavern. Thankfully, Dylan immediately jumps in to take care of him. In a few days, Kelly has a new job and is hopefully putting the cheating bastard of an ex in his rearview mirror.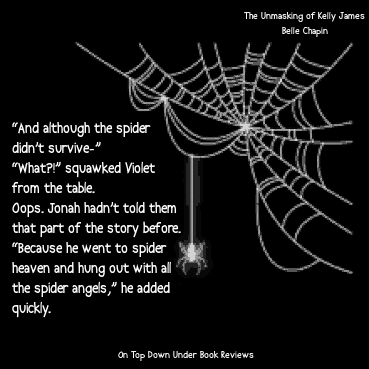 Then he meets Jonah Thatcher and his world is turned upside down again.
It starts with a growly, "Coffee, black," by Jonah, and the attempted rescue of a spider.
Jonah got the black coffee (the only way I'll drink it), but not in the way he expected to. As for the spider, we can just go ahead and start playing the violins because that sucker didn't make it.
(I have a serious spider phobia so there was no searching for a spider crawling in a cup pic or GIF. Finding the one on the left was hard enough. It's one of those 'I know they're there, but I don't need to see them' types of things).
It's actually the second time that day that Jonah and a cup of black coffee went head to head (bet you can guess who won – spoiler:  it wasn't Jonah). 😉
Long story somewhat shorter, Jonah needs a nanny STAT. He has three little girls – Nora, 8, Violet, 5, and Maya, 1. His sister has helped him with the kids since their mother/Jonah's wife died in an accident nine months before. Now she's ready to live her life again, meaning that Jonah needs to find a nanny.
Imagine Jonah's surprise when the KELLY he sets up an interview with turns out to be Kelly the man, not woman. No matter. A few days before the interview, the kids kinda/sorta meet Kelly in the coffee shop where he works during another rather interesting encounter. Even then, Jonah had no clue that the man was the person he'd be interviewing.
Kelly has never worked as a nanny before, but he does have experience working with children in a volunteer capacity, along with his college major being in children's education, I think?
Jonah reluctantly hires Kelly, he moves in, and he and the kids instantly take to each other. Well, he also takes to Jonah, but he keeps his fantasies to himself.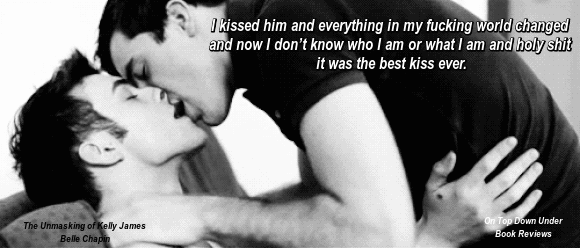 Jonah's not totally oblivious. He starts noticing Kelly's lips – when did he start seeing a guy's lips as sexy? – and other things about his new nanny. It doesn't help that the new nanny is really good with his three daughters.
Kelly's way of minding the kids is hilariously perfect. If there's a problem, Kelly always finds a way to fix it without coming across as a strict old ogre.
There's a slow burn between Kelly and Jonah, but when they do eventually come together, it's really sweet.
I put bi-awakening in the tags above because with Jonah it truly WAS a bi-awakening, not a term thrown out in a lot of books that are actually GFY or OFY.
Which brings me to Jonah's parents.
HATED them.
Seriously. I despised them both. That hate got worse as the story played out.
Jonah comes from a VERY wealthy family. We're talking old money. The mother and father expected Jonah and his sister (Ruby) to do exactly what they said – from their schooling, career paths, and even who they'd marry. On the latter, it had to be somebody with good breeding (their words), and who also came from old money. In other words, the thought of one of their adult children falling for the 'help' as the mom so rudely calls Kelly at one point to his face, was unheard of. Ruby was smart and refused to follow their crazy rules. She was disowned. As for Jonah, he still basically plays the game. He married a woman he didn't love because his parents said so. He went into his profession (he's a college dean) because his parents said so. He even agrees to go on a date with a woman they fix him up with because they said so. If he doesn't play the game, his parents will yank the trust funds of the girls.
Jonah never knew if he'd been allowed to live for himself just once in his life if he'd have noticed men the way he was told to notice women. Once he opened his eyes a little, thanks to Kelly, he was able to really look at other men and see that, yeah, he definitely got turned on by them. Labyrinth and David Bowie played a big part there. Just sayin'.
So, this was no gay-for-you thing with Kelly. It's Jonah opening his eyes to things he'd never been allowed to see before.
I absolutely loved the kids. Miss Nora was an old soul in an 8-year-old's body. Violet was a hilarious mess. Maya was a little sweetheart.
"It's pizza night," he said, standing before the television as they protested. "And I'm making it. I'll need your help."
"Yeah, you will," agreed Violet, climbing to her feet.
"Your confidence is so reassuring," Jonah said, tapping her nose.
I really liked Ruby, and most of Kelly's friends. The jury's still out on Zane. I liked Jonah a lot. He was stuffy, but once he came out of his shell, he was pretty awesome.
"You know you're a gooey center inside that grumpy shell?" Kelly said in a slurred voice. "You're a caramel M&M."
As for Kelly, I LOVED him. He was such a sweetheart, and wasn't going to change for anybody.
I think what I loved the most about Jonah is that when he realized he had feelings for Kelly, he wasn't shy about it. There were no next-morning regrets, or him wondering if he was doing the right thing. When it came to his horrible parents, his only concern was Kelly, not what they thought or whatever threats they threw out.
There are a few sex scenes on-page, but I wouldn't say they're overly descriptive. I didn't mind at all because the rest of the book made up for it.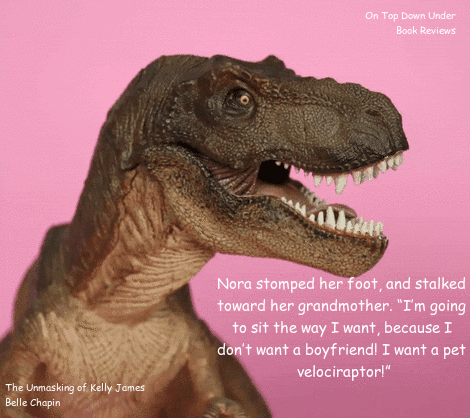 There's an age gap, around 15 years, I think? I know Jonah was 40 and Kelly's in his twenties, but if it lists Kelly's exact age, I don't remember.
This ends with an "Aww!" epilogue. I only have one complaint and it's that I would've liked to have seen the fall-out with Jonah's parents after something they did.
No matter. I seriously loved the book.
I've read like 13 or 14 books in 2023. There have been a couple of 4.5 stars, I DNFd 3 or 4, and the others were 3 or 3.5 stars. In other words, most of my reading so far this year has been sucky. I honestly went into The Unmasking of Kelly James expecting more of the same. What I got instead was an amazing and funny book by an author I've never read before. I'll be tapping my foot impatiently as I wait for the next one in the series to be published.
A very easy 5 stars. My favorite book of 2023 so far.