Christmas in Holly Pines, Candi Kay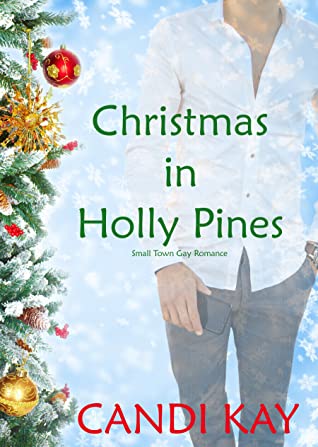 Rating: 4.5 Stars
Publisher: Self Published 
Genre:  Gay Romance
Tags: Christmas Theme, 2 Entwined Stories, Brothers Meet Brothers, Family   
Length: 367 Pages
Reviewer: Kazza
Purchase At: amazon (**November 1st Release)
Blurb:
Holly Pines, Vermont, is a traditional small tourist town. In the off-season, there are fewer than two thousand residents. A snow skiing paradise, that number increases dramatically during the holidays. It's been home to brothers Jacob and Dustin Knight their entire lives.
Being the chief of police in a busy tourist town makes it hard for Jacob to find the time to date. Dustin is bisexual and has plenty of options but no interest in anyone in town. He's a single father who knows that anyone he brings into his world has to accept that he and his son are a package deal.
Owen Wells is a professional photographer who plans to snap a few shots of the Christmas lights on Holly Pines Bridge then be on his way. A matchmaking seven-year-old boy has other ideas. When unforeseen circumstances keep Owen in town overnight, sparks fly between the photographer and chief of police. Suddenly, Owen's not so keen on leaving after all.
Reese Wells is a traveling nurse who never stays in one place for long. His older brother may have found love, but he has no plans to follow suit. That changes during a video call with Owen and young Jesse Knight. When the boy's dad joins the chat, all bets are off. Reese is suddenly eager to take a trip to the small town of Holly Pines, Vermont.
Jacob and Owen's relationship runs smoothly from the get-go. Dustin and Reese's, not so much. Between a quick misunderstanding, a jealous nurse, a busybody teacher, and a less than maternal ex-wife, these guys have to work hard to become the family they desperately want to be.
Review:
This was an interesting book for me. Two stories with two sets of brothers meeting up and getting together. For me that usually means one thing. Incest/Brocest. But not in this case! Yeah, I know what that says about me my reading habits, that this book is (a lot) nicer than my usual brotherly fare. Whatever…. haha.
The first pairing out of the blocks is Owen Wells and Jacob Knight. Jacob is the chief of police in the very picturesque Holly Pines, Vermont. A lovely name for a town. Owen is a professional photographer. They start out somewhat rough when Jacob gets a tad alpha cop on Owen and detains him for reasons that are bogus and more to do with fancying the younger and hot photographer. Jacob is thirty-five to Owen's twenty-six. Hello, age gap. However, as it just so turns out, Owen likes a big man, and a big man in charge. He gets that from Jacob whose height and, well, his (not so) little Jacob come out to play. Mmm hmm. It's sexy.
The, uh, detaining of Owen is more about other things. He's genuinely taking photos on the Holly Pines bridge but to be fair he seems like maybe he's more loitering with a camera by the time Jacob gets there. That's after being summoned by his seven-year old human foghorn nephew, Jesse. It puts Owen off and Jacob is growly as well. I don't usually like children in my romance but Jesse had me cracking up. He tries to set up his Uncle Jacob in the most random of ways. He is seriously like a warning siren on the bridge – "he's gonna jump, Uncle Jacob. He wants to swim with the fishes, Uncle Jacob" – when all Owen wants is some peace to take a few goddamn photos and leave. I was literally laughing so hard I cried. It's crazy so it worked beautifully. I also loved Jesse's candour. And I was totally here for his definition of what gay means. That was too cute. Jesse's pretty precocious but he's a great catalyst for the Wells brothers to meet the Knight brothers… then he hangs around, lol.
The first is the shorter of the two stories in the book, but it was my personal favourite. There are times I like a big man to take charge, for the smaller of the pairing to want that too. Maybe be more assertive in a quiet way about it. I was satisfied with what was delivered between this pair. Owen wants a little bit of rough. He wants to be dominated. Jacob can't believe his luck but he can deliver.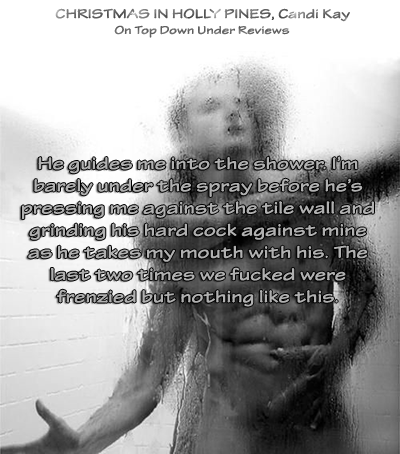 There is the initial world building of Holly Pines as well as some of its characters, good and bad, in story #1. But a big shout out to Miss Emmie, the best friend of the Knight boys' grandmother. Also the local diner owner. She knows EVERYTHING that's going on. I couldn't help but love her and her representation of a certain style of smaller town charm, complete with the caring hospitality she radiates. Miss Emmie is good people, and very welcoming.
The second story is about Dr Dustin Knight and his son Jesse, aka story #1's human foghorn. Dustin sees a picture of Reese, Owen's younger brother, and he's smitten and wants to know more. After they chat on Facetime both men are interested in meeting up. Jesse also gets in on the chat. Reese is waaaayy past spending time with his family in their holiday house in Gatlinburg, Tennessee. The Wells family are tight and loving southern bunch… he needs to get away for a while. When he's on a break from his travelling nurse work, why not drive a million miles to see his brother and the very hot Dr Knight? I mean, hot doc, right?
This story is a little more deep in that Jesse and the drama over his biological mother form a fair degree of the backdrop. That Dustin is protective of Jesse and Jesse's attachment issues, and he definitely has them, is a strong theme throughout. Jesse knew really quickly that his Uncle Jacob and Owen were meant to be, and he loved Owen really quickly, was excited he was becoming part of the Knight family. Immediately after talking to Reese he's his "best friend." Jesse asks him to come to his elementary school's Christmas program that he has a couple of speaking lines in. I felt – a lot – for Jesse. There are lines in this book that remind me of the pain that absent parents cause their children, not always by choice, but that was the case in this book. Jesse is a sweetie and that he hurt over the lack of love his mother showed, well it grabbed my heartstrings as it hit close to home for me with my grandchildren's father dying last year. So much hurt…. I sound like Debbie Downer but it hit a nerve. However, this isn't a sad story story, there's a ton of humour about family, partners, a lot of love too. Jesse is a dear young boy, the couples are well matched. But…there are a couple of people who make you want to bring your cattle prod. So there's a bit going on, including the tying up of two love stories.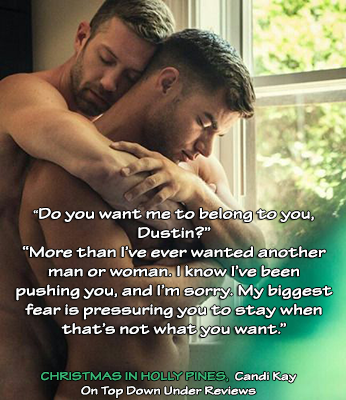 Overview:
Christmas in Holly Pines is definitely about family and coming together at this time of the year. It's about small towns and the good and the bad of living in one. There's also definite insta-attraction and couples who are quick to fall in love. Pretty typical of Christmas Romance stories – it's a bit of a seasonal staple. My husband and I were in love in a short space of time and here we are happily married just a smidge shy of forty years. I think you know what you want when you meet it. So I was here for it and cheering two brother's shot at happiness on. Happy for Jesse. And also loving the crazy family, one who can muck around and be honest all in one. I mean, god love 'em, who else can strike fear and love into your heart all at once? Family.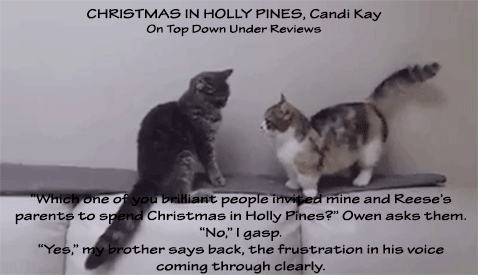 I do miss Willy the Kinky Elf and co – for Willy fans there's a tiny and cute shout out – but the Taking Lance series is probably my favourite Candi Kay series because I love Rick and Lance, as well as a lot of the crazy people along the way. Hello, Karen and Aaron. You utterly messed up pair. I think Christmas in Holly Pines is right up there for me. I especially loved Jacob and Owen's story, I found them to be smokin' because I like a kinky pair and a take charge man with someone who likes it like that. The humour is random and I like that a lot as well. I mean, I read all the Willy stories so, truly, I'm completely crazed. You know how you just read a book and it's the right time and the right place, and there you go? "Holly Pines" is that book. I don't even like kids in my romance reading. But, interestingly, some of my favourite series are actually set in small towns, like Nights in Bliss, Colorado and Texas Sirens. Christmas in Holly Pines was good fun, light-hearted but with meaning, also sexy, cute, super sweet, silly, awesome and endearing. What is wrong with me?! I've been engulfed by the Christmas spirit. Send help!! 4.5 Stars!