A Totally Platonic Thing (Santa Rafaela, #2), Eliot Grayson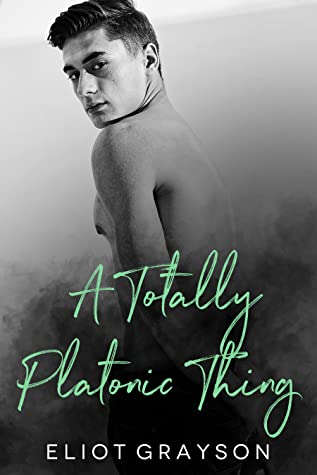 Rating: 5 Stars
Publisher: Smoking Teacup Books
Genre:  Gay Romance
Tags: GFY/Bi Awakening, Humour, Erotic, Spanking, Some Hurt-Comfort, Friends to Lovers  
Length: 267 Pages
Reviewer: Kazza
Purchase At: amazon
Blurb:
Friends know all your faults and love you anyway. But what happens when you cross the line between friends and…more than friends?
Chris
My straight roommate and I are totally not dating. Sure, Lucas and I watch videos together—yes, those kinds of videos—and sometimes fall asleep in the same bed afterward. And yeah, I bring coffee to his lab every day so I can get my hug fix. But at night, I've been out clubbing and trying to forget that my ex-boyfriend was using me. I'm so lucky Lucas puts up with my drunk shenanigans. Until he doesn't—and makes it impossible for me to hide what I really want. But it's all platonic. Right?
Lucas
Chris means everything to me and I'd do anything for him. But one too many middle-of-the-night rescue missions with him falling-down drunk makes me lose my temper. Bigtime. Once he's sober, I threaten to put him over my knee and give him what he deserves. I expect him to tell me to go to hell…but instead he blushes and squirms. He wants it. Badly. And now I don't know what to do. It should've been a one-time thing. But seeing Chris that way—touching him that way—has me hooked. Because my own reaction isn't exactly platonic either…
A Totally Platonic Thing is a steamy M/M new adult bisexual romance with two roommates who are totally, like, not dating. At all. Even though they're basically an old married couple. And also the adult videos and the, ahem, discipline. But that doesn't count. HEA guaranteed.
Review:
I'm starting this review by saying this book was smokin' hot!! I'm pretty sure I'll end the review the same way. Because, dear jeebers, this book was incendiary. It's an I need a smoke and I don't even smoke book.
We met Chris and his roommate Lucas in The One Decent Thing. They seemed like an odd couple at the time, albeit interesting. Definitely their own story kind of interesting. Chris, the smaller, twinky but full of attitude MC. Lucas, the bigger, more laidback and straight MC. So the theme of this standalone series is the hot, in touch with his empathetic side, but straight – mentions/implies it quite a bit – MC, and the other MC is decidedly gay, out and proud, crushing on said "straight" roommate. Both figuring it's only friendship even if they are a tad super tactile and the straight guy becomes increasingly curious. "Straight" Lucas watches regular TV with Chris snuggling up to him, they (more than just sometimes) sleep together. And Lucas even watches gay porn with Chris. Okkaaaayyy. *Tongue pop. Chris has a type in porn too – cute brunette twink who is paired with a bigger blond guy who takes charge and can get a bit rougher with said twink brunette. Yeah, well, this is what he wants from and with Lucas. This is Lucas – blond, bigger, only with glasses and calm… but wait for it, readers, the take charge side of Lucas is coming out to play really soon.
Chris frequents local nightclub Aeon where his best friend Sebastian's partner works and where Chris has been drinking way too much of late. Aiden has been taking extra care of Chris while he's on shift because he knows Sebastian would want that. However, it's starting to cause a few problems for Aiden at work now, distracting him. He has to call Lucas too often to come and get Chris and take him home. Ever since his lying ex departed, Chris has been acting differently – hitting the bottle, out until all hours of the night. Combine this with his grades and his attitude about college, his
dedication to his degree slipping, and it's not the usual Chris. The usually calm Lucas has been incredibly patient and supportive but one night he threatens to spank Chris for his annoying, out of control behaviour… and then he follows through. Hard-ons are out – left and right – so, mm hmm, they both like it. Like it a whole lot. But with that comes the whole 'me gay you straight' trepidation about what the freak just happened… until it happens again, and Chris is practically purring. Lucas is getting turned on and growling, he wants to go further, but straight dude's straight, right? Well, uh, no. Not really. I mean, Lucas watches and enjoys man on man sex and he cuddles and sleeps in the same bed with Chris. Who is gay. Hello? Like. Hello! Anyway, Eliot Grayson busts out the super erotic side in this book. I don't much like GFY style books, sorry, bi-awakening, but this book is fucking hot. See, I told you I'd say it again. Eliot Grayson has me addicted and finds a way to make me read some of these stories I probably wouldn't if someone else wrote them. In Eliot Grayson's hands they always work. I haven't met an Eliot Grayson story I didn't like-to-love, and I loved this story. I enjoyed these guys having to wade through the feels and the what ifs. Besides, they deserved some love, to realise they're actually in love with one another. From their meeting at the pretzel stand and the mustard debacle on, it was great to get their full story.
Chris and Lucas managed to make me laugh out loud while I was also thinking, 'I'm going to bop your heads together any minute now, guys'. Because, seriously. But I liked how domestic they were. How clueless they also were about what they meant to one another. The astronauts on the ISS knew before they did. They share a studio above a garage. They share responsibilities around their place, they share the movies they like, porn and all. Chris shows up with coffee for Lucas at the campus lab every day. Nothing says love and sexy to me like a guy who will grab you coffee, share housework, and watch your shows with you. Come on, I mean, that's peak sexiness. Neither of them have family they can rely on. But, no worries, they've become their own little family. Chris was hurt by a boyfriend who was fooling around with him while he had a girlfriend Chris knew nothing about. Lucas was dating a girl who felt he paid more attention to Chris than her, and that there wasn't enough privacy that went with that. It is a small studio they live in after all. While that small space sucks for her, it's great for those of us who like some close proximity, like cute guys sharing the same bed – oh, the possibilities – and who want the "straight" guy to get in touch with his real and "true" bisexuality, and, let's be honest, for the two MCs to get it on in hot, sweaty. and inventive ways. Yeah, mission accomplished in A Totally Platonic Thing.
If you like sexy times with a bit of drama, or heartstring tugging, some push-pull and the kind of sexy times that go with that, then this book delivers all those things. It also delivers on Lucas' possessiveness around "his' Chris. Yeah, I was onboard. Didn't I just love that. I like a walk on the fictional possessive side. But they are also really sweet guys who just needed to believe and have a bit of a shove to get going. Eliot Grayson, bless, gave them that shove.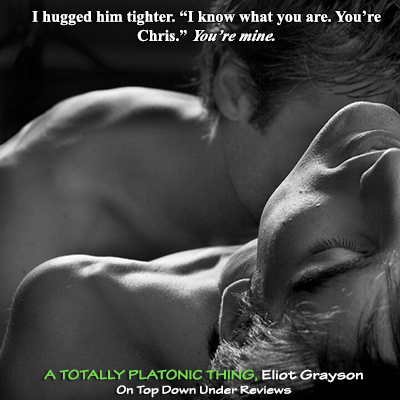 Overview. 
Hot book is hot, A Totally Platonic Thing is a spicy jalapeno. It's told via dual POV so you get to see how both MCs are feeling and thinking throughout. It's a typically well written, well edited Eliot Grayson book, something I have come to expect from this author. It's easy, escapist reading where nothing mind blowing or nasty occurs. although there are some angsty moments, some rumination. It also has nice guys who play well off one another as MCs. The addition of snippets of the popular Sebastian and Aiden from The One Decent Thing is excellent, they take nothing away from Chris and Lucas' story and add that extra heart-warming feeling of seeing how beloved characters are doing. You don't have to have read book #1 to enjoy this book. They are standalones. This is highly enjoyable and sexy, sexy contemporary gay romance reading. I hope there is a book #3 coming. 5 Stars!
And to finish off…
you're welcome…