His Someone Special, Sammi Cee, Brittany Cournoyer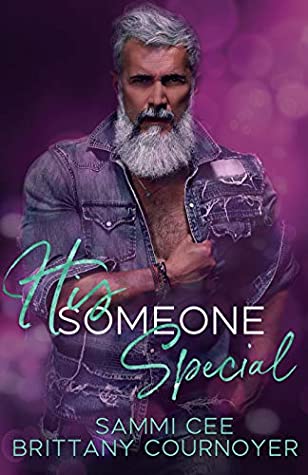 Rating: 4.5 Stars
Publisher: Self-Published
Genre: Gay Romance
Tags: Contemporary, Age Gap, Daddy/boy, Romance, Virgin
Reviewer: Cindi
Purchase At: Amazon.com
Blurb –
Sometimes all a boy needs is his Daddy.
Davis's life has been one struggle after another, leaving him nervous and unsure. On the brink of complete poverty, he's desperate enough to accept a job at a biker bar, even though it terrifies him. It's not like he has a choice when the hot, older owner is the only one willing to give him a chance.
Sarge has a full life. He's made his dream of owning a successful bar come true. He has good friends and valuable employees. If he gets a little lonely, it's easier to just scratch the itch than to put his heart back on the line. At least it was until Davis, constantly looking to him for reassurance, melts through his defenses with his big blue eyes.
When Davis reveals his curiosity about Daddies, will Sarge give into the desire to claim Davis as his boy?
Review –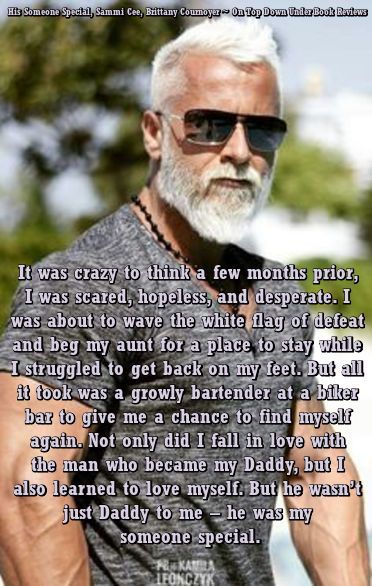 This was such a sweet story.
Davis, twenty-five, is literally on the brink of homelessness. He had a decent enough job but it was outsourced. Now he's almost to the point of desperation. He lives in a dangerous, rundown apartment. He has food but not much. The only clothes he has are old and close to falling apart. If he doesn't get another job soon he doesn't know what he'll do. He's tried but either he's not gotten callbacks or the jobs were given to others. His last hope is at Full Throttle, a biker bar. Davis is the last person you'd ever expect to see in a biker bar. He's as innocent as they come. Terrified, and knowing he's out of his element, he walks inside the place. His nerves almost get the best of him but he keeps walking until he's sitting at a table with the owner, a big bear of a man named Sarge.
Sarge, forty-six, sees something in the shy man. Davis is totally out of place in the bar but it doesn't matter. Sarge is determined to give him a chance.
Davis' first shift is that evening washing dishes. He works hard and is taken in almost immediately by the other workers. Billy, one of the bartenders, becomes his friend right off. Billy has been where Davis is so he goes out of his way to make sure he's taken care of, even giving him some of his old clothes and driving him to and from work. Sarge basically stays out of his way but it's not because he's not interested in what his new employee is doing. He's very interested, too interested. 😉 Davis has boy written all over him but Sarge refuses to go down that road. He had a boy once and it didn't work out. As much as he wants to take care of Davis, he forces himself to stick with being his boss, nothing more.
Before long Davis is helping out with the customers, even taking food and drink orders. He's very shy so this is difficult, but he wants to help out Billy and the others who are shorthanded. He does so well the first time that Sarge offers him a chance to keep doing it. He's nervous but he accepts when he's told that he can keep all his tips. The regular customers not only welcome Davis with open arms, they also look out for him just like Sarge, Billy, and some of the others do. Everybody looks out for him but Sarge is finding himself wanting to do more. He won't – he's terrified to go down that road again – but he wants to.
Everybody in the bar – employees and customers alike – see that there's something going on between Sarge and Davis, even if they themselves haven't figured it out yet. Only after Sarge gives Davis a ride home one night, and after a lecture from his best friend Law, does he finally start moving in the right direction. Even then, he's a little slow on the uptake and he takes awhile to finally open his heart and allow Davis inside. Of course, it also helps that some of the regular customers are showing their interest in Davis, and Sarge knows if he doesn't do something now he could lose him.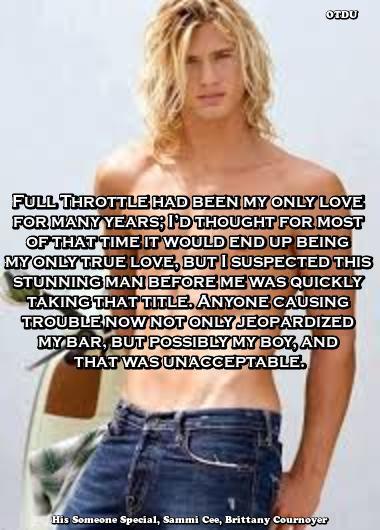 I absolutely adored Davis. He broke my heart in the beginning. His circumstances weren't his fault and for him to apply for a job at a biker bar showed his desperation. Thankfully, the biker bar wasn't what he expected. Sure, it had the big, bad ass customers, but the bar is LGBTQ friendly, something he didn't expect.
I loved Sarge too. Everybody could see how bad he wanted to step in and take all of Davis' problems away but he was scared of getting hurt again. When they finally did get together it was so sweet.
Then there are some of the secondary characters. Billy was perfect. He was funny and he was the best kind of friend to Davis almost from the very beginning. There's Law, Sarge's best friend, and a slew of others, including Bull the bouncer and a few regular customers. Apparently, Law is a new name of choice for characters these days. This is the third book I've read in a week (seriously) where there's a character with that name. I hope the author continues with this world. I'd love to see Billy and Law together.
Overall, a great book. It's Daddy kink but relatively mild. Sarge and Davis, once they finally got their act together, were perfect for each other. A very entertaining read.