Discover Me, Romeo Alexander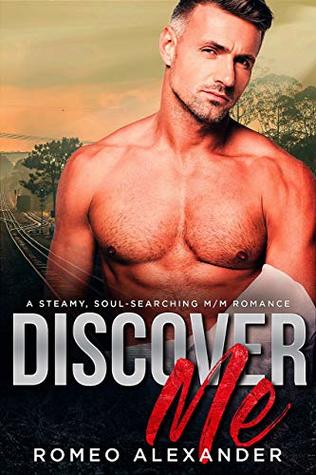 Rating: 4 Stars
Publisher: Romeo Alexander
Genre: Gay Romance
Tags: Contemporary, Actor, Age Gap, Autistic Character, Family Drama, Opposites Attract, Romance
Reviewer: Cindi
Purchase At: Amazon.com
Blurb –
A Gay May-December Romance
Sometimes, the world demands too much, and the need to escape becomes overwhelming. 
An almost doctor who is tired of faking it … 
Thomas "Tom" Dimitri Harris always thinks twelve steps ahead in a conversation—even if that means missing what the person is saying at the moment. It's not that he doesn't care about the other person, it's that he's too busy worrying about his future. While his parents desperately want him to be a doctor, Tom is suffocating from their expectations. So, he makes the radical decision to break free and drop out of the pathology program that he's been working toward his entire life. 
An actor who wants a break from fame… 
Owen Enstrom is the most sought-after man in Hollywood right now, but he needs to escape. He knows that without a drastic change to his hectic lifestyle he's headed for a very public, very embarrassing breakdown. So, Owen books a private train compartment on a cross-country trip. Suddenly, he feels freer than ever before and closer to becoming a more honest, happier version of himself. 
Breaking down walls instead of just breaking down … 
Now, Tom and Owen are on the same track to freedom, on the same train, and in the same compartment. Both want to find a real connection that will bring them happiness. Will Tom be able to cast aside his anxiety and doubt and live in the moment? How long can Owen keep Tom from discovering his secret? 
Take a ride on this train of passion, desire, and self-discovery. Discover Me is a steamy, soul-searching M/M romance featuring a virgin ingenue and an experienced older man who find love and each other. 
Review –
I doubt there's an adult alive who hasn't wanted to just pack up and run away from everything for awhile. The stresses, the expectations from others, the adult responsibilities… we've all had our fantasies of just disappearing. This is exactly what Tom and Owen do in this story.
Owen, thirty-two, is a famous actor who's feeling overwhelmed. His latest movie was a runaway hit, making it so he can't go anywhere without being recognized and hounded by fans. He knows if he doesn't take a step back he'll be melting down. His biggest fear is doing it publicly. One day instead of catching a connecting flight home while on a trip, he goes to the nearest train station and buys a ticket for a private compartment so he can just be Owen the person for awhile, not necessarily Owen the actor.
Tom, twenty, has his own issues and needs to disappear as much (or more so) than Owen does. There's constant pressure from his father to be the perfect, well, everything. He's been groomed from birth to be a doctor. He's been accepted into a prestigious program that will have him on the fast track to becoming a pathologist. The problem? That's not what he's ever wanted to do. It's what his parents want and expect. Tom also suffers from severe anxiety, frequent panic attacks, and he's autistic. He's never in his life been able to make his own decisions or to simply just be. One day after spending time with his friend Taryn he blurts out that he dropped out of the program. This leads to a panic attack that ultimately leaves Tom wanting to just run. The opportunity to do just that presents itself moments later when a passenger train rolls by. What does Tom do? He runs and jumps on the train, literally falling into Owen's arms while Owen is out for a smoke.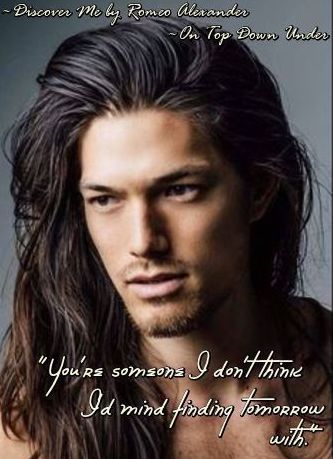 Tom has no idea who Owen is. This is such a breath of fresh air for Owen that he begins an unexpected journey with Tom, both of whom just want to get away from their real worlds for awhile.
I liked Owen right off. I normally shy away from books with characters who are actors, singers, or in any type of public industry. Owen is different.
Tom has the air of innocence and some naivety, but he's a sweet character. His lack of maturity shows often but not often enough for me to put the book down.
Of course Tom can't just disappear without the family trying to find him. And honestly, what parent wouldn't be concerned? It also didn't help that Tom's so-called best friend (that would be Taryn) ratted him out to his dad and not just about him jumping a train.
The train trip turns into a road trip with each man opening up little by little with each mile. Owen mentions being an actor at one point, but he never tells Tom that he's the most sought-after actor in Hollywood. Tom doesn't keep up or follow any goings-on in the entertainment industry so there's really no reason for him to know who Owen is.
With each passing mile Tom's parents back home are getting more frantic, even going to the media and wrongfully describing him as basically being a mental patient in desperate need of his psychotic meds.
With the exception of a page or two, this is a mostly drama-free book.
What I liked –
There's a twelve year age difference between Owen and Tom, a big plus for me.
The author handled Tom's autism well. There were a couple of things that had me shaking my head but nothing major.
There aren't a lot of sexual situations in this book but the ones that are there are written relatively well.
Owen could've been a conceited jerk but he was genuinely a nice guy, eager to protect Tom.
What I didn't love –
The cover. The man on the cover is beautiful. He's just not one of these characters based on their descriptions. That one detail may be petty to some, but I'm a reader who has been known (on many, many occasions) to buy a book simply by the cover alone, without even reading a blurb. Had I done so in this case I'd have been disappointed.
There are quite a few editing issues – lack of quotation marks and other punctuation, and once where Tom's name is used when it should've been Owen's. Told in alternating points of view, there was also a bit of confusion a couple of times in regards to who was saying what.
The story is as unrealistic as one can get in a contemporary book.
I needed more backstory for each guy. Owen's college is mentioned but little else. As for Tom, we know his parents are strict but not much more. I felt like there was a lot of skipping ahead to hurry and complete the story instead of giving the reader specific details that I (and I'm sure others) wanted.
The ending. Everything came together neatly and there's a true HEA. Too neatly. I wanted more than a few rush, rush, pages after being committed to the two men as they got to know each other while they drove across the country together.
Taryn. I'm sure I was supposed to like her but I didn't even a little bit. There's being concerned for your best friend (re: the jumping on the train thing) and then there's telling a strict father things you've been told in confidence. That last part killed it for me with her.
Overall, a sweet story and an entertaining read. I think this is my first by this author. I'll definitely be reading more.