Vampire With Benefits (Supernatural Selection #2) E J Russell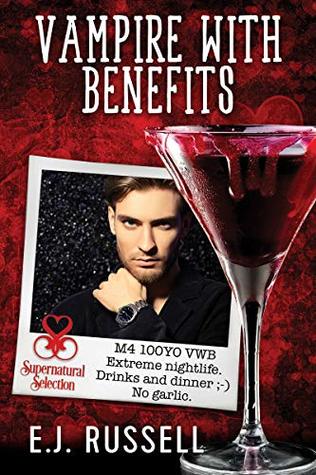 Rating: 5 Stars
Publisher: Riptide Publishing
Genre:  Gay Paranormal Romance
Tags: PNR – Vampire & Beaver Shifter, Humour, Series  
Length: 300 Pages
Reviewer: Kazza
Purchase At:  amazon, Riptide Publishing
Synopsis:
A match between a vampire and shifter could be deadly—but this broken beaver doesn't give a dam.
Silent film actor Casimir Moreau had imagined that life as a vampire would be freewheeling and glamorous. Instead, he's plunged into a restrictive society whose rules he runs afoul of at every turn. To "rehabilitate" him, the vampire council orders him mated to an incubus with impeccable breeding who'll mold Cas into the upstanding vampire he ought to be. Or else.
As an inactive beaver shifter, construction engineer Rusty Johnson has fought—and overcome—bias and disrespect his entire life. But when his longtime boyfriend leaves him for political reasons, Rusty is ready to call it a day. Next stop? Supernatural Selection and his guaranteed perfect mate, a bear shifter living far away from Rusty's disapproving clan.
But then a spell snafu at Supernatural Selection robs both men of their intended husbands. Rusty can't face returning to his clan, and Cas needs somebody on his arm to keep the council happy, so they agree to pretend to be married. Nobody needs to know their relationship is fake—especially since it's starting to feel suspiciously like the real thing.
Review:
In the well-named Vampire With Benefits, two very likeable MCs fill up the pages with their presence. Casimer Moreau is very sure of himself, despite not liking the vampire world he was brought into as the "last" sired or turned vampire. It's stodgy, it's archaic, it's regimented, and the council don't appreciate Cas's moments of humour or his rebellious streak. Mostly he is who he is because of the ennui of his paradoxical undead life. They're also quick to think he's rebelled against them more than he actually has because of his behaviour over the past ninety-two years of being a vampire, but to be fair he's always had a spirited side.
Making the distinction between funny and poor fucking choice had been Cas's problem since before he was Turned. In fact, it was why he was Turned.
So, it's off to Supernatural Selection for the unwilling Cas. SS is a marriage agency run by witches who use matching spells for that perfect pairing, and his mandated match is a well-connected succubus. It's thought he'll be more stable with the right influence in his life, someone who's acceptable to Vampire. It's at the agency he meets a beaver shifter, Rusty, aka Elmer. I did laugh at the idea of beaver shifters, the author uses some humour around the name and Oregon sport as well, and while there isn't oodles on beaver clans or shifters, per se, what there is ends up feeling really right.
Rusty is a giant of a man, hirsute, salt of the earth, and he's what they call an 'inactive' – he cannot actually shift into a beaver. He has other attributes that fit the brief though, he runs hot, he loves the water, he's furry, he's industrious, he has a longer life. Nevertheless, not being able to shift and being the tallest, biggest beaver leaves him on the outer with his clan. His ex-partner, Fletcher – or Fletcher the Fuckhead as Cas refers to him – is to be the new clan leader at some stage and has been a massively self-centred, uncaring partner to the decent, very kind-hearted Rusty, taking advantage in the worst of ways. When Fletcher announces he's to marry a woman to "benefit the clan" Rusty ends up shafted by his boyfriend and going to Supernatural Selection, being matched with a bear shifter.
Waiting in the SS waiting room, Cas and Rusty don't hit it off, an understatement, but their respective matches have up and married one another and Cas needs to marry immediately in order not to have the council do something dire – tagging or staking come to mind. In the background Cas has a vampire nemesis in Henryk who is manipulative and creating more problems for him. Unfortunately, Cas has some secrets in the background that he can't afford to have exposed, and Henryk is obsequious to the council head as opposed to Cas's nose-thumbing attitude.
Rusty and Cas decide to take advantage of a temporary marriage contract to help Cas skirt initial council rules as well as make them 'shit bricks', and, as a bonus, to mess with Fletcher the Fuckhead at the same time. They're both in agreement, and with Fletcher's attitude being exposed even more, it's good for some comeuppance. Cas lives to create a bit of fun and havoc, and if he's married he may be able to get away with it more readily. The problem is, shifters and vampires do not co-mingle, not in this world. Vampires don't smell anything except their prey and shifters, and shifters not only smell really, really bad to vampires, they poison a vampire if they ingest their blood or are exposed to other bodily fluids. It's not conducive to a vampire marriage or a sexual relationship. But, oh, how Cas would like to have a sexual relationship with Rusty. Shifter poison be damned – there are condoms. He can picture himself being topped by the bigger shifter, something mesmer doesn't allow with human prey. And Rusty? He thinks Cas is beautiful, all grey eyes and cool, alabaster skin.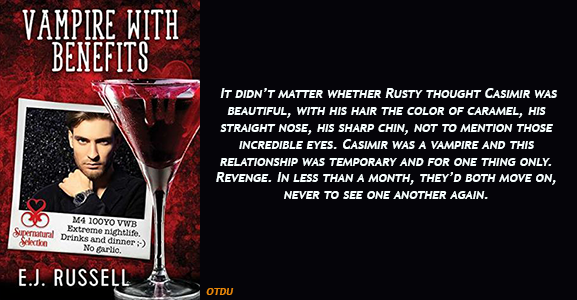 This is a terrific story – colour me impressed. It takes some of the older and more contemporary PNR worlds and odds and sods within and changes a number of things up. There's a time-travel (time-surfing) factor to the story as well. One that uses a dab of fae and druid elements and one of the secondary character's love of supernatural science and curiosity.
"The more I research it, the more I believe the reason time-surfing is nearly mythological is because nobody can do it for very long without damaging their genetic makeup. Time-surfing is a very short-term career, and that's a good thing, since tampering with the time stream shouldn't be done lightly."
As for the MCs, I adored them. Cas is such a posh silent movie star – the way he speaks, little things he loves, the way he dresses, his natural use of the word darling. It fitted his character perfectly. I loved his irreverence and his confidence and positivity. Rusty is adorable, sweet, nurturing, a gentle giant. They're actually both decent men but  Rusty's kindness is more overtly on display than Cas's. They truly are a perfect match, and there's much more to that than I can review because of spoilers.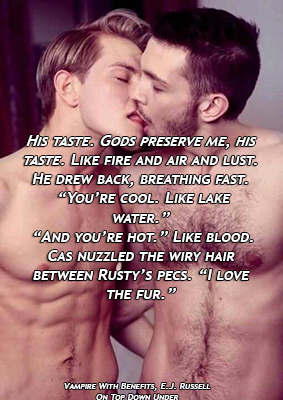 "You know," Rusty murmured through clenched teeth, "if you weren't already dead, I'd kill you for this."
He patted Rusty's arm. "You don't know how many times I've heard that, darling."
The romance builds, the love – it really is a love story – and it works. The sex is a slow burn, it compliments the PNR elements and the romance without dominating, it's organic and it's incendiary.
The overall story of Vampire With Benefits is totally charming. Different. The writing, the editing both excellent, but it's the sheer heart poured into these MCs by the author that shines, and it does, it fairly radiates off the page.
The ending is unusual and suits the book, just like the cover does. It isn't a traditional HEA but it's absolutely lovely, adding perfectly to the  storytelling. 5 Stars!