Slow Heat (Heat of Love #1), Leta Blake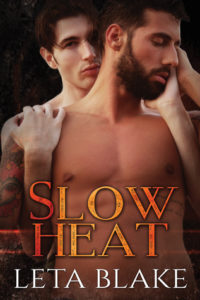 Rating: 5 Stars
Publisher: Self Published 
Genre:  Gay Romance
Tags: Omegaverse, Knotting, Angst, Emotion, Mpreg **Potential Trigger – Miscarriage, Death. 
Length: 408 Pages
Reviewer: Kazza
Purchase At:  amazon
Blurb:
A lustful young alpha meets his match in an older omega with a past.
Professor Vale Aman has crafted a good life for himself. An unbonded omega in his mid-thirties, he's long since given up hope that he'll meet a compatible alpha, let alone his destined mate. He's fulfilled by his career, his poetry, his cat, and his friends.
When Jason Sabel, a much younger alpha, imprints on Vale in a shocking and public way, longings are ignited that can't be ignored. Fighting their strong sexual urges, Jason and Vale must agree to contract with each other before they can consummate their passion.
But for Vale, being with Jason means giving up his independence and placing his future in the hands of an untested alpha–as well as facing the scars of his own tumultuous past. He isn't sure it's worth it. But Jason isn't giving up his destined mate without a fight.
This is a stand alone gay romance novel, 118,000 words, with a strong happy ending, as well as a well-crafted, non-shifter omegaverse, with alphas, betas, omegas, male pregnancy, heat, and knotting. Content warning for pregnancy loss and aftermath.
Review:
I could not get into omegaverse books prior to this series. But Leta Blake has made it impossible not to read this world. I thought
Bitter Heat
might have been an anomaly but I kept getting called back. So I've surrendered to this omegaverse. I honestly have.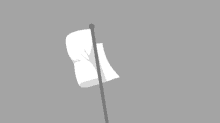 These characters have embedded themselves under my skin, and into my psyche. I started back to front when I picked up book #3 first. Now I'm at the beginning. Even though each book has different MCs, the other characters are all entwined – they're friends, family, ex lovers, lovers – and I needed to know who they were and where they started.
Jason is adorable and Vale is a great match for a lot of reasons, although not everyone around them thinks so, and some are hurt. Jason, who is the alpha, is nineteen and just starting out, and Vale, who is the omega, is thirty-five and has his life set up without a mate in sight… until Jason happens. So this society's dominant of the pair is younger and the omega is not in his breeding prime.
Here, in this world, there's emotion and angst and contracts and pregnancy and friends and family affairs and issues to navigate, all while seeking a happy outcome, and it's deftly handled by Leta Blake. An older partner having to meet the parents is awkward. A younger man can feel like a boy when brought back to live in their childhood bedroom.
I might have been late to the Heat of Love party, but I'm a devotee of this world now, I'm currently reading Alpha Heat, and can't wait for future series books to arrive. 5 Stars!  
 .
Audio Note: I'm aware I mix up Jason for Vale at one point in the audio. Forget where.  
.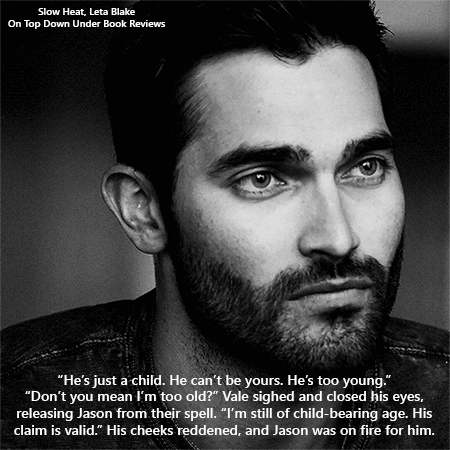 .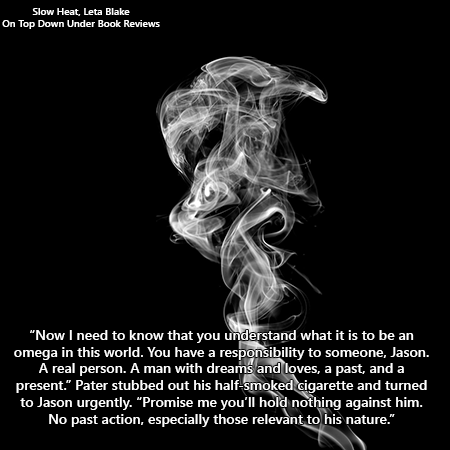 .