Alpha Heat (Heat of Love #2), Leta Blake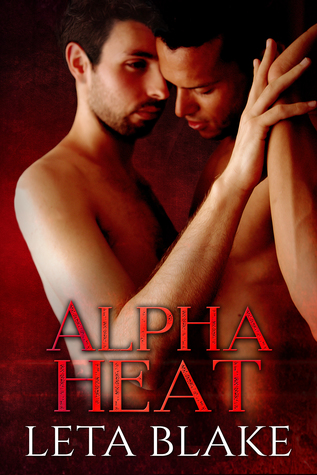 Rating: 5 Stars 
Publisher: Self Published 
Genre:  Gay Romance
Tags: Omegaverse, Triad, Asexual MC, Interracial MCs, Age Gap, Domination, Emotional, Secondary Mpreg, **Potential Trigger – Sexual and Psychological Violence   
Length: 460 Pages
Reviewer: Kazza
Purchase At: amazon
Blurb:
A desperate young alpha. An older alpha with a hero complex. A forbidden love that can't be denied.
Young Xan Heelies knows he can never have what he truly wants: a passionate romance and happy-ever-after with another alpha. It's not only forbidden by the prevailing faith of the land, but such acts are illegal.
Urho Chase is a middle-aged alpha with a heartbreaking past. Careful, controlled, and steadfast, his friends dub him old-fashioned and staid. When Urho discovers a dangerous side to Xan's life that he never imagined, his world is rocked and he's consumed by desire. The carefully sewn seams that held him together after the loss of his omega and son come apart—and so does he.
But to love each other and make a life together, Xan and Urho risk utter ruin. With the acceptance and support of Caleb, Xan's asexual and aromantic omega and dear friend, they must find the strength to embrace danger and build the family they deserve.
This gay romance novel by Leta Blake is the second in the Slow Heat universe. It's 130,000 words, with a strong happy ending and a well-crafted, non-shifter Omegaverse. It features alphas, betas, omegas, male pregnancy, heat, and knotting. No cheating. Content warning for brief sexual violence.
Review: 
Another good addition to the Heat of Love series, Alpha Heat incorporates love between two alphas, something that's considered a perversion in this world of omega's bearing children for their alphas.
Xan nearly broke my heart in the early stages of this book and I was so glad that Urho realised what he wanted – Xan, his "alpha-shaped omega." I was also thankful that Urho backed Caleb to help Xan shake the belief that the "darkness" was what he deserved.
The relationship between the three MCs – Xan, Caleb and Urho – is different to other books I've read with three people committed to one another. Xan and Urho are alphas and Caleb is Xan's Omega, but Caleb is also asexual. It is not a menage but it is a loving triad, one with a man as a willing conduit between the others whilst also feeling thoroughly connected on his terms.
Jason and Vale get good page time, their serendipitous trip with Urho to Virona to be with Xan and Caleb during a deadly flu epidemic (and Vale's pregnancy) was surreal reading, especially given this was written in 2018. There are other characters you get to know and enjoy – Ray, Xan's older beta brother, for one. I'm guessing he has a book to come shortly.
Xan gets to be who he is. Urho got more than he bargained for, and between a new love and heats and babies and flu, he had his work cut out for him. If you don't listen to my audio review and you're unsure whether to read Bitter Heat because of Janus, and I understand why, I say go for it, it's a good book, one of atonement, something I always enjoy when well written. I'm currently rereading it from a different angle now I've finished books #1 and #2. To sum up this review, Xan and Caleb and Urho have something very special in Alpha Heat and I loved revisiting all the people I grew to love in book #1,  5 Stars!
.   
.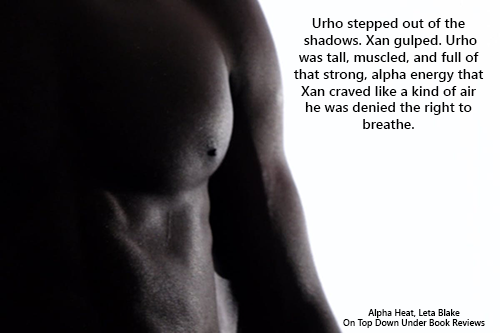 .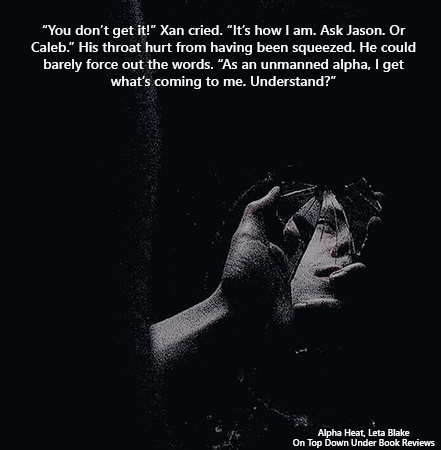 .