Vespertine, Leta Blake & Indra Vaughn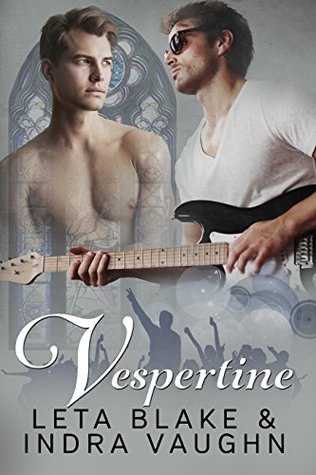 Rating: 4.5 Stars
Publisher: Self Published 
Genre:  Gay Romance
Tags: Priest, Rock Star, Addiction – Drugs, Love. Hurt/Comfort, Slow Burn
Length: 418 Pages
Reviewer: Kazza
Purchase At: amazon
Blurb:
Can a priest and a rock star obey love's call?
Seventeen years ago, Jasper Hendricks and Nicholas Blumfeld's childhood friendship turned into a secret, blissful love affair. They spent several idyllic months together until Jasper's calling to the Catholic priesthood became impossible to ignore. Left floundering, Nicky followed his own trajectory into rock stardom, but he never stopped looking back.
Today, Jasper pushes boundaries as an out, gay priest, working hard to help vulnerable LGBTQ youth. He's determined to bring change to the church and the world. Respected, admired, and settled in his skin, Jasper has long ignored his loneliness.
As Nico Blue, guitarist and songwriter for the band Vespertine, Nicky owns the hearts of millions. He and his bandmates have toured the world, lighting their fans on fire with their music. Numbed by drugs and fueled by simmering anger, Nicky feels completely alone. When Vespertine is forced to get sober, Nicky returns home to where it all started.
Jasper and Nicky's careers have ruled their lives since they parted as teens. When they come face to face again, they must choose between the past's lingering ghosts or the promise of a new future.
Review: 
There are already a lot of reviews for Vespertine on Goodreads and Amazon because this book came out five years ago. I had a tug-of-war with my emotions reading Vespertine. Not because I didn't like the writing. The writing is extremely evocative, and some of the prose is downright beautiful, the characters addictive. It was because I struggle with people having to give up sex for their religion, deny their sexuality and who they are. It isn't healthy, and you would have to have buried your head in the sand not to have seen how terribly that's played out over the years. I knew going in from the outline religion would form a strong overtone. Hello. Priest. Even so, the writing touched a nerve. The allegories of the bride of Christ – the discreet and the indiscreet virgins, which was a parable not meant to be literal. And the Apostle Paul's letters and the Catholic church's interpretation of them, Paul's zealous words – being single and allowing yourself to fully dedicate to Christ, in my opinion, has been an unmitigated disaster. Me, personally? I like being "inflamed with passion." A lot of people do. Too many paedophiles, abusers, sadists and hypocrites have been enabled because of a twisting of the Bible's words in the name of their Church. So I was prone to sarcastically eye-roll in Father Jasper Hendricks direction when his head was up his saintly arse. Jasper, or Jazz as he's known by Nicky, was Nicky's childhood best friend then teenage lover – his great love – prior to Jasper choosing the Catholic seminary over Nicky.
Basically this story is pretty typical in gay romance – two young guys form a deep friendship then fall in love and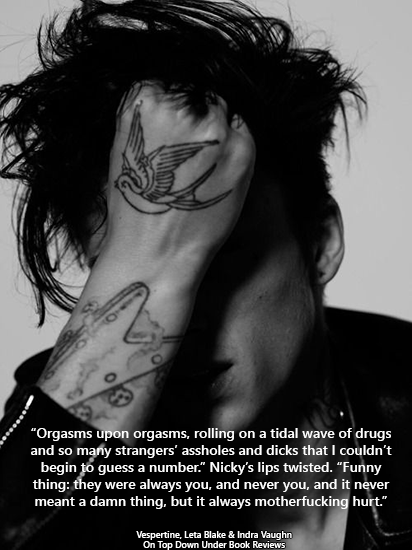 have something special until a misunderstood scenario combined with a lack of communication, and a disapproving parent, creates a perfect storm of separation. However, religion layers another level of hurt and anger over this story's foundation and, I suppose, a taboo for some, although not for me. I like a good defrocking – innuendo deeply intended.
Nicky Blumfeld, the now tattooed Nico Blue of rock band Vespertine fame, comes back to his hometown of Little Heights, Maine to recover from a heroin addiction, amongst general substance abuse and resultant reckless behaviours. He has warm and loving adoptive parents and they still live in the house next door to Jasper's mother, who isn't all that warm. While Nicky tells himself he's all good, he's going to let sleeping dogs lie, he is full of blame and anger at Jazz, who is now the local priest. So, when he comes back, the first thing he does is go to the confessional to seek out Father Hendricks. That is one hell of a scene. You can be angry about events, but to hold onto it for seventeen years is… well, it's something. Unhealthy springs to mind but Nicky is unhealthy. So it's apt. Vespertine's most popular songs are Nicky's own Jagged Little Pill around and about Jazz. Although I kept singing Judith… which gives you my mindset.
..Still you pray, you never stray
Never taste of the fruit
You never thought to question why…
The MCs of Vespertine are well drawn, barring a few things I have no particular desire to pick over in this review,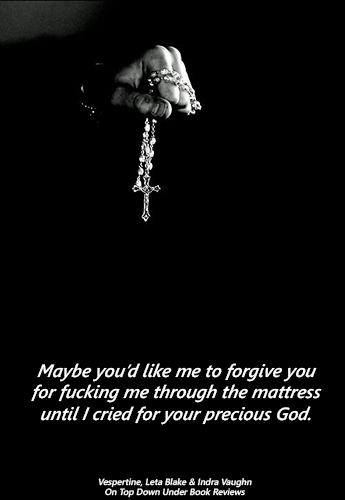 and besides, I loved these guy's and their story. It is a dual POV which provided the perfect emotional depth. I loved the angst and desperation around the reconnection of Nicky and Jazz. It's a living, breathing thing that grows and morphs until there's a shifting perspective of vulnerability and fear. The book's writing, Nicky and Jazz, give rise to feelings – whether that be the constant prayers to Christ or God to be lead in the right direction by Father Jasper, the priest. To the longing bubbling underneath the surface of Jazz, a flesh and blood man with long subjugated wants and desires that do not align with his faith, slowly resurfacing when Nicky comes back into his life. And Nicky's unrequited love, feeling like it can never,
ever 
be.
Nicky is believable as a lost and burnt out musical creative who's solely seen as a money-maker and actively given drugs by managers to get him on stage or to make contracted music. Two other members of the band are in rehab as well and the pressure is mounting to get it over with and come back into the fold, to make a hit record after some (ironically) drug-fuelled misses. Nicky wears his heart on his sleeve and has attitude along with it, but he also takes great pains to cover up a very fragile side. Those who know him, and the reader certainly does, know how he's feeling.
Despite me saying I eye-rolled at Father Jasper, I respected his take on Christianity and I liked him as Jazz. I also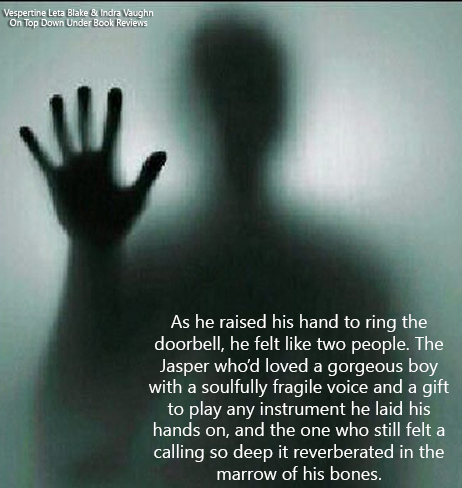 enjoyed the side-story around LGBTQ centre Blue Oasis and the children who had been homeless before that safe space, would be again without this centre. Jasper uses his priestly platform to actively keep the centre going, helping pre-teens/teens who are marginalised. He fights with passion and belief against the bureaucracy that places unacceptably pious contingencies on the centre remaining open. Jazz is a good man, and steady for Nicky once Jazz knows what he wants, but even before that he wanted to help Nicky get better.
Nicky and Jazz and their love story grew and grew and grew on me. Their relationship and reconnection, their before, was a consuming thing. Vespertine is a slooow burn, a really sexually tense ride and I'm a sucker for well written hurt-comfort, emotional, angsty, UST books. Also, as unhealthy as it is in real life, I love characters who pine for ages over the one, getting their second shot, and my GR shelves for religious themed books does not lie, I read these types of books a hell of a lot. I avoid books with rock stars in them (99%) but this writing duo called to me, and the band side of the story is really light-on. It's more a character-driven romance with religion and addiction (and not just drugs) as the strong undercurrent. Overall, I found Vespertine to be truly immersive reading. 4.5 Stars!