Audiobook Review: Vespertine, Leta Blake & Indra Vaughn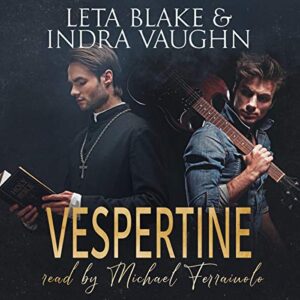 Genre/Tags: Gay Romance, Priest and Rock Star MCs, Hurt-Comfort, Second Chances
CW: Religious Themes, Drug Mentions
Author: Leta Blake & Indra Vaughn
Story Rating: 4.5 Stars
Narrator: Michael Ferraiuolo 
Narrator Rating: 5 Stars 
Length: 14 hours & 18minutes 
Audiobook Buy Links: Audible
Can a priest and a rock star obey love's call? 
Seventeen years ago, Jasper Hendricks and Nicholas Blumfeld's childhood friendship turned into a secret, blissful love affair. They spent several idyllic months together until Jasper's calling to the Catholic priesthood became impossible to ignore. Left floundering, Nicky followed his own trajectory into rock stardom, but he never stopped looking back. 
Today, Jasper pushes boundaries as an out, gay priest, working hard to help vulnerable LGBTQ youth. He's determined to bring change to the church and the world. Respected, admired, and settled in his skin, Jasper has long ignored his loneliness. 
As Nico Blue, guitarist and songwriter for the band Vespertine, Nicky owns the hearts of millions. He and his bandmates have toured the world, lighting their fans on fire with their music. Numbed by drugs and fueled by simmering anger, Nicky feels completely alone. When Vespertine is forced to get sober, Nicky returns home to where it all started. 
Jasper and Nicky's careers have ruled their lives since they parted as teens. When they come face to face again, they must choose between the past's lingering ghosts or the promise of a new future.
**NSFW** 
Review: 
I'm doing an audio review of an audiobook just for good measure today. I've reviewed the book before if you prefer a written review. The original e-book review is here. 
Vespertine is a slow burn, second chances love story. One about a reconnection after more than a decade of hurt and longing. It contains a favourite trope of mine – the love that got away and has never been forgotten. It's a very good story, complete with humour, deep emotion, taboo, a degree of moral ambiguity, and hurt-comfort, plus hot sex. It is made complete with the fantastic narration of Michael Ferraiuolo.
Audio Note: When I say Vespertine is a long-arse book, I mean that in the context of a contemporary romance story.