Finding His Pack (Greycoast Pack #1), Jena Wade, Lorelei M. Hart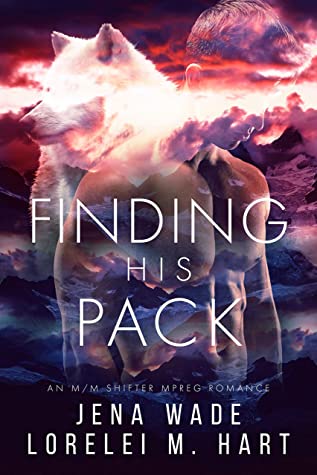 Rating: 4 Stars
Publisher: Self-Published
Genre: Paranormal Gay Romance
Tags: Paranormal, Fated Mates, Mpreg, Omegaverse, Romance, Series, Shifters (Wolves)
Reviewer: Cindi
Purchase At: Amazon.com
Blurb –
The thing about Fate is…she doesn't care about rules.
Recent college graduate, Cord Smith expected to graduate, find a six figure salary, and move to the city. Instead he discovers his degree might look pretty on the wall, but it isn't helping him get out of his low end job. Add to that his growing concern that he might be losing it as the voice he thought was his conscience as a small child has grown to be more on the forefront; he's a mess. Growing up in foster care means he's in this on his own—or so he thinks. It isn't until he shifts unexpectedly that he discovers the truth—he's a wolf.
Greycoast Pack Alpha Byrom is doing the best he can to keep his pack together, but as a young Alpha and an unmated Alpha at that, he faces struggles both within his pack and with those surrounding him; packs that long for their land. When his pack finds a rogue on their land, he knows what he has to do—put the shifter down. Anything less will only show his weakness.
But what is an Alpha to do when the rogue he is to put down isn't a rogue at all, but a latent shifter coming into his own, a shifter his wolf is clamouring to claim as his own?
Finding His Pack is a sweet with knotty heat M/M Mpreg Shifter Romance by the popular writing team of Jena Wade and Lorelei M. Hart. It features an Alpha who is learning his role, an omega just discovering who he is, a pack struggling to come together after the loss of their beloved Alpha, power hungry rivals, and an adorable baby or two. If you love your shifters hawt, your omegas strong, and your mpreg with heart, one-click Finding His Pack today.
Finding his Pack was originally released as a much shorter novella. Finding his Pack is now 40,000 words of shifter goodness. If you have purchased the original, please contact the authors with your order number and they will be happy to hook you up.
Review –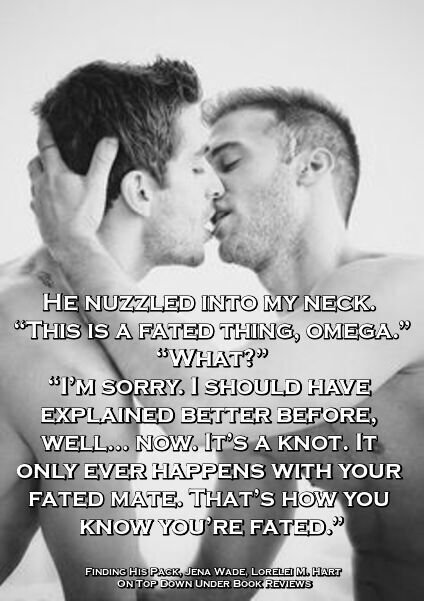 Cord's in a bad place. He's working two jobs just to keep his head above water and even then, he's still struggling. He has a college degree that should have him earning a good salary. Instead, he's stuck with overdue bills and student loans he has no hope of paying off. Having grown up in the foster system, he has no family to turn to.
For his entire life he's been hearing a voice in his head. He never really thought much about it even if his foster parents told him he was crazy.
His experiences in foster care weren't good.
For some reason, he's finding himself wanting to spend as much of his off time as he can outdoors, which is weird for him because he's never been an outside person. With help from a coworker, he's able to get a nice pair of hiking boots for almost nothing. During one of his hikes something crazy happens. The voice that he'd always heard inside his head is suddenly getting louder. It's always said nothing more than the word run. Now it's saying things like mate and other words that make no sense to him.
Run.
Mate.
Run.
Mate? That was new.
"What do you mean, mate?" And just like that, I broke my vow to ignore the voice.
Mate. Run. Mate. Mate. Mate.
Before he realizes what's happening, he's suffering from the most excruciating pain of his life as he (unbeknownst to him) shifts to his true form for the first time – that of a wolf.
He's convinced he has gone crazy and that maybe he's dreaming. That is, until he's surrounded by growling wolves, one of which he can sense is pure evil. Another one makes him feel safe.
Safe.
"Yes," I agreed. He was safe. The biggest, scariest wolf of all was safe. I didn't know how I knew or why it even mattered since I was about to be torn to shreds.
~
I didn't say it out loud, but I'd sooner kill Rance than the beautiful wolf that we'd found on our land.
Byrom is Greystone Pack's alpha. He knew that someday his father would retire and he'd be forced into the role. What he didn't expect was for it to happen as suddenly as it did after an accident takes his father and other leaders. A wolf pack alpha needs an Alpha Omega in order to rule properly. This was drilled into him literally hours before his father's death. Byrom always believed in fated mates. He didn't want to be forced to pick a mate only to possibly find his fated later.
When Byrom and a few members of his pack stumble across a rogue wolf on their property he has a major decision to make. The old, archaic rules state that if the rogue doesn't have a good reason for trespassing, he's to be put down. Rance, a total jerk wolf, is all too eager to do the killing. He was evil before Byrom became alpha and he's only gotten worse. Byrom's wolf is telling him in no uncertain terms that the trespasser is his mate. In order to clear his head a little, he and his twin brother (Lyle) leave with instructions to the others to take the rogue wolf to lockup. Only later (after a run-in with Rance, who beat up the other wolf, whose name is Cord) does Byrom discover that Cord wasn't a rogue at all. This was his first time to shift and he never even knew he was a wolf until it happened. He'd grown up not knowing his real parents.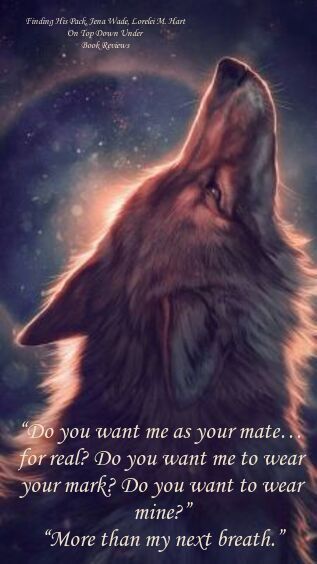 Long story short, Cord is brought to stay with Byrom and they gradually become friends. Byrom teaches him the ways of the wolf (so to speak) as Rance is constantly causing trouble in the background. With Byrom being the pack's alpha, I couldn't understand why he allowed Rance to get away with so much. He wasn't dealt with until there was no choice. Even so, I did like how that was handled.
Cord and Byrom both want each other bad and their wolves are getting impatient. Byrom knows Cord is the mate he's been waiting his whole life for. Cord doesn't feel worthy of anything. Each time they (finally) did something sexually Cord acted weird after, like he wasn't good enough. His 'I'm not good enough, woe-is-me' would've truly gotten tiring if the book had been longer. It was just enough to be annoying but thankfully handled quickly. After pulling away one time too many, he puts himself in a position that could end up killing him if he's not rescued soon.
This is where the reader can see how truly evil Rance is. I love how all that was handled. I also liked having a neighboring pack introduced. I know who Lyle's love interest will be (from that pack), so it was good to kind of get a feel for them before I read that book.
This was a nice read. I did find Byrom to be way too patient with Cord and I found Cord to be way too wishy washy. Even so, they were good together once they got together.
This is Mpreg but it doesn't take over the entire book. It happens much later and isn't page after page.
Overall, a nice read. I love fated mates books and once these two got their act together, it was nice.