Audiobook Review: Declination (Borealis Investigations #3), Gregory Ashe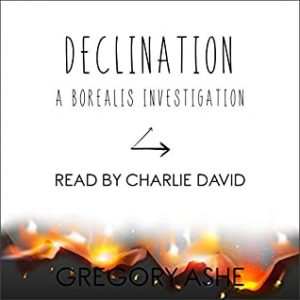 Genre/Tags: LGBTQ, Murder/Mystery, Angst, Drama, Psychological, Humour, Gay Romance, Series
Author: Gregory Ashe 
Story Rating: 4.5 Stars
Narrator: Charlie David 
Narrator Rating: 4.5 Stars
Length: 11 hours and 48 minutes 
Audiobook Buy Links: Audible, amazon
Shaw and North are together. Finally. After eight years of knowing each other and loving each other and slipping past each other, they've finally told each other how they feel. Borealis Investigations is growing, and they have a major prospective client on the line. Everything is finally moving the way it should. 
Until the night Shaw receives a phone call telling him that Detective Jadon Reck, his former boyfriend, has been attacked. 
In spite of a warning from Jadon's partner, Shaw and North begin an investigation into the attack. But nothing is at it seems. City police are working to cover up evidence faster than Shaw and North can find it, and the motive for the attack seems impossible to unravel. 
When a conspiracy of dirty cops takes action against Shaw and North, the two detectives realize they are running out of time. They have to get answers about the attack on Jadon before they lose their own lives. But Shaw knows there are things worse than death. And one of them has come back for him, to finish what he started seven years before. 
The West End Slasher has returned.
Review: 
I started Declination in e-book format but my eyes got angered with me so I switched half way through to audiobook and I've decided to rate that version. Just for the record, thank you to authors, like Gregory Ashe, who put their books into audiobook format. Audiobooks are not cheap to produce, and even though romance is a huge genre, not as much of the pie is for LGBTQ books. It means a lot to people who struggle with their eyes/sight.
The story: Yes, Shaw and North have "told each other how they feel" but, and it's a big BUT, they're still at situation normal ++. Their ongoing, long-standing communication problems remain. These guys love some drama, and their new relationship status subtracts a layer but then adds several more. The personal supposition continues. The rumination. The angst. But, you know, here I am, three books in a row into these characters in the space of a week, so…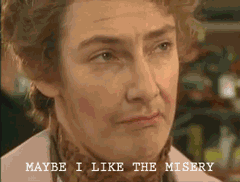 The investigation in this book is the best of the three. I felt satisfied that the PI work was more substantial this time around. That there was a good ratio of romance to MC angst to mystery. I felt like the guys worked harder and didn't flimflam me with dramatics alone. You know the Slasher mystery is coming to a head but there are other issues that throw themselves out there, like what happened to Jadon being one of them. He isn't on page much but I felt for Jadon in this book and I didn't care for him previously. If you get sucked into the orbit of one of these guys, especially true of Shaw, you are pulled into their damage. Officers Taylor and Waggener are being epic arseholes, why is that? Skin-crawling Uncle Ronnie is at the start of becoming another pressing concern. And speaking of, a pox on Ronnie, a complete and utter freaking pox, because that ending did not make me a happy reader. No no no, fucking NO!  Insults incoming…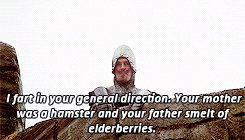 I enjoyed the transition of the relationship of Shaw and North. It was time for them to be each other's One. They deserve some happiness. Hmm, maybe a strong word that, happiness. However, their love is a palpable thing. We know it, they're insecure about it. *Waves a clue at Shaw and North
That banana moment, there are two of them in the blanket fort, dear lord – "Show me what to do with that pretty little banana." – I burst out laughing.
I also loved the continued attempts by Shaw to work out North's middle name, if he even has one. This is a constant through the series.
"North Zedekiah McKinney," Shaw whispered.
"Not my middle name."
And Shaw's coke addiction, and by coke I mean Coca-Cola. He gets hyped up beyond belief, craves it. Then add a little weed and we get hyper paranoid Shaw. This allows his mind to go to even stranger places inside and outside Shawland.
But I also felt Shaw was a smidge selfish. I know that Shaw has real issues, and North hits some tone deaf notes, but I felt that North made himself vulnerable. I felt that North, once again, ended up unable to do the physical side of the business that you know he is capable of because he gets relegated a little too often to emotional white knight. The quote below from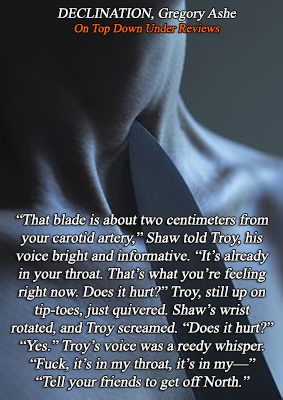 Orientation (book #1) sums up where North's relationship trajectory within the series is going, has gone-
What hurt most was letting go of the dream—the fantasy, Shaw corrected—that some day, it would be North who helped Shaw over that Berlin Wall of hangups. (Orientation)
North is well and truly there for Shaw's psychological "Berlin Wall." It feels like that's what North's primary 'job' is, and when is he going to get back his license? He props up Shaw and fields his emotional chaos and pain, unlike Shaw's doctor and new-age guru. North does it all, and willingly. There's also a running cheeky and teasing private back and forth from Shaw about North loving some cute anime characters. To top off this… uh, squidgy side of North, Shaw is the one who physically fights the battles, he can be quite the smiling assassin too, yet he's the slight one, the "soy boy," the one with the trust fund, the one in touch with his inner Tara Brach, the vegan and alternative food and health champion, while really being a sugar and caffeine fiend, all while North is the blue collar guy, the one who grew up tough, who wears Red Wing boots. The one who worked on building sites through college. It all feels very much to me like Ashe is saying (quite loudly) "don't judge a book by its cover, readers!"
Anyway, North has untold baggage that is sill to come, I smell it, but he fights hard for Shaw, outside his moments of frustration-fuelled foot in mouth. I mean, the man isn't Job. He is, however, patient and obsessively loving, as is his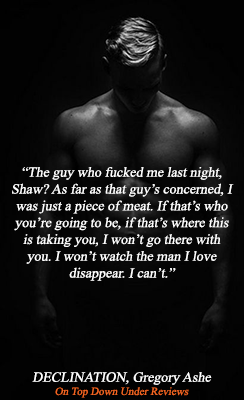 wont, and he has deep-seated feelings of being mistrusted by Shaw – and it hurts him. It hurts him so much more because he doesn't see himself as a good man, and he doubts himself. That's a hard gig, especially when you're dealing with the emotional fallout of the person you love, one who is hellbent on something else that seemingly isn't about your new (long overdue) couple status. I understood Shaw's need to (potentially) ease his soul, his survivor's guilt – his trauma – that all affect his ability to have healthy sex because they leave him feeling broken and less-than in his new relationship with North. It rides him relentlessly.
Oooh, and there is a dog, a Löwchen, that no one names… well, except David McKinney. Who suggests Leo. And isn't that fucked up that North's father is the only one who thinks naming a dog is a good idea? It's all very weirdly, cute? Speaking of. You know how something hits you, and probably only you, as you read? Well, I don't know North's father's age, but I'm guessing he's younger than me, at least a decade, not that I know when he fathered North. However, I always feel like I could walk straight into my old family home with what David McKinney has on the TV. He watches programs that my father used to watch and my dad fought in WWII. I'm Just sayin'.
The narrator: I've never heard Charlie David narrate before but I am newer to romance audiobook appreciation. He gives good voice. It totally suited North. Completely and utterly suited North. "Okay, baby." Mmmm… hearing him say baby in smoky North-tones? B.e.a.u.t.i.f.u.l. I cannot express that enough. That will stick with me.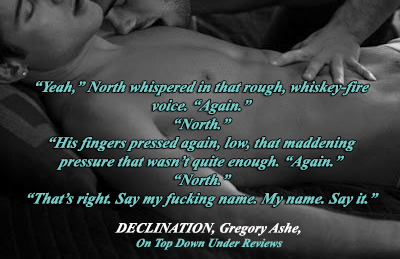 Overall: This was the usual well written Borealis book with the usual Borealis character addiction cemented further, complete with the usual frustration attached. It was also well narrated. It made me feel simultaneously irritated and happy – it's a weird feeling. Seriously, though, Gregory Ashe is a sneakily twisted writer, he's very respectful of diversity and equality, kudos, but he also makes a reader mighty stabby. It's what I've now come to accept, in a Stockholm syndrome kind of way, with the Shaw and North Show, the Borealis Investigations team. It's what I've come to expect in this world of quirky, off-balance characters and situations. I'm going to read the Borealis 'adjacent' series shortly, then hopefully my son and I can dissect them together, lockdown still ongoing. In the meantime, 4.5 Stars! to Declination.