The Secret Thing (The Blackburn Brothers Duet #2), E.M. Denning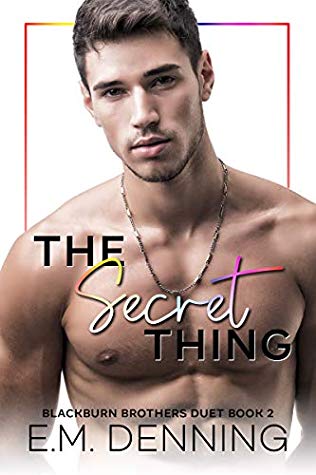 Rating: 3.5 Stars
Publisher: Paper Gold Publishing
Genre: Romance
Tags: Contemporary, Age Gap, Bi Character, Family, First Time (x 2), Pansexual Character, Romance, Series
Reviewer: Cindi
Purchase At: Amazon.com
*** This review has a few spoilers. ***
Blurb –
On the cusp of starting college, Christian Blackburn has had enough of his meddling, helicopter mother. He lucks into a room in a gorgeous house close to campus and away from the noise of dorm living. His landlord, Brandon, is a surprise. It doesn't matter to Christian that Brandon is twice his age. He's good looking, kind, a hell of a cook, and he doesn't treat Christian any different because of his seizures.
If only Brandon wanted him back.
Brandon Hayes is comfortably divorced, but his life would be better if well-meaning people kept their nose out of his affairs. To ease his ex-wife's concern that he's living in a house far too big for just one person, he takes on a roommate. The much younger Christian is smart and charming. He's older than his years, and his presence in Brandon's life wakes something up inside he's kept hidden from everyone. Having Christian around reminds Brandon of his attraction to men, a pull he can't ignore.
One kiss changes everything.
Their chemistry is off the charts and their lives fit together in a way they never expect them to. Battling the age difference, a nosy parent, and the fear that people won't accept them as a couple, they agree to keep their relationship secret. After a tumultuous weekend away, Christian decides that he wants Brandon by his side, and doesn't care who knows about them. But what will happen once all Brandon's secrets are out in the open?
Review –
Christian, eighteen, was introduced in The Sweetest Thing. The younger brother of Nathan, he suffers from a seizure disorder. Because of his mother's smothering, he's desperate to get out of his parents' home and have a little bit of freedom for the first time in his life. He does this by renting a room in the house of Brandon, a forty-year-old man who codes software for a living. It's either rent the room or stay in the college dorms for his freshman year of college. His mom basically demands that he defer for a year but that's not happening.
She's the classic helicopter parent. She wants to control everything in Christian's life, to the point of him seriously almost not wanting to have anything to do with her at all. Granted, he's only eighteen and hasn't had many freedoms (gee, I wonder why… not) but he's mature enough for the most part.
Once the nerves settle about being in a stranger's home, living with Brandon in his house is really nice for Christian. His mother continues her controlling ways, but Brandon and Christian are developing a friendship. At first, that's all it is – a friendship. Brandon is lonely and likes having someone in his home to talk to and to cook for. Christian enjoys spending time with the much older man because there are no expectations other than friendship.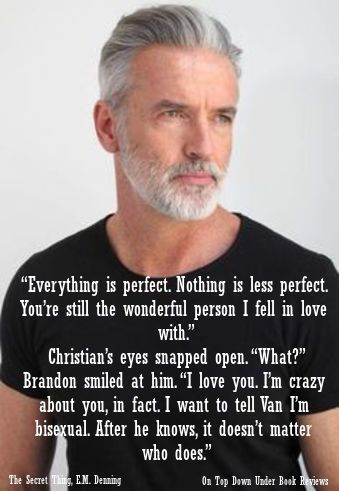 But then Brandon sees a wet Christian walking out of the bathroom after a shower wearing just a towel. That pretty much changes everything. Brandon knows he's bi, though he's never told anyone, kind of scared that waiting until he was forty to come out would have people thinking he's having a mid-life crisis, not completely confident in his sexuality. Confident on the inside. Not enough to tell anyone just yet.
Christian overhears a conversation between Brandon and his best friend and Brandon becomes all he can think about, so he kisses him. One kiss becomes several and before they know it, they're playing a little in Christian's bed.
Christian is a virgin and Brandon's only been with women, the last of which being his ex-wife, Nadia. Playing around with Christian isn't an issue. His age is. Brandon is twenty-two years older and Christian is (as Brandon's son Van calls him) a hot twink. He's two years younger than Van. And we can't forget that Brandon hasn't told anybody that he's bi, other than his very best friend. Even so, the two men continue to get closer, enjoying each other's company and body but only in the privacy of Brandon's home. People – the best friend, the best friend's wife, his ex-wife – are constantly trying to set Brandon up with a 'nice woman' and he's tired of it. He's falling in love with Christian and can't even tell these people why he wants them to back off. Brandon had to snap at somebody he's close to to finally get them to stop it already.
Christian and Brandon continue to privately get closer. Christian's mother continues to be controlling and annoying. Sam, Christian's best friend, is an amazing 'take no crap from anybody' type of guy. Nathan and Scotty (from the first book) are in this one a little. I would've loved to have seen more of both of them but I know it wasn't their story. On top of everything. Christian took on a little bit more than he should have for his first year of college. This causes a seizure, which has his mom trying to hover even more and has Christian seriously losing his cool. Well, that and something she finds out about that Christian's grandfather did for him – something she never should have had access to in the first place.
Everything is going perfectly for Brandon and Christian, though neither is ready to tell the world they're a couple. Brandon does eventually tell his ex-wife with the understanding that she tell no one else. Christian doesn't tell anyone because he can only imagine the reaction his mom will have when it comes out that he's involved with somebody old enough to be his dad.
The two guys plan an after Christmas/Christian's birthday trip to Christmas Town (I think it was called?). It's far enough away from their town for them to be able to hold hands and be a couple in public. Everything is going perfectly… and then it's not, and not because they're recognized by anybody they know.
Their secrets come out after somebody has a medical emergency. Christian's father is a jerk about it, which is odd because his father is a total doormat and has never been much of a dad. He works all the time and pays the bills but he doesn't go out of his way emotionally for his sons. There's a bit of an issue and misunderstanding when Brandon's son surprises his dad with a visit and sees something Brandon wasn't quite ready for him to see. Of course, everybody becomes accepting (including Crazy Mom) and Brandon and Christian have their HEA.
Issues I had with this story…
I'm all about characters with a substantial age gap. People who know me know that I seek books out with those types of couples more often than not. I had no problem with the twenty-two years between Brandon and Christian, but something was off with these guys. Maybe it's because Christian had been so sheltered growing up and went straight from his controlling mother's house to having a relationship with a man so much older. He's had zero chance to experience life without a mother or father figure being over his shoulder. I'm not downplaying his relationship with Brandon. But like I said, it just felt off.
Christian and Nathan's mother for obvious reasons. While I was hoping she'd come around and back off a bit, when it happened, it wasn't even remotely realistic. I found her to be too accepting too fast considering how she'd been up to that point.
Others might not have noticed this small detail but I did. Brandon told his ex-wife that he was bi and that he would be discussing it with his son. It's a conversation HE should've had with his son. It was very important that HE do so, especially considering that his telling his son was an emotional thing for him and something he was terrified to do. After Van walks in on Christian and Brandon and has a bit of a toddler fit, he says, "Mom told me," (or something to that effect) when Brandon tells him he's bisexual. When is it acceptable for somebody to out somebody without their permission? Brandon was his father and it was his life and his story, not Nadia's. He should've been the one to have that conversation with their son, even if the son was gay and would likely be okay with it.
What happened when Brandon told his best friend that he was involved with Christian? Another thing that was a big deal to Brandon throughout the entire book wasn't even mentioned after he'd told everybody else.
Overall, I did like this. I'm really surprised that I had a bit of an issue with the two men because of the twenty-two years between them. Don't get me wrong. I liked both characters. I just felt that for Christian to go directly from his controlling mother to having a real relationship with someone so much older didn't feel natural. Not at eighteen. I will say that I did really start liking Van, Brandon's son, even if he was a bit of a bonehead a couple of times. I would love to see Van and Sam together.
"I feel like I'm giving my little brother a ride, but you're what… my step-dad? That's weird."
"Please don't call me daddy," Christian shot back.
"Oh, dude. You did not go there. I hope to god you don't call my dad that. Please tell me you don't. No… wait. Tell me nothing. Nothing is good. Ignorance is bliss."