A Home for Ben (Alaskan Pebble Gifters #3), Amy Bellows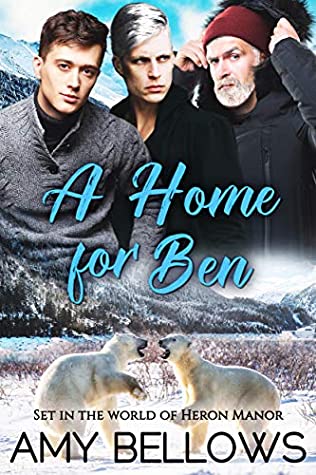 Rating: 4.5 Stars
Publisher: Amy Bellows
Genre: Gay Paranormal Romance
Tags: Paranormal, BDSM (Kind of), Fated Mates, Menage (MMM), Mpreg, Romance, Shifters, Series, Virgin
Reviewer: Cindi
Purchase At: Amazon.com
Blurb –
Ben is a Pebble Gifting Season reject. He wandered the cold streets of Anchorage for three weeks straight, hoping an alpha would give him a pebble. But no one did.
Axel is banished. He lost his temper four years ago and almost killed the alpha who abandoned his brother. Now he can only spend a handful of days per year in Anchorage, which is when he comes upon a sad penguin shifter in a wrinkled tuxedo.
When Cyrano runs into Ben and Axel by chance, he decides to lure them both to bed. Clearly, Ben needs someone to show him how irresistibly attractive he is, and Axel needs to be reminded that he's a good man, despite what happened in the past.
Cyrano's sure he can do both at the same time. On the same night. After all, he's good at multitasking. It's a perfect plan. Until he falls in love. With both of them.
A Home for Ben is an MMM romance with an accidental pet tortoise, two omegas who get pregnant at the same time, and cameos from previous characters in the Alaskan Pebble Gifters series. This book is the third in the series, and will only make sense if you've read the first two books.
Please note that A Home for Ben includes both traditional MPreg and MPreg of the penguin egg variety.
Review –
If you've not read A Pebble for Lewis and An Egg For Ansel you'd be totally lost if you attempted to read A Home For Ben. The blurb states that it will only make sense if you've read the first two books. I can't stress the truth in that enough. With that being said, I'm not going to attempt to explain the pebbles or shifters or significance of either in this review. It would end up not making any sense at all.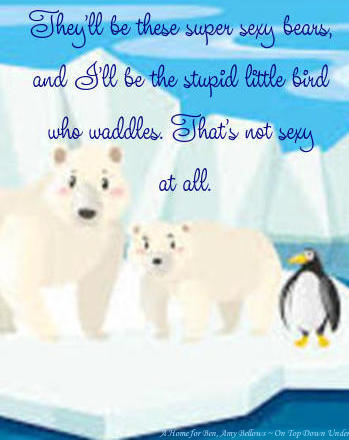 Ben is a penguin shifter. It's the final day of Pebble Gifting Season and he's been rejected by all alphas he's come in contact with for reasons mentioned in the book. It was pitiful and I felt so bad for him. Dejected, he walks inside a bar and meets Axel. Axel is a bear shifter who's been banished for standing up for his brother. Yes, he lost his cool and got violent, but there were circumstances behind that. Even so, he's considered a 'rager' and not allowed to stay in Anchorage except for a few days during the year. Feeling bad for Ben, Axel encourages him to leave with him to go to another bar/restaurant for dinner. And this is where Cyrano is introduced in the book. Cyrano is another bear shifter. He and Axel have a history, one that broke my heart because they felt they couldn't be together. It's obvious they love each other, that they've always loved each other, but they can't be together. Axel's not allowed a mate because of his 'rager' status, and Cy's not looking for one. Cy obviously sees in Ben what Axel does – that the penguin shifter just needs to feel wanted after his rejection. This has them all going to Ben's hotel room and spending the night. Ben sold everything he owned for Pebble Gifting Season so he's basically stuck. When morning comes, Cy offers to allow him to stay in his spare bedroom.
I loved Cy. He always has to be in control and this means not sharing his true feelings about Axel over the years. Oh, he thought Axel knew, but he never really made things that clear. As in, the wanting him forever thing. Axel is obviously head over heels in love with Cy but he feels that he ruined everything when he attacked his brother's former alpha. As for Ben, he doesn't believe he belongs anywhere. I loved Axel and Ben as well. Axel is sweet and caring while Cy is a little rough around the edges. Ben just wants to be loved, wanted.
I can't say a lot about this book without giving away major spoilers. I will say that it was very sweet watching these three men come together. There's the constant worry from Axel, who loves both Ben and Cy but he knows he has to leave them. There's the insecurity of Cyrano, who tries his damnedest to not show his true feelings or any weakness. And there's Ben who finally feels like he belongs. There was never any weirdness about the three men being together with the exception of Cy's insecurities coming out a couple of times. It was all about them finding a way to stay together.
Other things are happening in the background. Ben, before he was hatched, was left in front of a fire station and knows almost nothing about his parents. He wants, needs, to know where he came from. Axel just wants to be with the two men he loves. Cyrano has to learn to open his heart a little and allow the others in.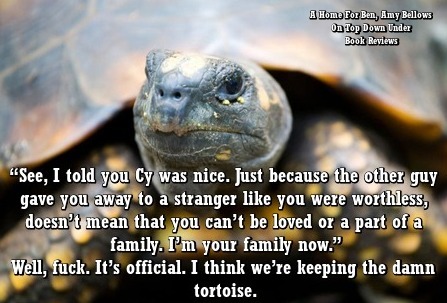 There's also Scooch, Ben's pet tortoise who added a lot of comic relief to the book. He couldn't have a dog or cat or any other type of pet so the others kinda/sorta/not really agreed to a tortoise, not realizing how quick Ben would find one. Watching Cy with the pain in the butt Scooch was hilarious.
This is a mpreg book so of course two of the guys get pregnant. When Ben does, I cracked up when it came time for his nesting. The other two books described a penguin's nesting that occurs as they're preparing to lay their eggs. There's always a lot of destroyed pillows and collecting. Some penguins collect sparkles, some collect expensive clothing, some collect other things. Ben collects living creatures. It was so funny. The collections have to stay either on the bed or surrounding it. You don't dare move any of it even an inch or a hormonal omega daddy will go a little nuts. 😉
I loved these three guys together. They had to overcome a few obstacles to have their HEA but it was so worth it. This is one of those MMM books that really worked. I listed BDSM in my tags but there's not really much to it in the book other than Axel and Cyrano being Ben's Daddies and Cy's need to always be in control. Cy and Axel had a history but at no time does it appear that Ben doesn't belong. He's simply the final piece of their puzzle.
The sex was super hot yet sweet at the same time. A really good book. This is my new favorite in the series.