A Pebble for Lewis (Alaskan Pebble Gifters #1), Amy Bellows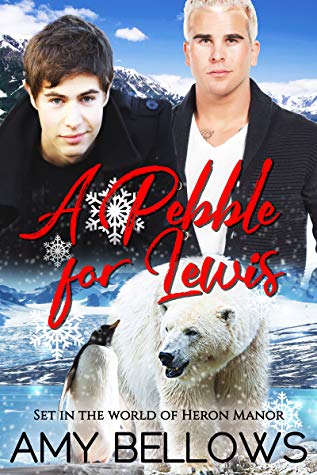 Rating: 4 Stars
Publisher: Amy Bellows
Genre: Gay Paranormal Romance
Tags: Paranormal, Fisting, Friends to Lovers, Mpreg, Opposites Attract, Romance, Shifters, Virgin
Reviewer: Cindi
Purchase At: Amazon.com
Blurb –
In Anchorage Alaska, penguin shifters omegas aren't allowed any physical contact with an alpha until their Pebble Gifting Season, when alphas present a pebble to their desired mate. Lewis has always always followed the rules.
Until he meets Todd. A polar bear shifter.
Everyone knows that polar bear shifters are unreliable players who don't mate for life. But Todd is breathtakingly beautiful, with a body as big as a mountain and a head of thick, white hair. Lewis can't manage to look away.
In a world where penguin shifters and polar bear shifters have been at odds for over a century, even a friendship between Todd and Lewis is forbidden. But as Lewis's Pebble Gifting Season draws closer, their forbidden friendship turns into a passion neither of them can ignore.
A Pebble for Lewis is a 37,000-word best-friends-to-lovers romance with a size difference, knotting, and MPreg of the penguin egg variety. It's set in the same world as the Heron Manor series, but it stands alone.
Review –
I've read a bunch of bear shifter books. Until this one I'd never read a penguin shifter book. It was… different. Not a bad different, just different. Bears have cubs. Penguins lay eggs. I don't know that I've ever even seen a book that was mpreg where one of the guys laid eggs.
Anyway, with that being said…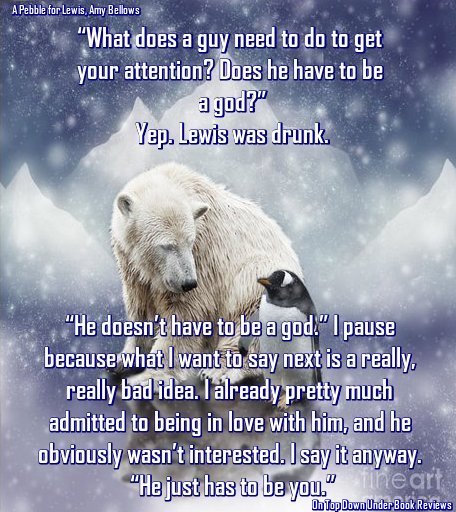 Todd and Lewis see each other for the first time when they're both seventeen. Todd is a white bear shifter and Lewis is a penguin shifter. The two species almost never mix. The only reason they're in the same vicinity now is because Todd has a special skill that Lewis' father is in need of. Long story short, the two guys end up speaking to each other and then see each other again a couple of weeks later. They share info and start up an online gaming friendship. Fast-forward a few years and Todd has an apartment and invites Lewis over. They haven't seen each other since they were seventeen, but they talk almost daily as they play games against each other online. Meeting face to face is a little awkward but it doesn't take long before they're comfortable with each other. Over a little alcohol when they're both twenty-one, Todd confesses to Lewis that he's in love with him. A very tipsy Lewis returns those feelings rather bluntly. A drunken Lewis was adorable.
For penguins, they have what's called a pebble ceremony. I'm not going to attempt to try to describe all that in his review. I will say that it's a process where the penguin – who has to wait until they're twenty-three – chooses their alpha. The chosen alpha then gives the penguin/omega a pebble. The pebble ceremony is very important.
The problem for Lewis and Todd is that penguins mate for life and polar bears don't. What happens when Lewis goes through the pebble ceremony with the intention of staying with his bear until he dies, and then the bear leaves him for someone else? That's something they have to work through. They also have to work through getting the acceptance of family and friends when the two species don't mix. Only when Lewis gets pregnant does everything change.
This is a cute story. Todd and Lewis stay in their true forms more than most shifters I've seen in books. There are reasons for that. I almost DNF'd at 15% because of something that happens with one of Todd's friends, Ansel. I'm glad I kept reading, but I'm still a little lost over how something (someone) was 'taken care' during that time. Even so, the story was good and it was interesting reading about Lewis laying eggs and Todd going into 'father' mode.
The sex is written well. The word ouch popped into my head more than once, but I can't say more than that. 😉
Overall, a good story. Off to the next one.