Compulsion, Clare London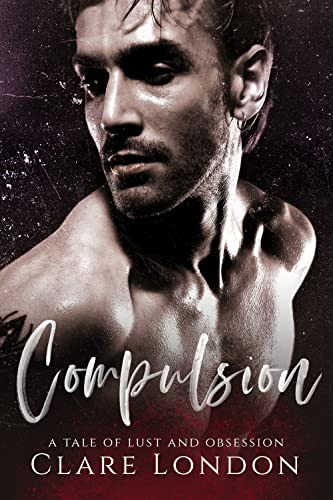 Rating: 5 Stars
Publisher: Jocular Press
Genre:  Gay Romance
Tags: Darker Edge, Mystery/Suspense, Psychological, Erotic Gay Romance 
Length: 313 Pages  
Reviewer: Kazza
Purchase At: amazon
Blurb:
The past always catches up with you. Max Newman should know—he's been running from his since that one, fateful night.
Now he's left the darker streets of London behind him and returned to Brighton to lick his wounds. Though he insists the club life is no longer his scene, one evening he lets his friends drag him out dancing. And suddenly the simple life he's tried to lead gets complicated.
At Compulsion, the Medina Group's newest hotspot, Max meets Seve Nunez, a member of the Medina management and a man used to taking what he wants. The sexual chemistry between Max and Seve immediately leads to an intimate encounter in the backyard of the club—just the kind of dangerous behaviour Max is trying to forget. Despite that, he can't help but crave more, and Seve seems just as eager.
But Max soon suspects that Seve may not be the scrupulous businessman he claims. Max has seen the Medina Group at work before, and what he saw got a good friend killed. He's not sure what future he has with Seve, but he'll have to decide whether to trust in Seve's innocence or keep running. The wrong choice could land them both in mortal danger.
**This book was previously published by another publisher. It has been re-edited in UK English. The story itself remains the same, but there's now a whole 13k words of extra content which I hope you'll enjoy.
Review: 
Compulsion is told from Max Newman's POV. When we start the book, Max has been back in Brighton for six months after a stint in London. He's working in construction and living with his two best friends, Jack, in the police, and Louis, a dancer/actor. Max has returned to his friends quieter and more reclusive, with a real sadness attached to him. Jack and Louis are not only his friends, but they're lovers. They're wonderful secondary characters, you can't help but really warm to them. Everyone should have a pair of friends so dedicated to them in their hour of need because these guys are just so caring and helpful. They never judge Max, they try to get him to talk, and get him out and about, all without being obnoxious.
Max is an interesting character. It's his head we're in throughout Compulsion, except in the updated version the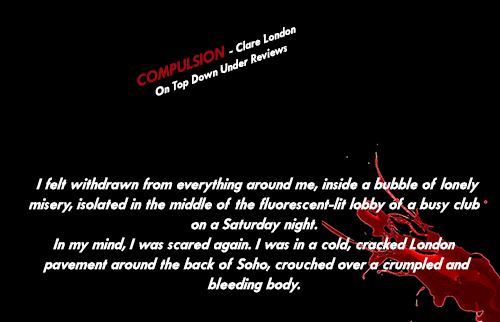 epilogue gives you both MCs POV, and I really enjoyed that. I loved the original but I'm even happier with the extra wordcount. So, Max is a bit of a dichotomy – it can be difficult to like him in some ways, yet you also can't help but have compassion for what he's been through. Young, naïve, lonely people, those who are vulnerable, have few options and often make poor choices. Max has authority issues and went through a rebellious stage, a lot of people have, I know I did. On some occasions it can turn out badly, which it did for Max. He left university, his friends, and trusted in a lover that didn't do the right thing, then found himself stranded with false, youthful bravado guiding him. Now he's back in Brighton, he's clean and working hard. Max has so much guilt attached to himself, more than enough for any one man let alone one in his 20's-
I couldn't bear them knowing all about it, realising what a mess I'd made of everything. How I'd disappointed everyone, including myself. No, I never wanted to tell them the whole sordid story.
Seve Nunez has a business degree and manages the Brighton franchise of Compulsion. It's part of the Medina Group that owns more clubs in Manchester and London, not to mention other ventures. The Medina Group is Seve's family's business, run primarily by his uncle with his mother having a fair stake hold, so family loyalty is very much instilled in Seve. The Brighton club was another rundown club until the Medina Group bought it. It's here that Seve first sees Max, after Max reluctantly agreed to go out with Jack and Louis. Louis dances at Compulsion and Jack and his friends like to visit the club and watch Louis, ever the extrovert, dance.
Seve and Max experience lust at first sight in the darkened club. Max doesn't know why he's so drawn to Seve, apart from the obvious physical pull. He's been abstaining after tragedy occurred in London. You know there's more to what's happened but you don't know all the details at first, they're divulged bit by bit as the book progresses. However, Max is attracted and before he knows it he finds himself out the back of Compulsion in the grotty courtyard – complete with garbage bins and foxes looking on – having a quick, rough bit of sex. A week of trying not to think about Seve after their encounter finds Max back at Compulsion having another sexy hook-up, this time in a small office, on a desk, against a wall. It's hot, sweaty, body thumping sex.  And, oh yeah, wasn't it sexy as! All I can say is whoa, baby! Seve is one hot alpha top.
Max and Seve make for an interesting couple. Seve is a Latino man of few words, has lived an upmarket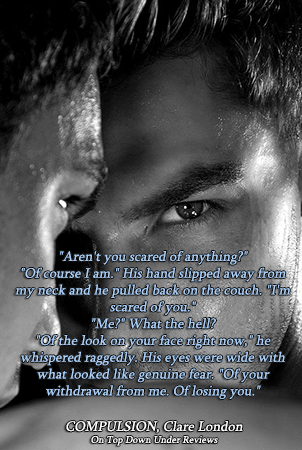 lifestyle, while Max is this brooding Brit, raised in an orphanage, dropped out of university, and is blue collar. Seve likes hard and fast and once-only flings, often with high profile people, yet Max is the one that leaves every time they have sex. He sets the ground rules on how much hurt he can bear at a subconscious level. How close he won't let anyone get. Seve may appear distant and in control but Max beats him hands down in keeping locked-up tight on anything but sheer sex. Then, dear lord, he cuts free.
If you read my (original) GR status updates they are pretty much all sexual in nature, because this book is up there for one of the sexiest books of the year, perhaps ever, but there is a good story here as well. Nice secondary characters, good development of plot. Plus there's the whole background story Max is trying to deal with. Seve is mysterious as well. There is such passion and intensity it's almost like you are drowning in an obsessive affair right along with Max and Seve. One that develops into an equally intense and passionate relationship.
I enjoyed the plot. It involved friendship. A deeper understanding by Max as to what that actually meant. And the primary plot that ties in with Max's connection to London, Brighton, and Compulsion. The Medina Group is rumoured to be involved in drug running and money laundering. Something Max knows a bit about courtesy of his dark days. Is Seve involved? He manages the Brighton club. Is it part of a shady organisation? If so, how does Seve fit into that? How does Max reconcile what he's doing with Seve now? Having sex with him and constantly thinking about him. Repeatedly going to him. Max has information on a cold case that relates to criminal activity around the London Compulsion club. Should he go to the police and possibly throw himself under a bus and take Seve with him?
The suspense/crime part is written so well because it is hard to know whether Seve is an above-board businessman, or someone who bends the rules. Maybe he's someone who is lying to his lover. He's a man of few words and a lot of the time spent between Max and Seve is hot and heavy sexual action. They do get to know one another piece by piece. Their lives are intertwined through people and the club. Max insists on asking questions of Seve who doesn't like it, but his attraction to Max helps him open up more, though it takes a while. In the first version love doesn't get used, but in this updated version that is remedied for the romantic. It made me happy. The book is insta-lust, not insta-love. They have to work for it, and the love and deeper affection builds. I have to say that Seve becomes gentler, Max gains strength. They both learn something about themselves and relationships.
I love passion in people, I love passion in my characters, I love passion in writers – three out of three here! Clare London drips passion all over the pages, all over the characters. It seems as if it has quite literally dripped through her veins and oozed out from within and onto her keyboard, then spread out for us to immerse ourselves in.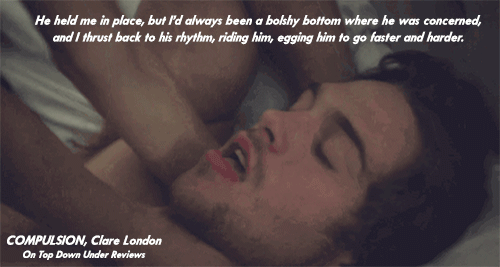 Compulsion was on my Books of the Year: 2012. This version ups the ante by updating the language to British English, it is set in London after all, also having undergone a general tweak, including a new and extremely satisfying multi-POV epilogue.
The well named Compulsion is definitely recommend for people who like an alpha male, a brooding, rebellious power bottom, a troubled character, those who love some rough and sexy grind, a bit of exhibitionism, a mystery/suspense thread, a kind of anti-hero, probably two, obsessive lust and possession, just some compelling writing and storytelling. 5 Stars!