Audiobook Review: Dark Needs at Night's Edge, (IAD, #4) Kresley Cole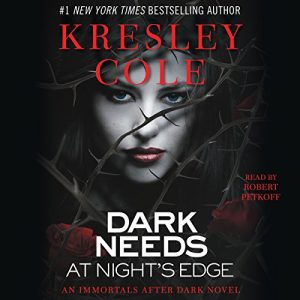 Genre/Tags: Heterosexual Romance, Paranormal, Supernatural
Author: Kresley Cole
Story Rating: 5 Stars
Narrator: Robert Petkoff
Narrator Rating: 5 Stars
Length: 10 hrs and 59 minutes
Audiobook Buy Links: Audible
Bestselling author Kresley Cole continues her seductive Immortals After Dark series with this tale of a vampire shunned even by his own kind and a beautiful phantom, bound together by a passion they cannot resist.
A RAVEN-HAIRED TEMPTRESS OF THE DARK…
Néomi Laress, a famous ballerina from a past century, became a phantom the night she was murdered. Imbued with otherworldly powers but invisible to the living, she haunts her beloved home, scaring away trespassers – until she encounters a ruthless immortal even more terrifying than Néomi herself.
A VAMPIRE WARRIOR CONSUMED BY MADNESS…
To prevent him from harming others, Conrad Wroth's brothers imprison him in an abandoned manor. But there, a female only he can see seems determined to drive him further into madness. The exquisite creature torments him with desire, leaving his body racked with lust and his soul torn as he finds himself coveting her for his own.
HOW FAR WILL HE GO TO CLAIM HER?
Yet even if Conrad can win Néomi, evil still surrounds her. Once he returns to the brutality of his past to protect her, will he succumb to the dark needs seething inside him?
Review:
I read this Immortals After Dark book over a decade ago. I loved it then, I still love it now. Most of these series books I never gave a review to, so I'm going back through a few of them and remedying that. I feel strongly about having the books that mean something to me on this blog.
Néomi Laress is a fabulous heroine. She lived and died in the Prohibition era in New Orleans and she made her own way in a time when women found that nearly impossible to do. As a ballet dancer and a social influencer of the time, she managed to buy her own estate, Elancourt, and renovate it all on her own dollar. Then, so much like the stats that still haunt me now, she was killed by a partner who thought he owned her. It was at a party to celebrate Elancourt that her ex murdered her.
So Néomi has been stuck in limbo at Elancourt since the night she violently met her death. It seems that such was her love of life and the property she had literally just finished renovating, she couldn't let go. There have been tenants come and go over the eight decades since her corporeal life ended, and while she enjoyed most of them being there, no one has been able to notice her. She is alone in the afterlife until the Wroth brothers, who are all vampires, bring Conrad Wroth to stage an intervention and rehab on the brother who has gone red-eyed mad.
Conrad drinks from the vein. Nikolai, Sebastian, and Murdoch don't drink humans and they want to help Conrad understand that there is another, better way of being a vampire. However, unbeknownst to them, Conrad, at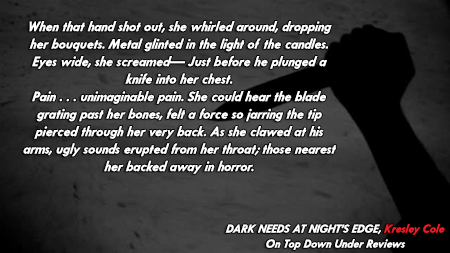 thirteen, had been inducted into the Order of Kapsliga Uur. This was in 1609. The Wroths, like all fictional creatures of the night, are at least centuries old, if not millennia. The Kapsliga were sworn enemies of vampires and for Conrad to have been made vampire by a brother as he lay dying was against everything he had fought against, so he took being turned very badly. His brothers didn't know why it affected Conrad so deeply. Now they've finally crossed paths again, and they have him installed at Elancourt, they will cure him of his madness and they will find him a bride that will give him the desire to join them once again. Cole doesn't lay the cure for Conrad being all about a bride, however much this is a romance, there are other things the Wroth brothers have up their sleeves.
Conrad can see Néomi but thinks it's part of his withdrawal from drinking from the vein, and partly because of his descent into madness. He's unsure, but more and more things happen where he sees her and he's intrigued about this wisp of a wraith that suddenly keeps him thinking about something… different.
Néomi can't believe someone can see her for the first time since her death eighty years ago. She's been so lonely, and since she was such a social butterfly, it's been hard adapting to the loneliness of her life. There is room to roam around Elancourt's fifteen acres, she can sometimes reach an object outside the property's gates telekinetically and pull in, say, a newspaper for entertainment, but that is the extent of her life. Oh, and when the sliver moon appears, she relives her death over and over again. Which is terrifying. Traumatising. Despite this, Néomi remains resilient.
Conrad is angry, violent, and Néomi is upset at the bits of damage he causes her beloved house. He does rant and rave. Even as they get closer in the best way they can, which is limited by his captivity and her ongoing non-corporeal form, Conrad has moments where his mood is in a state of absolute flux. She is patient and understanding but stands her ground as well. They have things in common, both living if not breathing beings who met violent ends only to be given another shot.
She floated in front of Conrad to face him. He'd been stabbed in the stomach, she in the heart. Then against their wills they'd both been changed into something else entirely. Neither of them had asked for their current existences.
Néomi also likes the teasing power she has over Conrad who is rapt in her ethereal beauty and her 'modern woman'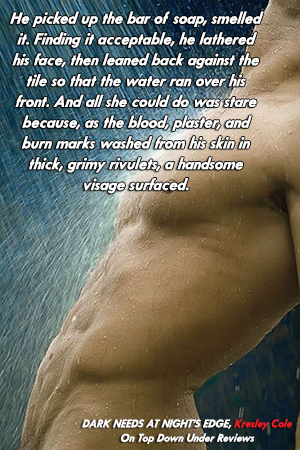 ways – Conrad has remained a product of his time so a 1920's ballet dancer who made her own money and is experienced with quite a few men, is proud of her sexuality, is shocking yet intriguing to him all at once. Their chemistry builds and is electric.
I remember when I first read Dark Needs at Night's Edge not being able to fathom how Kresley Cole was going to give this book and these characters a fitting end, and there is quite the emotional journey for this pair to get to their happy ending. There are moments of sorrow, moments of joy, and moments of breath holding. Not only were they two complicated characters, Conrad had the Woede after him regarding the key to Rydstrom's kingdom, as well as Tarut, an eight-foot dream demon hellbent on destroying Conrad. And Néomi potentially has limited time and a non-corporeal form to contend with.
The cast of burgeoning IAD characters, who were growing by this book, make appearances but you don't have to have read any of the preceding books to enjoy this one. I enjoyed seeing Mariketa again, a young and powerful witch, werewolf Bowen McRieve's love. I especially loved seeing my favourite Valkyrie again – well, tied with Regin the Radiant – Nix the Ever-Knowing, the Lore soothsayer who is "older than carbon." The Valkyries of Val Hall help make this series special and definitely command the spotlight when they're on page, fun and eternally brutal sorority sisters that they are.
"Go get them, girls," Conrad muttered.
"Those small women couldn't really start a war?"
"They might be small, but either one of them could lift a train."
His tone absent, he said, "Kristoff's sitting across the world—with no idea that hell has just been unleashed against him."
But this story definitely belongs to Néomi and Conrad. They are magic together. I loved that Néomi fights the odds of death – of her murder – to live and find happiness, and right now that has extra special meaning to me. That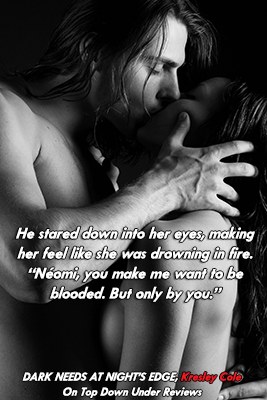 Conrad comes to terms with the fact that another chance at a life, even if you were indoctrinated to despise it, can be a good one. That the Wroth brothers love one another so much they are prepared to fight for family was also special to me, as someone who loves her family and would do anything possible for them.
Kresley Cole is a gifted author. I've read more of her books than I haven't. I think this is one of the most heartfelt and magical romance books in the IAD series. Hence the review. The world building is excellent, the story engrossing, it's sexy, maybe it's correct to say it's more sensual, and the characters Cole has created make this one of the absolute best PNR romance series out there.
Robert Petkoff is a gem of a narrator. He embraces the characters and makes these books all the more special for his vocal talents and acting. I listened to Lothaire first and was blown away by his ability to voice that book to perfection. He delivers once again in Dark Needs at Night's Edge. The e-book is so good but if you're partial to a narrated book then definitely grab the audio version, it's a treat for the ears. 5 Stars!