Luke the Hybrid Reindeer & His Vivacious Elf (Willy #6), Candi Kay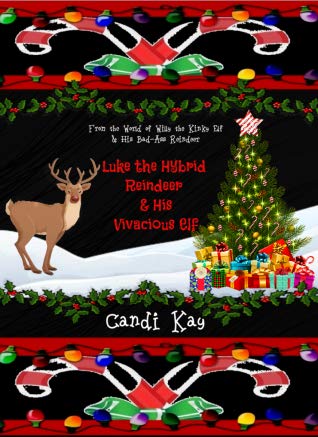 Rating: 4 Stars
Publisher: Self Published
Genre: Gay Romance
Tags: Reindeer, Elves, Christmas, Series book #6 (not standalone), Eating Disorders, Humour, Paranormal/Fantasy
Length: 88,000 Words
Reviewer: Kazza
Purchase At: amazon
Blurb:
From the World of Willy the Kinky Elf & His Bad-Ass Reindeer.
The North Pole isn't exactly as it appears in fairy tales. It has the elves and Santa and his reindeer, but Santa and Mrs. Claus aren't the jolly couple the world believes them to be. The reindeer are all shape-shifters who transform into gorgeous beings in human form and are respected by all.
Luke has always known he was different. He's never fit in with the reindeer or the elves. When long-buried secrets come to light, he has no choice but to run. Forced to hide or risk his brother being caught in the crossfire, he does what he has to do to survive. He stays hidden well until the one moment he makes the mistake of letting his guard down.
Micah Matthews is one of the most loved nurses in the North Pole. He's funny, cute, and good at his job. When the big man himself requests Micah as a private nurse for a special patient, he agrees without hesitation. What he doesn't expect is to find his mate in the process. Micah knows it would be all kinds of wrong to stay as Luke's nurse once he discovers the truth, but is walking away even an option? What if the attacker somehow manages to find him and finish what he started?
Between a matchmaking elf and Santa Claus actually being nice, Luke is convinced he's been dropped into the Twilight Zone. Throw in some Peppermint Whiskey, a super-hot nurse, and a younger brother who may or may not have the hots for Santa, and Luke knows his life will never be the same again.
.
Review: 
'Would you believe in a love at first sight?
Yes, I'm certain that it happens all the time…'
This is Willy the Kinky Elf & His Bad-Ass Reindeer series book #6 – do you think I could spit that name out in the podcast? No. But this is the right title 🙂 It's important to have read some of (if not all) the other books leading in or you won't be attached to the characters or understand how they're this big family of friends as well as actual family. I sing With a Little Help From My Friends as I read.
When I read book #1, I laughed so hard. The title. Willy and Randy. The unusual setting. It was this quirky diamond in the rough that developed into a Christmas addiction for me every year.
One thing you can never accuse Willy of is being bromidic, he's full of attitude, opinions, and is his unfiltered self once again in Luke. Probably at his peak Willyness. 
Another crazy and fun Willy series book from Candi Kay, with the serious issue of Eating Disorders being covered as well – definitely read the foreword by the author, she understands it and there are some phone numbers in the beginning as well as the end.
Christmas isn't truly coming until I've visited the North Pole with one particular elf in spandex and his reindeer lover.