Wild Ride, Helen Juliet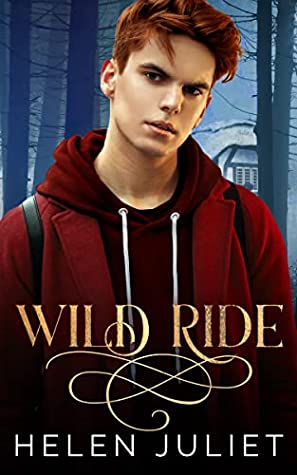 Rating: 3.5 Stars
Publisher: Helen Juliet
Genre: Gay Erotic Romance
Tags: Contemporary, Age Gap, Daddy Kink, Fairy Tale Retelling (Little Red Riding Hood), Insta-Love, Romance
Length: 156 Pages
Reviewer: Cindi
Purchase At: Amazon
Blurb –
A sexy surprise is waiting in the woods…
RED
Chased into the forest in the middle of the night, my only hope of survival is the man I used to obsess over. Now I'm all grown up, I won't miss this opportunity to thank him. Our chemistry is immediate and off the charts, and I'm not looking for a Forever Daddy. My Very First Daddy is all I need. But when he surprises me with a present that awakens something new in me, I know I can't quit.
HUNTER
I've never been anyone's Daddy before, but Red needs me in a way that melts my grizzly heart. I'll do anything for him. But if my recent, brutal divorce has taught me anything, it's that I'm not much of a catch. Does a beautiful young thing like Red really want me? His brother might be my best friend, but his father hates us both and will do all he can to keep us apart. When trouble comes knocking on my door, though, I know I'll do anything to save this man I've fallen for.
Wild Ride is a super steamy, standalone MM gay romance novella featuring a boy who discovers a love of lingerie, a sassy grandma, a loyal pooch the size of a wolf, something scary lurking in the woods, and a guaranteed HEA with absolutely no cliffhanger.
Review –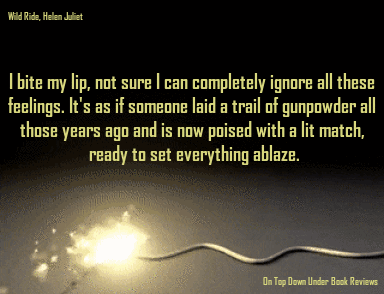 Red just wants to get to his grandmother's house. He lost his job, has been evicted, and has no other family to turn to. His parents (especially his dad) are horrible. He has a much older half-brother (Harry) but they've never really been close. He's not spoken to his grandmother in over a year – she prefers handwritten letters over phone calls or technology – but Red knows she'll welcome him. She's the only family member who ever really has. Harry, I'm not sure about, but he didn't come across as a total jerk like the others. Red's purposely avoided corresponding with his grandmother because he considers himself a failure, a major screwup. He's embarrassed, ashamed.
He stops in a pub for directions – it's been a long time since he visited, Grandma lives in the woods, and it's really dark outside – only to be harrassed by a bunch of guys in suits. Their leader is a man named Lewis who's the ultimate homophobe. Knowing he has to go now or risk being hurt, Red leaves the pub, not knowing he's being followed out by the losers. He manages to get in his car and start it, driving in the direction the owner (Ange) gave him. Of course the jerks follow him and try to run him off the road. This is after a few scary moments in the pub parking lot.
His savior comes by way of a big guy on a motorcycle who has tats.
That would be Hunter, someone Red knows. There's no recognition at first because Red's too terrified to even realize that Hunter's one of the good guys.
The biker nods and looks at all the suits, most of whom have got out of their cars now to confront him. "I got a call saying that some twats were harassing a young man with red hair who might be heading my way." The biker indicates me with a large hand. "I have one redhead. I'm guessing that makes you the twats?"
Hunter, an unemployed photographer, is Red's brother's best friend. After a messy divorce, Red and Harry's grandmother (Doreen) offered Hunter her home in the woods rent-free. She was moving into an assisted living facility and made it clear to Hunter that he could live there freely and make whatever changes he wanted. The house will be willed to her grandson (Red) when she dies, but she's happy to let Hunter use it until then.
Hunter is more than eager to help Red out of the situation with Lewis and his cronies, especially when it clicks who the man is.
This isn't a stranger. My god. I do know this man. He worked for my father back in the day. He was my half-brother's best friend. His name is Hunter Smith.
And when I was a teenager, I was completely and utterly in love with him.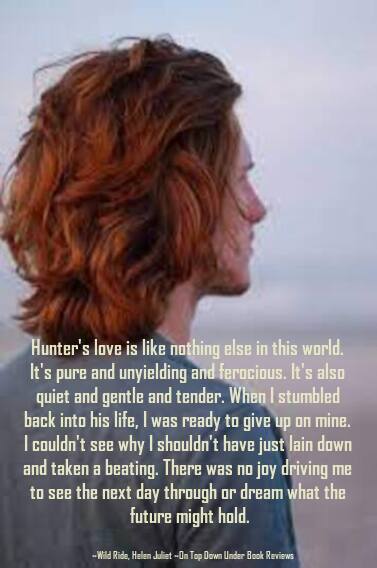 Red's freaking out leads to awe when he realizes his savior is the man he'd had a crush on as a teen. And Hunter is all about taking in Red and protecting him from anybody and everybody who might want to hurt him.
This is MAJOR insta-love. Things happen super fast. As in, as soon as the two men make it inside the house they're pretty much all over each other. It starts with Hunter holding Red for comfort, but that quickly turns sexual. No, not just sexual. Within minutes, Red is already being called 'baby boy' by Hunter and Hunter's being called 'Daddy' by Red. Red has never been a boy, but he's read enough over the years to know he is one. Hunter's never been a Daddy, but he falls into the role for Red almost immediately.
Things never slow down. They go from zero to a hundred in only a couple of pages. Red, who's not tiny, always wanted to be small, dainty, feminine, but he always worked out to gain muscles to be able to defend himself against bullies. Apparently, he's had a lot of bullies, and I'm not just talking about Lewis and Red's horrible father. Hunter, after some advice from Ange, finds a way to make Red feel dainty, pretty. He buys him lingerie. This opens a whole new world for Red, giving him confidence he's never had before.
Of course, things are going too well. Red and Hunter kind of fall into a routine over a few days. Life seems to be good. But then two bad things happen at once – Lewis and his cronies come back, and Red's father gets wind of a visit between Hunter, Red, and Red's grandmother.
First, Red's father. What a piece of work. He didn't care about his mother or his son. If anything, he hated Red and made that known when he did all he could to destroy him. Not just as Red was growing up, but in the here and now. Just knowing Red was visiting Doreen had the bastard trying to hurt them both – his mother and his son. This also had him trying to hurt Hunter too because he's Red's partner now.
The Lewis and his cronies thing was like something out of a bad horror flick, to be honest. When they made contact again, I mean. Even so, Hunter came to the rescue, as did his dog Fenrir. Fenrir was a sweetheart and was very protective of Red. Hunter also came to the rescue for Doreen when her own son tried to force her into doing something she didn't want to do.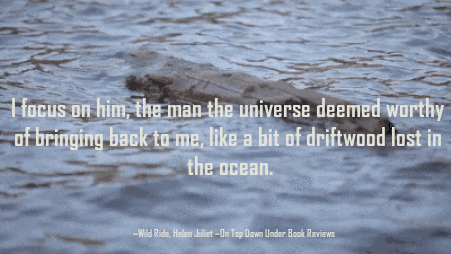 There's an age gap, which I always love. Red is 25, and Hunter is in his early forties. I enjoy a good Daddy kink book. Hunter was definitely a Daddy, even if he'd never been one before. And Red was a boy for sure. My issue with that is that I felt it happened WAY too fast. Red had always been self-conscious about pretty much everything, and with good reason. He was terrified of Lewis, his buddies, and even Hunter at first. He'd been shy about showing any of his 'boy' side or even his girly (his word, not mine) side. But in under an hour – after not seeing Hunter since he was a teenager – he was calling him Daddy? When he'd never called another man Daddy before?
Yeah, no. It was just too much, too fast.
Hunter and Red were good together. I liked them both. I liked Ange, the pub owner. I adored fiesty Doreen, though she needed a lot more page time, in my opinion. Lewis and his friends were kind of laughable. Red's dad was the typical (somewhat predictable) bad guy. I would've liked to have seen more of him, but only because I needed more than 'he was a mean dad who treated Red poorly'. I was told, not shown. Not until much later anyway, and all that was so rush, rush.
Overall, a nice romance. Like I said, there's MAJOR insta-love. Sure, they kinda/sorta/not really knew each other years before but not in a way to have either of them looking at each other 'that way' back then. Red, sure, because he had a crush on his brother's friend, but not Hunter. He liked Red well enough back then but he never saw him as anything more than his friend's brother.
This author wrote one of my faves of 2021, Golden, so I'll definitely be reading more.