All Dolled Up (Destination Daddies), Chara Croft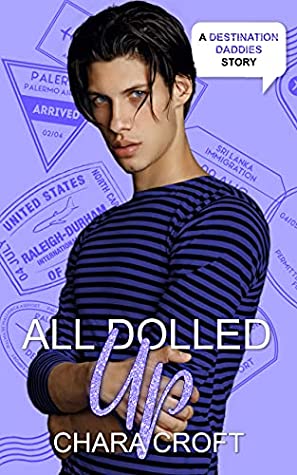 Rating: 5 "Dollbaby" Stars
Publisher: Chara Croft
Genre: Gay Romance
Tags: Contemporary, Age Gap (23 Years), Age Play, Daddy Kink, Exhibitionism, Humor (Sam), Insta-Love, Romance, Series, Voyeurism
Length: 295 Pages
Reviewer: Cindi
Purchase At: Amazon
This review is NSFW.
Blurb –
Trendy Asheville, NC is the last place Rene would have thought he'd be heading when he takes a few vacation days. Probably because first, he doesn't actually get vacation days, and second, because he never goes anywhere. Too many anxieties. Too much responsibility. Too little faith that what he really wants is actually out there. But when a "Daddy" he meets online invites him to a kinky weekend to discover whether or not Rene can be the kind of boy he thinks he wants to be, he takes a leap of faith and… sinks.
Stranded, rejected, and without anywhere to lay his head, Rene's only choice is to share a room with a stranger. A stranger who helps Rene discover that he does want a Daddy, but it's not just Daddy's boy he wants to be…
Pretentious Asheville, NC is the last place Edward would have thought he'd be heading when he takes a few vacation days. Probably because first, he has no use for vacation days, and second, because he never goes anywhere. Not since his husband passed away and took Edward's heart with him. But when his attorney refuses to follow Edward's directive to sell a property he owns, Edward rises to the bait and goes to check out the tiny boutique hotel himself to find out just what's so special about it.
The hotel is fully booked for an event on the only weekend Edward can get away, but he's the owner, dammit. They will find him a room… and they do. At the expense of a nervous, beautiful boy who Edward's burst of temper has all but put out on the streets. Stepping in to take care of him is the least Edward can do, even if that means falling down a rabbit hole of kink that he never expected and discovering that maybe his heart didn't die with his husband after all.
All Dolled Up has tea parties and teddy bears, a grouchy, overprotective Daddy who had no idea he was one, a nervous boy who thought he was Little but finds out he was wrong, and the discovery of a brand new kink that fits both of them perfectly. This book is part of the Destination Daddies multi-author series. Each book can be read as a standalone, but there are so many destinations and Daddies to discover, why not grab them all?
Review –
I've been reading a lot of Daddy kink lately, but I can say I've never read anything like All Dolled Up. It was not at all what I expected, and that's a good thing. The author wrote something I'd never read before when I've read a lot of Daddy kink.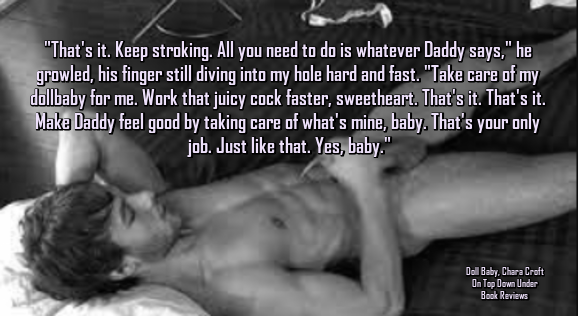 Rene has taken some vacation days from work for the first time ever. His mother has health issues, and it's his job to keep a roof over their heads and to see to her needs.
I loved Odette, his mother.
Rene has gotten interested in Daddy/boy relationships – so interested that he agrees to drive a long way to meet a Daddy (Daryl) he met online after making arrangements for his mom to be taken care of. The plan is for Rene to stay at The Plum (not the real hotel name but the nickname I'm using in this review). There's a special kink weekend happening at the hotel and Rene's all for it. Well, kinda. He's shy and not really sure what he's looking for. He's hoping Daddy Daryl can help him with that. By the time he arrives at the hotel, his old car is running on fumes. Even so, he's determined not to think about how he'll be getting gas to leave on Monday. When he gets to the front desk he learns from the front desk guy (Sam, who I absolutely LOVED) that Rene's reservation had been bumped because the hotel's owner demanded a room for that weekend when they were booked solid for the event.
Edward's the owner who threw a bit of an jerk fit on the phone to get a room in a hotel he only recently learned existed, that had belonged to his late husband, Blair. When he found out about the place, he wanted to sell it sight unseen. His attorney encouraged him not to. He wanted to see what the big deal was so he was determined to check it out and meet with management, even knowing he was going to sell it anyway. And, damn it if he wasn't determined to see it now, no matter who he pushed out in the process.
Rene can't afford to stay anywhere else as the refund for his stay will take days before it's credited. He's in the process of seriously freaking out when Edward – aka the mean owner – comes to his rescue. Edward had seen Rene in the parking lot and felt a spark of sorts, which was odd because he'd not felt any kind of spark for another man since his husband died five years prior.
Edward offers to let Rene share his room – it is his fault his reservation had been cancelled – and Rene reluctantly agrees, much to Sam's horror.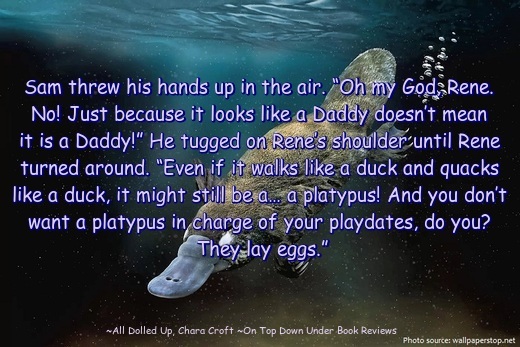 Where do I begin with Sam? He's hilarious and has some of the funniest names for Edward and none of them are nice. Sam had been the one on the other end of the 'jerk fit' Edward had thrown on the phone. Sam doesn't even know Rene, but he's already his new friend and threatens Edward in the most hilarious of ways. And honestly, Edward deserved it. He'd been a big jerk and he knew it.
I'll come back to Sam.
Rene, who's 22, is terribly shy. He's even more so with Edward. Edward, who's 45, feels really bad about how he handled things with the hotel and how he'd spoken to Sam on the phone. He goes out of his way to make Rene comfortable. He's even feeling that spark I mentioned before, but he has no plans on acting on it because of his late husband.
For a few pages I was concerned that this would be one of those books that would go on and on about how Edward can't move forward because of Blair, and then it would drag on until ding! ding! ding! he falls in love again. It kind of was in the beginning, but it didn't go on for page after page. When he realized he wanted Rene, he went with it. He still loved and missed Blair, but he believed that Blair would want him to be happy again.
It was funny because Edward had no idea what kind of events were happening at the hotel – Daddy/boy events. He knew nothing about being a Daddy or boys or Littles or anything like that. But after spending some time with Rene, he realized that he'd been a Daddy all along with Blair, who was solely independent on Edward, though neither had really seen it as anything other their own special kind of relatioship.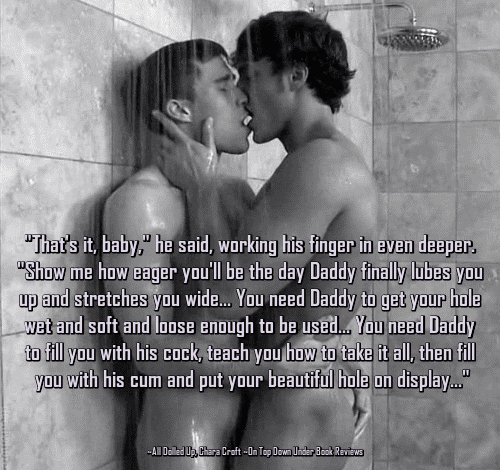 It doesn't take long in the hotel room before Edward's protective instincts kick in and he's not just wanting Rene, he's wanting to take care of him – and not just for the weekend.
Rene was just precious. He was so sweet and so needy but didn't know what exactly it was he needed. Thankfully, because of Edward's experience with Blair, Edward did, though Edward was also learning as he went along.
There's some major insta-love happening here, but it didn't matter. The reason it didn't matter was because of how everything played out between these two guys. As soon as they got into the hotel room the first time they clicked, and it was obvious they were meant to be together, even if neither of them knew that yet.
Rene, confused over what he was looking for in a Daddy/boy relationship, had a hard time with a lot of things – as in, he knew he wasn't a Little or a typical boy, but he didn't know what he was. The way Edward helped him figure it out is exactly why I said the book is so unique.
Then there's Daryl, the so-called Daddy that Rene had driven hundreds of miles to meet. Daryl was a piece of work and Edward handled him beautifully, as did Sam, who's a fiesty little thing.
The sex scenes were hot as hell, and that's putting it mildly. Holy cow, especially when Edward decides to show off his 'dollbaby' during and after a Daddy/boy demonstration by another couple. Sweet and shy Rene was all about letting his new Daddy take care of him in front of a room full of people.
That was seriously hot.
There's a tea party in one of the playrooms that had me saying, "Aww," more than once. If I didn't love Sam before then, I totally did during and after that. I really hope Sam has his own story. If ever there was a character who needed his own Daddy or two, it's Sam.
There's so much I could say about this book. I could go on and on about how amazingly hilarious Sam was. I could tell you how sweet and perfect Edward was for Rene, how he let Rene give it all to him – his worries, his body, his everything – while at the same time giving his whole heart to Rene in return. I could tell you how much I loved Rene's mother, though she wasn't in the book much. She accepted Rene's kink without question and supported him. I could seriously go on and on about how much I loved this book, but I'll just recommend it. If you like Daddy kink – seriously, don't read it if you don't because it's not fair to the author – I can't recommend this enough.
Don't let the insta-love or the age gap (that I loved, loved, LOVED) put you off. It's seriously one of the sweetest love stories I've ever read. I love the guy on the cover. I could see easily see him as Rene. There's also an epilogue that takes place a year later so the reader can see them a little bit down the road. One tiny thing in the epilogue kind of bugged me, though it probably shouldn't have. Rene is very anxious, something that's discussed at length throughout the book. I felt a little bad for him when that anxiety kicked in for a few seconds. I understood completely why Edward did things the way he did, but I still couldn't help but want to hug Rene for that very short amount of time.
My first by this author. It definitely won't be the last.