The Geek Who Saved Christmas, Annabeth Albert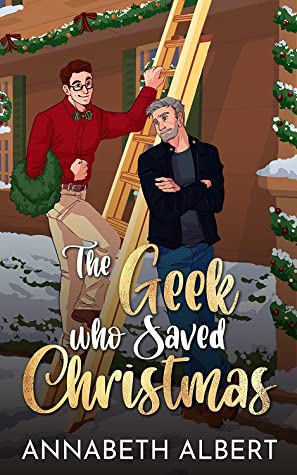 Rating: 4.5 Stars
Publisher: Annabeth Albert
Genre: Gay Romance
Tags: Contemporary, Christmas, Older Characters (Forties), Opposites Attract, Romance
Length: 266 Pages
Reviewer: Cindi
Purchase At: Amazon
Blurb –
Gideon Holiday is the perfect neighbor. Need a cup of sugar? Spare folding chair? Extra batteries? He's always ready to help. And he's waited years for his hot, grumpy, silver fox neighbor, Paul, to need him. For anything. But this December, Gideon would be happy if he could just get the Scrooge-like Paul on board with the neighborhood holiday lights fundraiser.
Paul Frost has no intention of decking his halls or blazing any Yule logs. Even if his spunky bowtie-clad neighbor does look perfect for unwrapping, Paul would prefer to hide away until December is done. But when his beloved younger brother announces an unexpected visit, Paul needs all the trimmings for a festive homecoming—and fast.
Luckily, Gideon is there with a color-coded plan to save Christmas. Soon Paul's hanging lights, trimming trees, and rolling out cookies. And steaming up his new flannel sheets with Gideon. How did that happen?
It'll take some winter magic to preserve their happiness and keep these rival neighbors together longer than one holiday season.
The Geek Who Saved Christmas is a low-angst m/m holiday romance with a guaranteed happy ending. This grumpy/sunshine, neighbors-to-lovers, found family tale features two heroes in their forties figuring out that maybe their sexily-ever-after was right next door the whole time. It stands alone and is not connected to any of the author's other universes. However, it does contain a heaping helping of the same emotions and steamy moments readers have come to expect!
Review –
Gideon Holiday is the ultimate neighbor and friend.
Need a master bedroom refresh? Call Gideon. Need a birthday party planned? Gideon will help. I was nothing if not good at throwing together random bargain finds to bring together a theme.
He does it all. Really. He's the one everybody knows they can count on if they need help with, well, pretty much anything. And he doesn't just help. The man's organizational skills would make the most organized person in the world jealous. His lists have lists and they're all color coded. 😉
Paul Frost, Gideon's next door neighbor, is the opposite of perky and outgoing Gideon. Oh, he's a super nice guy but not many know that because he mostly keeps to himself and he's kind of gruff. Unlike almost everybody else in the neighborhood, Paul doesn't really go all out for Christmas. Correction. The man does nothing for Christmas – no lights on his roof, no Christmas tree in the window, no anything.
For Gideon, Mr. Christmas Everything, this is a problem but only because the neighborhood depends on donations from people driving through to see the Christmas lights each year to fund other projects. Every house is always decorated for the holidays except Paul's and one that belongs to a grumpy old couple, the Morrisons. Gideon tries with Paul, even offers to fund the lights and decorations and do all the work. Paul still says no.
Gideon also has ulterior motives. He wants to get to know the guy, but that's not likely to happen.
"Gideon." Her pragmatic tone was just this side of scolding. "Paul Frost is a tree you can't climb."
Paul has his reasons for not doing anything for the holidays.
He likes Gideon okay/kinda/maybe? He's more like an annoying neighbor than anything else. Sure, he's nice to look at, but seriously, the man wears bow ties with goofy holiday designs on them. Paul knows Gideon's a decent enough guy. While he wouldn't be opposed to Mr. Holiday spreading some of his Christmas cheer privately (pun intended), he's no dummy. Inviting Gideon into his world for any reason at all would be a holiday recipe for disaster.
He might be a hammer short of a toolbox, but his wackiness sprang from good intentions.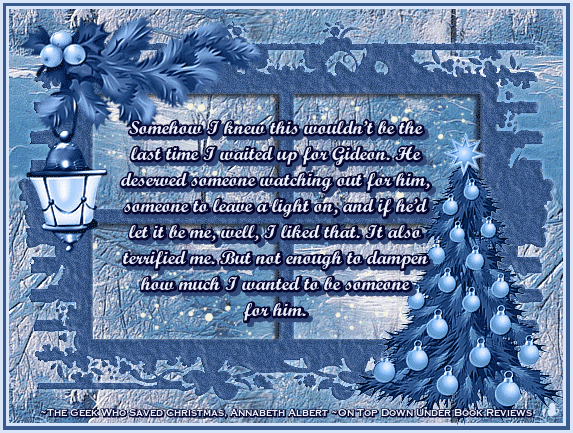 All that flies off with the snowflakes when Paul's brother Brandon calls from California and informs him that he and his almost-fiancee Elaine will be flying in for Christmas. It's the first time they've done that as they're usually spending the holidays with Elaine's wealthy family out west where they're both in school. Brandon wants to propose to Elaine at Paul's in front of his Christmas tree. You know, the Christmas tree that Paul doesn't have. Paul does the smart thing – he asks his perky neighbor to help him prepare for his younger brother's visit. And we're not just talking a little decorating. Paul's house, while nice – he's a building contractor and has been slowing remodeling it since he purchased it a few years back – isn't exactly prepared for any visitors. There's very little furniture outside of his bed and some things downstairs in the basement where he has his office.
Gideon is all too eager to help Mr. Grumpy Pants. He's been lusting after the guy since he moved in next door, thinking no way in the world would he have a chance. He only knows Paul is part of the LGBTQ+ community because of a small rainbow on his work truck.
Poor Paul. I don't think he was prepared for the tornado that was Gideon. The man wasn't just organized, he was super bossy. Paul learned to love both, though he'd never in a million years admit that.
Between Gideon's holiday spirit and organizational skills, Paul realizes something – he really wants Gideon. He'd already wanted the guy before all the 'getting ready for Brandon and Elaine' thing, but never would've acted on it because of the wackiness thing mentioned above.
I'd put my body into the deep freeze for so long, and Gideon kept melting away every layer of ice I'd built up.
These two men are as different as night and day. Paul wears a leather jacket and jeans and is more sullen than not. Gideon wears flashy bow ties and is everybody's best friend. But when Gideon almost slips off the roof as they're adding decorations, barely being caught by Paul, everything changes. There's a quick kiss that turns into a lot of long kisses, and before you know it, they're starting a sexual relationship.
Fussy might not be my usual taste, but my body sure did like the idea of showing him the finer points of my mattress.
That was super sweet. Sure it was sexy, but it was sweet watching it get to that point. And it wasn't just the sex. Paul was coming out of his shell and doing things outside of his comfort zone. And Gideon was loving every minute of it.
As perky and 'happy' as Gideon seemed to be, he was really quite lonely. He had a lot of people in his life, but he was still very much alone. What Paul didn't realize until much later was how much it helped Gideon by jumping in and taking charge of Paul's decorating, furniture buying, etc. What broke my heart about Gideon was when Brandon and Elaine showed up. They were great, seriously great, but Gideon was convinced that now that his help was no longer needed, neither was he.
He was so, so wrong.
The problem was Paul not knowing how to express himself. And it took a lightbulb coming on in his head before it clicked that as much as he assumed Gideon knew he wanted him in his life – and not just to help during the holidays – he needed to say the words. Saying the words in serious situations was never quite his forte.  He wasn't good with words or expressing himself. And apparently neither was Gideon – not when it counted anyway.
There are a lot of things about this book that I loved. Paul and Gideon are both in their forties, something you don't see much with couples in books these days. There's usually one much younger. Not that I mind the age gaps, obviously, as I read those more often than not. It was just nice to see an older-ish couple find their way to each other. They're both settled in life. They just don't have that certain someone to spend it with. They're as different as night and day, but they totally belong together, they work together. I also loved Brandon and Elaine.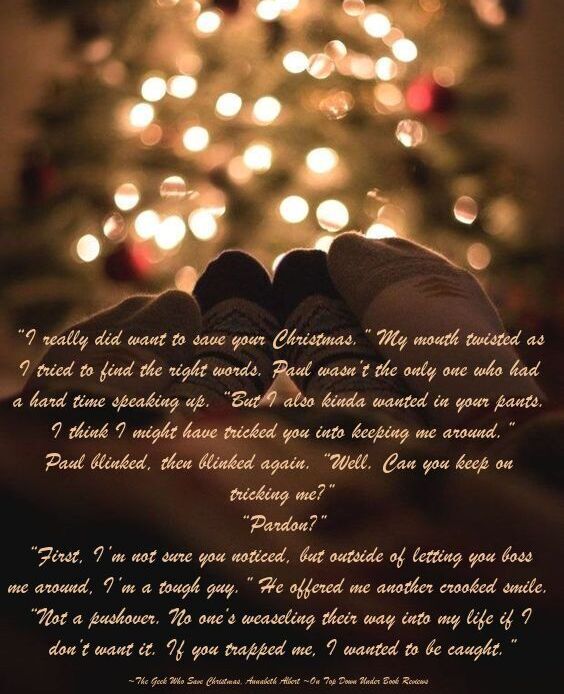 After the death of his and Brandon's parents many years before, Paul had jumped in and raised his brother, putting his own life on hold in the process. He'd always downplayed what he'd done, but I think Brandon saw it all. And I know he appreciated it. The two brothers were very close and I loved that.
I loved Paul's female dog, Jim. 🙂 Yeah, there's a story behind that. I liked Butterscotch, Gideon's prissy cat. I really enjoyed watching both men come out of their respective shells. Gideon may be outgoing but that's his outward personality. The real Gideon needed more than a nudge to see that he wasn't wanted by Paul just because of his organizational skills. And Paul just needed to be reminded that he needed to express himself and not just in bed.
Another thing I found entertaining was how each chapter started with a paragraph from the 'What's Up! Neighbor App'. Some were funny. Others were your typical, "Does anybody have *insert whatever here* I can borrow?" Those requests or comments from the other neighbors give the reader insight on others outside of Paul and Gideon's little corner of the world.
This is the perfect holiday story. Everybody on my Goodreads friends list seems to be reading it so I thought I'd check it out. I'm glad I did. It's a very sweet romance with two very different characters. I highly recommend it.
I love the cover.