Snow Job (Snowed In – Valentine's Inc. #5), Beth Bolden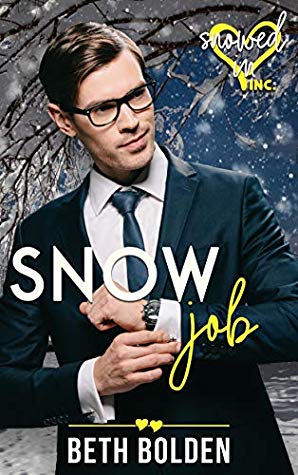 Rating: 3 Stars
Publisher: Beth Bolden
Genre: Gay Romance
Tags: Contemporary, Former Stepbrothers, Opposites Attract, Romance, Series
Reviewer: Cindi
Purchase At: Amazon.com
Blurb –
There's nobody Micah hates more than his ex-stepbrother, Jake. And nobody he wants quite as desperately. For nine long years, Micah has begrudgingly tried to move on. How could they ever be together when Jake never spends more than a handful of days in the same country, and never more than one night with the same person?
When his job sends Micah to a remote mountain cabin on snowy Mount Hood, a misunderstanding strands Jake there at the same time. Was it actually coincidence or in fact premeditated? Either way, Micah will need to put his resentment—and his longing—aside for long enough to survive the elements that might be conspiring to kill them.
As the snow levels rise, and their situation grows more dire, Micah and Jake might finally be forced to use the heat between them to survive.
Snow Job is a full length novel and book 5 of the Snowed In Valentine's Inc. series. It can be read as a standalone.
Review –
This is another one in this series that I'm having a hard time reviewing. And again, it's because I didn't like one of the main characters.
There's a not quite a misunderstanding that traps Micah with his ex-stepbrother, Jake, in a snowy cabin. Micah is a stiff and boring businessman for their parents' company. Jake, a social media influencer, also works for the company but I never did quite figure out what exactly he did for it. Micah and Jake can't stand each other but at least Jake tries. Micah is just an ass.
When Micah's mother married Jake's father nine years ago it wasn't a love connection. It was to merge two companies into one. Micah was fifteen and Jake was seventeen. Micah had a crush on his new stepbrother from the minute he saw him, so what could he do to keep him from finding out? Be rude to him – constantly. The marriage between the parents only lasted eighteen months but they were all still connected via the company even if Micah and Jake pretty much never saw each other in the subsequent years. Micah spent all his time in an office. Jake spent his traveling the world and blogging about it. There was a thing with pranks between the two at the company – and Micah overstepping with his position – but that was about it.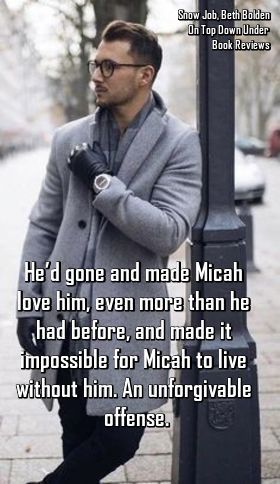 Now they're stuck in a cabin in the middle of nowhere because their parents are sick of their silliness and want them to work out their issues already. Oh, they work out their issues in every way imaginable, but Micah fights it every step of the way. This doesn't stop when they're rescued and back in the so-called real world. Instead of handling things like, you know, an adult, Micah runs every time he believes Jake is trying to get close. He runs because he doesn't want to get his heart broken later when Jake inevitably decides he's tired of playing with him.
Hmm. Don't discuss it with the man or anything. Just run like a thief in the night… again and again.
The first half of the book takes place in the cabin. The second half takes place in Seattle. As much as I adored Jake, and I really did, I just couldn't get a feel for these two guys together. I tried to like Micah, but it just didn't happen, even with an epilogue that takes place a year later.
Speaking of the epilogue…
While I understood where the author was going with it, I believe that all of that, with the exception of 'a year later' should've been part of a prologue, not the epilogue. I hate flashbacks in books unless it's part of a prologue. What I learned in the epilogue were things that I'd pretty much learned reading the book – with the exception of the section that takes place a year later. I honestly just thought it was unnecessary, and I admit to skimming a little when I almost never skim. I just was no longer engaged in the story.
The way everything finally came together with Jake and Micah was very nice, very sweet. It was everything Micah did leading up to that – and the epilogue – that just didn't work for me. I tried to see things through Micah's eyes but I just couldn't.
A nice addition to the series. I just had a hard time with Micah and his nastiness throughout, even if I did sort of understand his reasoning for it.