Snow Daze (Snowed In – Valentine's Inc. #4), Pandora Pine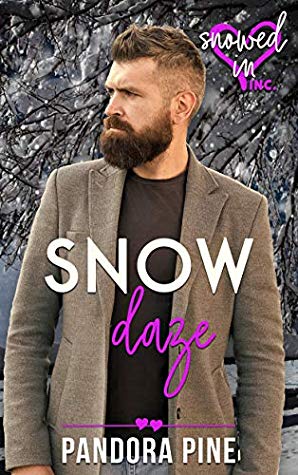 Rating: 3.5 Stars
Publisher: Pandora Pine
Genre: Gay Romance
Tags: Contemporary, Insta-Love, PTSD (Possible Triggers), Opposites Attract, Romance, Series
Reviewer: Cindi
Purchase At: Amazon.com
Blurb –
Needing to escape the horrors of war, Beckett "Hyde" McGrath takes a job at a posh resort in the White Mountains of New Hampshire. He's hoping to put his scarred past behind him and start fresh.
Moose biologist Greer Jefferson checks into the Black Mountain Inn in hopes of working on his thesis and getting up close and personal with his target subjects. What he finds instead is a mountain of a man with a bad attitude and lips to die for.
When the blizzard of the century strikes, and the hotel is evacuated, a certain moose aficionado is left behind with Hyde. Will sparks fly between them or will Greer be left out in the cold?
Review –
This one's hard to review. On one hand, I feel a lot of sympathy for Hyde. On the other, I think he was one of the biggest jerks ever born.
The book starts with a prologue with Hyde, a Marine, in Afghanistan. There's an IED, a death, and horrific injuries. I think the worst part about that for me, the reader, was that the others were introduced and I could see a little bit about them and their personalities before the incident occurred. It made the story seem more real.
It's over a year later and Hyde's basically hiding from the world. He's working at Black Mountain Inn in New Hampshire as a maintenance slash handyman. He's not a people person by any means, unlike how he was before the incident in Afghanistan. Back in those days he was friendly to everybody and went out of his way to be nice. Now, not so much. He suffers severe PTSD so hiding out in the mountains of New Hampshire is, he believes, the best thing for him.
Then he sees a hot guy in a red parka in the lobby of the hotel as guests for a big wedding are also checking in. Hyde wants the guy bad, which makes him angry at himself. This, in turn, has him being rude to the man, whose name is Greer.
Greer is a moose biologist staying at the hotel for a few days to study the area's moose population. When he sees Hyde he has the same reaction Hyde had when he saw him, only without the anger.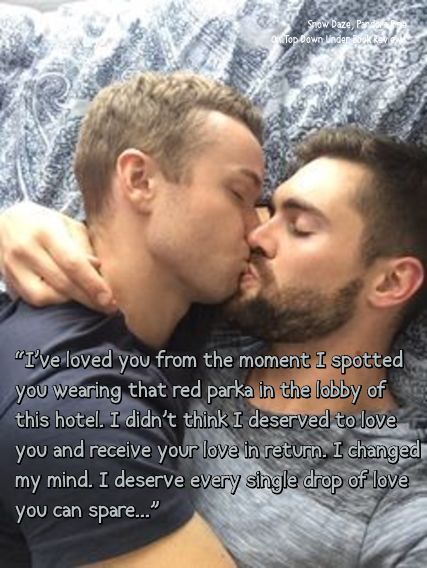 Every single time they see each other Hyde is an ass. When he finally kisses Greer he says the most ignorant thing he could've ever said, hurting the other man's feelings. Had I been Greer I wouldn't have given the jerk the time of day after that. Greer had literally been left at the altar two years prior. The man who was supposed to become his husband had eloped to Hawaii – with Greer's best friend. For Hyde to throw out the comment he did went straight to his gut, and with good reason.
When a blizzard is headed their way, the hotel is evacuated – the wedding party included – but Hyde is forced to stay to keep an eye on the place. What he doesn't expect is for Greer to stay too. And man, is Hyde pissed when he discovers Greer is there. Being stuck together forces them to talk, with Hyde kinda/sorta/not really trying to make up for what he'd said before. Greer forgives him, they have sex, and all is dandy.
Well, not quite.
Hyde has never told anyone what he went through in Afghanistan. He's forced to when he has a nightmare that freaks Greer out.
All that was good, you know? My heart broke for Hyde and what he went through, what he continued to go through. The two men shared their stories and when they came together later, it wasn't fast and rough like it had been the night before. It was very sweet. But then morning comes and Hyde is right back being a prick.
I understood his PTSD. I sympathized with him and got teary a couple of times. But he was just so freaking rude to Greer for no reason at all. I didn't get it and I honestly didn't understand why Greer didn't take off and never look back. I know Hyde's gruffness was his way of not getting too close. When he got close to someone he lost them. Even so, he didn't have to treat Greer the way he did.
There's an epilogue that was sweet and it showed a different side of Hyde a little bit down the road. I wish I would've seen more snippets of that version of Hyde before. There's being rude because someone is rude to you, but when you're rude just because? Yeah, I can't come back from that.
Another thing that absolutely drove me nuts was the overuse of exclamation points. They were everywhere and very distracting.
Overall, I did enjoy the story. It's just not my favorite in the series so far.