Terribly Tristan (Bad Boyfriends, Inc), Lisa Henry & Sarah Honey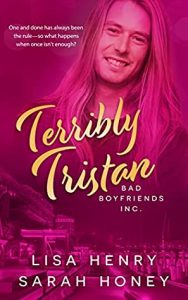 Rating: 5 Stars
Publisher: Pride Publishing
Genre: Gay Romance
Tags:  Humour, Series Book That Can Read as a Standalone 
Length: 238 Pages
Reviewer: Kazza
Purchase At: amazon, Pride Publishing
Blurb:
FROM EXCITING AUTHORS OF LGBTQIA ROMANCE LISA HENRY AND SARAH HONEY
Book three in the Bad Boyfriends, Inc. series
When it comes to dating, one and done has always been Tristan's rule—so what happens when once isn't enough?
Leo Fisher is a sensible guy, with a sensible life. He's the picture of respectability, just like his parents raised him to be. But when he inherits a crumbling terrace house in Newtown from his uncle, he also inherits a tenant who turns his world upside down. Tristan is brazen, gorgeous, experienced, and doesn't care what anyone thinks of him. He's everything Leo is not—maybe that's why Leo is drawn to him. Leo has only ever made the right choices—the sensible choices, yet here he is, hooking up with his tenant—who happens to be a rent boy.
Tristan Montague is not a rent boy. Not exactly. He's a Bad Boyfriend. For a modest fee, he'll turn any date into the kind of disaster that will have his client's unsuspecting parents begging them to rethink their life choices. Boyfriending for cash is fun, but for real? No thanks. There are way too many flowers in the garden of life to settle on one single bloom. Tristan flits happily from lover to lover like a glorious gay butterfly, and he doesn't do repeats.
Except when he meets cute, awkward Leo, Tristan finds himself rethinking his no repeats' rule. Tristan's mission to show Leo that he, too, can be a glorious gay butterfly takes an unexpected turn when physical attraction develops into something more, and Tristan realizes he might not want to be a fake boyfriend anymore…he might want to be a real one?
But for Leo to take a stand against his overbearing parents, Tristan's going to have to be a Bad Boyfriend one last time—and it's going to have to be spectacular.
Review:
This has been an awesome little series. I believe this is the third and last book. It would appear that way as everything is beautifully wrapped and tied up in a bow by Terribly Tristan's end.
All three books are set in Sydney, Australia. My home town. It was a joy to really know the areas mentioned. The vibe of places as well. It was fitting that this series ended with a mention of the original roots of the Sydney Gay & Lesbian Mardi Gras, a spectacular event visited by so many people from around the globe these days. That Jimmy, the unabashedly queer black sheep of his family, the landlord of Dickson Street, may have passed away but he goes out with a life well and truly lived. And people from the community celebrate Jimmy, his rebellious nature, his care for his community. That he marched at the origins of the Mardi Gras, the 78ers. I loved that. I was in Sydney and getting high… on life at the time. Yeah, we'll go with that, high on life.
The left side of the chapel was full of queens, go-go boys and queer octogenarians who must have been Mr. Erskine's peers. The right side of the chapel had about a pew and half filled with people in sensible suits and blouses in varying shades of black, with nary a sequin among them.
Terribly Tristan starts at Jimmy's funeral. The Newtown property that the series characters either live or lived at is  the terrace at the heart of all three books. Newtown is a very expensive place to live. It's definitely an enclave for the LGBTQ+ community, the café culture, the nightlife all very good, and with three uni's pretty close by, it's a haunt for uni students. So it was the perfect setting for the Bad Boyfriends, Inc series. This terrace hasn't been gentrified, it's a bit of hot mess, but that means it's affordable rent for Ambrose, book #1, Harry and Jack, book #2, who still live there with book #3's eponymous Tristan, and it has a lot of quirky soul. Throughout Horribly Harry, Tristan was often in the kitchen in the latter part of morning with a guy he picked up the night before in tow, never remembering their name correctly in his cheeky but charming way. He has no issues being the flirty, fabulous, clubbing gay guy. No issues with body image as he would often be dressed minimally. No issues with being, well, free-spirited. He's also had a soft spot for Jimmy, learning queer history from someone who lived it.
"He went back," Tristan mused. "How brave would you have to be, hey?"
Not only had Uncle Jimmy gone back in '79, he'd gone back every year since, and these were the photos to prove it. They flipped through the album, and Leo felt like he was walking through history.
Brave indeed.
Tristan really embraces the lifestyle he's leading while studying. His study is never mentioned throughout, it only gets revealed at the end, and while it might surprise a few people, I didn't blink an eye. And Tristan has taken over the Bad Boyfriend gig from Harry, who took it over from Ambrose. He's doing really well playing the part too, and business is solid as a rock. It was always going to be interesting to see him settle down. The big test for me was whether Henry and Honey could pull it off. Tristan is one of those much loved series characters where readers get upset if they come out "wrong." Would Tristan lose his mojo? Would there be unnecessary drama around a love interest for fun-loving Tristan? Would he become un-Tristan-like? No, no, and no. I went in excited and nervous but the book was (probably even more than) everything I could have asked for. Yay! 
When Tristan attends Jimmy's funeral he meets Leo, and in his non judgemental but sometimes unfiltered way, he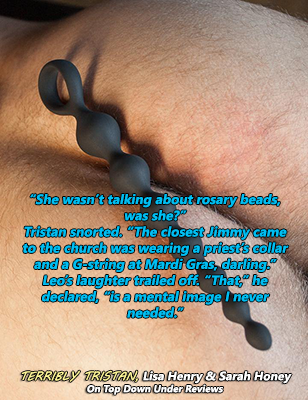 assumes that Leo has been Jimmy's toy boy which horrifies the staid, upper middleclass, 'proper gay' that is Leo. Then Tristan makes things worse by offering him a blowjob at the wake. That's my boy! Obviously Tristan's decorum isn't always in simpatico with others. The freaked out Leo doesn't want anything to do with Tristan, but Tristan has a way of growing on you. He's a nice guy who has no malice in his words and gets along with pretty much everyone. He's also easy on the eyes. He wants to make amends for his Jimmy-Leo conclusion faux pas. Now, though, Leo happens to be his new landlord because Uncle Jimmy left everything to Leo, his great nephew. That includes the Dickson Street terrace and a sex shop down the road, something that kind of scandalises Leo at first. Leo takes the role of landlord seriously and starts to upgrade shonky plumbing and electrics and a few other bits and pieces to bring the terrace up to a decent standard. He also changes the Milo tin rent money exchange for a properly recorded system. All of this puts Leo and Tristan in close proximity and, well, they take advantage of that.
"So," Tristan announced, tossing his Red Rooster bag on the table, "guess who blew the new landlord?"
"Tristan!" Harry exclaimed.
"Of course you did." Jack rolled his eyes.
"Of course I did," Tristan agreed. "And I was excellent. Glorious. Transcendental."
"And modest," Jack said.
Yep. Tristan strikes again! However, Tristan knows who he likes, really likes, and asks Leo out on a date, and isn't that a turn up for the books? They actually end up having more than one date and pretty soon the word boyfriend appears. And even though Leo thinks for a while that Tristan is a male escort, he cares enough to be with him no matter what. To be fair, it does sound like that's what Tristan is doing when he takes calls and talks about rates and dates, etc. However, as Leo gets to know Tristan, and as Tristan decides this whole relationship with one guy thing is nice, Leo does discover that Tristan does Bad Boyfriend dates. They also increasingly click and Leo lets his guard down. To learn to not be what his pretentious, overbearing parents expect of him.
This is such a fun book. There is no drama. Just great characters and storytelling. The humour is on song, the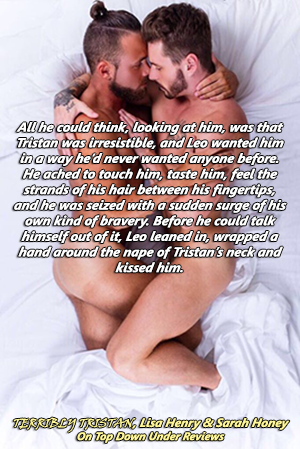 romance too, and the secondaries add a lovely depth. Ah… Miss O'Jenny – pronounced misogyny – a local drag queen and a good friend of Jimmy's. She's big and bold and written so well. A scene stealer. There's the discovery of Jimmy's philanthropy toward the gay community, particularly "baby gays" who needed some assistance when they landed in Sydney. Then there's the best Bad Boyfriend date of all time. I'm not even going to try to describe it, but I loved it. It totally cracked me up because I love Tristan, his family too. It brings a smile to my face as I'm typing this review. I'm kind of sad to see this happy series come to a close, but what a way to go out.
"Not that I'm admitting how old I am," she continued, "but back when I was just a fresh-faced country boy from Taree, Jimmy bought me my first drink and my first set of tits." She sniffled, then tugged a lacy handkerchief from her handbag. "My fucking mascara's going to run, isn't it?"
I'll miss Dickson Street and it's inhabitants, those on the periphery, but I can revisit them anytime I want via my Kindle. This has been a fun, sweet, drama-free reading zone, all the characters a delight. They made me happy to be a part of their life and their community in my home town. Oh, and the Sydney Roosters get a mention, my one and only NRL team. I'm a long time crazy and passionate supporter. So, that was nice. If you've never read Bad Boyfriends, Inc, I've got one question. What are you waiting for? 5 Stars!