Milo (Finding Home #2), Lily Morton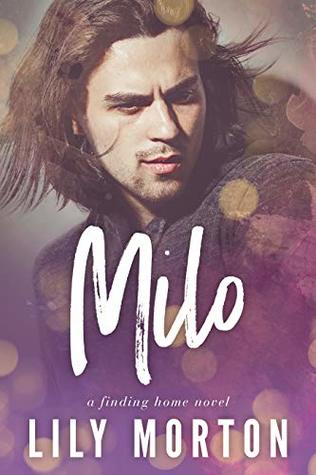 Rating: 2 Stars
Publisher: Lily Morton
Genre: Gay Romance
Tags: Contemporary, Age Gap, Disability, Friends to Lovers, Opposites Attract, Past Domestic Abuse, Romance, Series
Reviewer: Cindi
Purchase At: Amazon.com
*** This review has spoilers. ***
Blurb –
Once upon a time a brave knight rescued a young man. Unfortunately, he then spent the next few years bossing the young man around and treating him like a child.
Milo has been burying himself at Chi an Mor, hiding from the wreckage of his once promising career and running from a bad relationship that destroyed what little confidence he had. Niall, his big brother's best friend, has been there for him that entire time. An arrogant and funny man, Niall couldn't be any more different from the shy and occasionally stuttering Milo, which has never stopped Milo from crushing wildly on the man who saved him.
However, just as Milo makes the decision to move on from his hopeless crush, he and Niall are thrown into close contact, and for the first time ever Niall seems to be returning his interest. But it can never work. How can it when Milo always needs rescuing?
From the bestselling author of the Mixed Messages series comes a story about a man who needs to write his own happily ever after.
This is the second book in the Finding Home series, but it can be read as a standalone.
Content warning: There are descriptions of domestic abuse in this book.
Review –
This book made me mad. It made me mad because I adored both Milo and Niall in Oz, which I absolutely loved. Hell, I even loved Milo for the first half or so of this book. What infuriated me was that the author had to go there. Where, you ask? Oh, she had to make it quite clear that Niall has had an on again, off again sexual relationship with Gideon, Milo's older brother. Oh, but wait! The last time Niall and Gideon had sex? About a month or so before Niall was in Milo's bed. Bad enough, right? Nope. There's still more. She had to bring Gideon in for a visit, but not just Gideon. Oh, no, he had to bring a woman they've shared in the past who goes on and on about Niall and his big cock and how just stupendous! he is in bed. Yes, that word was actually used by Gideon – in front of Milo.
How a great book could go so wrong so fast amazes me.
Quick rundown of the story and then my views on specific things.
This starts with a prologue with Milo being verbally abused by his boyfriend. Gideon, Niall's best friend and Milo's brother, unable to get in touch with Milo for days, calls Niall and asks him to check on him. When Niall gets to the place Milo shares with Thomas, he follows loud voices to the kitchen where he hears Thomas degrading Milo and making fun of him because of his stutter. Milo's had a stutter on and off since he was a child. Niall's seeing red and immediately removes Milo from the situation and takes him back to Silas' family estate and takes care of him and protects him.
Five years later, he's still protecting him. In other words, he's still treating him like a child. Poor Milo had a crush on Niall when he was younger so being treated like a kid isn't exactly what he's been hoping for when those feelings start coming back. But then suddenly Niall's seeing young Milo as more than his best friend's brother and the man he rescued five years prior.
It officially starts when Silas and Oz have to rush to London because of a medical emergency with Oz's mother. They don't want to take their little girl Cora so they ask if Milo and Niall can watch her while they're away. Of course they can. They love the little girl. Not long after they leave the heater and hot water heater go out so Milo has to go from the big house to stay with Niall in his place (the old dowager's house on the property) until it can be repaired. No problem. Milo may have had a crush on Niall years before but any hope of anything happening between them disappeared when he was seventeen and had seen Niall and Gideon having sex with each other. Well, apparently, that little fact disappears as well as knowing that Gideon was in his bed mere weeks ago because he's suddenly again wanting Niall in a big way.
Very long and drawn out story short, they end up having sex, using some lame excuse about Milo needing experience after the ex (his one and only before Niall) made sure sex was miserable for him. Sex turns into love and they live happily ever after.
Okay, not quite because I have to go back to Gideon and a few other things.
Gideon, an actor, shows up with the above-mentioned woman expecting a threesome, and why wouldn't he? It's doubtful that Niall has ever turned him down. Of course, this is as Niall and Milo are walking back to Niall's place together. In that moment and several more later, I hated Gideon. I know he has his book next. I also know that a lot of my Goodreads friends loved his story. I've since read it. While I liked it well enough, I kept going back to how he was in this particular story.
There was something thrown out later by Gideon on WHY he acted so stupid in front of Milo and WHY he kept on about all the sex he and Niall have had over the years. I didn't buy it and I thought it was just as lame as having everything be so in Milo's face to begin with.
Then there's Milo. The whole book was about him standing on his own and not needing anyone to take care of him. I'm fairly certain the new Milo should've walked away instead of putting himself back in the position of being uncomfortable because of Gideon, the woman, and Niall. More than once he walked right back into a situation where he should have walked away and not looked back. And then Silas and Oz give both Niall and Milo a week off at the same time. Does Niall – who's bound and determined to prove to Milo that he'll never hook up with Gideon again – take them up on a little giveaway for just the two of them? Of course not. He invites Gideon, the woman, and somehow her sister and her husband get an invite, as well as some drunk dude named Sam.
WTF???
I'm just going to stop there because if I don't I'm going to be meaner. All I'll say is that I saw sweet Milo go from one overbearing and strong man to another one. Granted, Niall would cut off his own arm before hurting Milo in any way (unlike Thomas) but he was still in control even if the author tried to make it look like Milo was his own man. What I saw (re: Milo) was a still-vulnerable man who gets a chance with his crush and jumps on it even if he is being treated like shit by said crush.
This would have been a really good book had Gideon been a long-ago fuck buddy of Niall's, not somebody he'd still be hooking up if Milo wasn't in the picture. There were way too many innuendos and comments about Niall's performance in bed. This was by Gideon and the woman and it was done a lot in front of Milo. Again, Milo should have bolted.
Milo is twenty-seven to Niall's thirty-nine. Normally I'm all over an age gap between the main characters. Hell, I seek those books out more often than not. In this case it doesn't come close to working, in my opinion. Milo should have lived a little away from Niall. The ex doesn't count because he was abusive.
What I did like were Silas, Oz, and Cora, their little girl. Unfortunately, it wasn't their story.
As with Oz, there's a freebie short for this one on the author's website. My quickie review for that is below.
The Big Four-Oh
It's Niall's fortieth birthday and Milo can't be there for him because he's held up on an art restoration job a couple of extra days. Niall finds a way to make sure he doesn't spend that milestone birthday alone.
I liked this well enough and there was a little bit of a surprise at the end. It's that ending that makes me a little nit picky. I was left with this question – Why would Niall not have already shared that bit of info with him knowing where he was staying and working?
That's all I'll say about that.