Horribly Harry (Bad Boyfriend, Inc) Lisa Henry & Sarah Honey
Rating: 4.5 Stars
Publisher: Pride Publishing
Genre:  Gay Romance
Tags: Contemporary, Sweet, Demi MC, Humour, Series Book #2
Length: 247 Pages
Reviewer: Kazza 
Purchase At: amazon
Blurb:
FROM EXCITING AUTHORS OF LGBTQIA ROMANCE, LISA HENRY & SARAH HONEY
Book two in the Bad Boyfriends, Inc. series
Bad Boyfriend, Inc—when you can't find a good boyfriend, why not hire a bad one instead?
To supplement his income while he's completing his Early Education degree, Harry Townsend hires himself out as a terrible date—for a set fee, he'll horrify parents and family members in all sorts of interesting ways. But when it comes to actual relationships—and sex—Harry doesn't get the appeal. He doesn't get the same tingly feelings everyone else seems to when they meet someone attractive, and he's fine with that. He'd rather spend his evenings watching TV anyway.
Jack Windsor abandoned his uni degree to do an apprenticeship as a mechanic, much to his parents' dismay. He's happy with his choices, but leaving uni meant losing his accommodation, and now he's crashing on his sister Mia's couch. It isn't ideal, but it's only until he finds something else—which is proving difficult in Sydney's brutal rental market.
When Jack almost kills Harry with a strawberry smoothie, he discovers that not only was Harry's disastrous date with Mia a set up, but that Harry is looking for a roommate. Moving in with Harry is great, if only he wasn't so distractingly cute—and totally uninterested in Jack. Except as they grow closer as friends, for the first time in his life, Harry tells Jack he's developing feelings for him—tingly ones.
But how can Harry and Jack be together when Jack's family thinks that Harry is the worst human being in the universe? And how can Jack convince them that his Bad Boyfriend is the best boyfriend he's ever had, without admitting that Mia hired him to be terrible to them? When an approaching family event brings everything to a head, Jack's going to have to step up to prove to Harry that he wants him in his life. And it might just take some bad timing, some good luck and the ugliest suit known to mankind.
Review:
I just want to start this review by saying Harry is anything but horrible. He's Huggable Harry in my books, but he's taken over Ambrose's gig from book #1, Awfully Ambrose, because Ambrose found his HEA with Liam. The serious dating world still needs someone to be there to make the parents feel the bar is low after going out with their child's (terrible and hired) 'boyfriend' so they'll accept the real boyfriend waiting in the wings after one date with the Bad Boyfriend guys. It is ingenious in its simplicity. A way for a struggling uni student to make rent and there is no sex required, just their best acting chops to freak out some mums and dads that need a… push.
Would you prefer me to be unemployed, or working at something really questionable?"
Angie gave a grin that was ever so slightly evil. "Definitely unemployed. And if you could turn up late and drunk, that'd be ideal."
"Easy done." Harry nodded. "I do a great sloppy drunk. Now, let's talk rates."
Harry is one of the housemates living at the rundown Newtown terrace from book #1. The other two are Tris, and Ambrose has recently left after he met his HEA, Liam. We didn't get to really know Harry or Tris in book #1 but this time we do. Tris is awesome, and his book is up next. Ambrose also makes an appearance or two in Horribly Harry, which is nice. Harry has taken over the mantle from Ambrose as the latest Bad Boyfriend. In real life, he's never dated before. Never felt the tingles about anyone before. And while he doesn't get what sexy time is all about, he is definitely a purveyor of all things romcom. Loves a good romcom moment and movie, does Harry.
So Harry is now the go-to for date shenanigans and likes to dress the part to look like the most unlikely or dropkick boyfriend as well. To this end he visits the local op-shop where Beryl, the moving eyepatch wearing volunteer, has a dislike of Harry and tries to make him pay more for the garish, ugly clothes he buys there. They have a funny running battle throughout when Harry is trying to buy peacock suits or vile Hawaiian shirts for his Bad Boyfriend dates. After one of those BB dates the protective brother of the girl, Mia, throws a strawberry milkshake over Harry's head and he has an anaphylactic reaction because Harry's allergic to strawberries. He ends up in RPA and Jack feels terrible about putting him in the hospital. It was only supposed to be a milkshake, not life threatening, then he feels doubly terrible once Mia explains to him the concept of the date. How their mum and dad likely won't approve of her tattoo artist boyfriend, hence she hired Harry to smooth the way.
Long story short, Jack ends up being the third housemate at the terrace and he and Harry become close. So close that Harry starts to warm up to and understand the fuss about desire and connection for the very first time. Jack definitely starts to float Harry's boat as they get to know one another. The tingly feelings hit home. Tingle is definitely a theme.
Harry is a sweetie, studying to become an early childhood teacher when he's not doing dodgy dates. Jack is also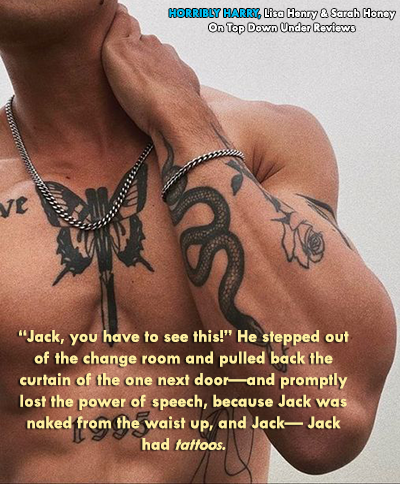 gorgeous. He is patient and respectful and kind and he cares deeply for Harry, he also loves his free-spirited sister. He cooks and he cleans and is an easy guy to share a house with. Harry and Jack are both country boys as well. They also originally think the other isn't into men. Harry doesn't throw off any I'm into men vibes, any I'm into sex vibes, and Jack works as an apprentice mechanic, so he must be a straight tradie, right? Then Harry gets a bit brave and things slowly work their way from there. It's nice seeing their feelings for one another grow – you get both perspectives. And Harry, well, he discovers he's a Jacksexual – I loved the term.
The sex is a slow build. While these books are sensuous, and there is intimacy, they aren't what I would call super sexy romances anyway, which is all rather organic to the series stories. Tris will be an interesting one though, that guy likes to bring home a hook-up or three.
Overall: 
This is such a cheery series, fun, and I love that it's set in Sydney. It takes me back to my youth and times of house sharing and flatmates – a looooongg time ago. Ambrose and Liam are delightful. Harry and Jack are especially squidgy. If you want a sweet and gentle and kind story with humour, just a quick dab of emotion, then this is your book/series. You don't have to have read Awfully Ambrose but I'd recommend it because it's charming. I liked this book a half a star better than book#1 but it's a lineball call. Awfully Ambrose is an entrée. Horribly Harry the main, with desert on its way via the flamboyant and sassy Tris next. I can't wait. 4.5 Stars!