Audiobook: Giovanni (Giovanni, #1), Laura Lascarso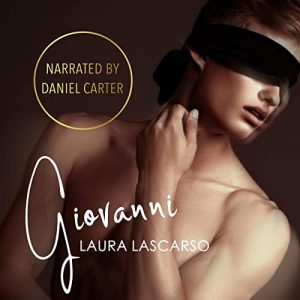 Genre/Tags: Gay Romance, Master/Slave, Sado-Masochism, Mafia, Psychological, Age Gap,  Dark Themes – *See TW below Blurb. Plus mentions of rape
Author: Laura Lascarso
Story Rating: 5 Stars
Narrator: Daniel Carter
Narrator Rating: 5 Stars
Length: 8 hours and 24 minutes
Audiobook Buy Links: Audible Australia
Giovanni needs a man to rule him. Valentin has met his match.
Valentin Fortuna is a man who prides himself on his restraint and self-control. As the head of the Aponte family business and mentor to his late Don's troubled grandson, Valentin takes his responsibilities very seriously. So when the young man he's been entrusted to keep safe is retraumatized at a house party, Valentin immediately steps in and installs Giovanni in his penthouse in Brooklyn to monitor his recovery. There Valentin provides him the structure and discipline Giovanni craves, as well as a strict set of rules to maintain his vulnerable sense of self.
But Giovanni wants more. He wants the pleasure and the pain only Valentin can administer, to ascend to godlike heights of passion and rid himself of the voices that plague his every waking minute. The demons are loud, but Valentin's voice is louder, and their chemistry is as addictive as it is potent.
Giovanni is an introspective romance centered around a D/s dynamic. This work contains several references to past sexual abuse and trauma. Trigger warnings for addiction, suicide attempt, and self-harm. This book is meant for entertainment purposes only, not as a guide to safe, sane, and consensual BDSM practices.
Review:
This book is the prequel to Master's Schiavo but written after that book. Where book #1 is solely from Giovanni's POV, Giovanni is solely from Valentin's. It was terrific. I did not think that Giovanni could offer me anything after the powerhouse Master's Schiavo. However, I am so glad Laura Lascarso did write this prequel because while I love Giovanni, Valentin is special to me. I was totally in love with his POV.
This is one of the best books I've read with a Master/slave, or a sado-masochistic, or a TPE relationship pairing. It was superb – sensual, erotic, loving, achingly painful at times, respectful, never once pathologizing anything. If you're going to do it, do it with gusto. Do it right.
This book is quick to be nice and revenge-y. I do like an… eye for an eye. Valentin doesn't hold much back as a "wise guy" or darkly protective man. 
Despite Giovanni's reluctance in giving me the names of the men who raped him at a house party two months ago, their identities were not hard to find.
You don't know exactly how old Valentin is In Giovanni, same as in Master's Schiavo, but again, he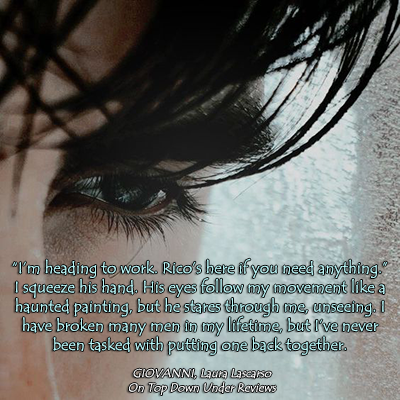 felt very sixtyish, and Valentin is nineteen turning twenty. I found that sensual, not strange, however we marry older men in our family. This pair fit together so well, age is really an irrelevancy in their love story, well, except that Valentin has the wisdom and patience that oftentimes only maturity can bring. It's something that the old soul + the clever but noir internal and external dialoguing + the delicate psyche of Giovanni requires.
It's as obvious as a nose on a face that Gio wants Valentin. He feels safe. Calm. He's familiar with Valentin, has known him most of his life as his grandfather's right hand man. Since Gio was a boy Valentin has always been there, always been kind to him. Gio defers to him almost from the outset at this stage of his life. After numerous traitorous acts have enveloped him and caused trauma and trust issues, Valentin is a constant. Valentin took Gio in after Gio's grandfather asked Valentin to care for his grandson when he was dying – Gio's mother and father already both dead – and while it's complex, Gio has personal demons, it's no hardship for Valentin. He likes beautiful things and Gio is beautiful. He's smart. He has an interesting mind. Valentin already genuinely cares for Gio. Valentin is also a sadist and Gio… well, he learns that Gio is a masochist. It's the BDSM Cinderella's glass slipper.    
At first Valentin's friendship circle is worried Gio will be like Dimitri, a young ex who used Valentin, so they wonder Gio's angle. Valentin doesn't give much away about him to anyone. He tells his friends that Gio has been sent to live with him by his brother Silvio because of addiction and trauma. So they wonder, is it about money? It is about power? What could this young, gorgeous boy be after when he isn't interested in university or internships? And people often question when there is an age difference.     
While Gio starts making it clear that he wants to be Valentin's slave, Valentin thinks really long and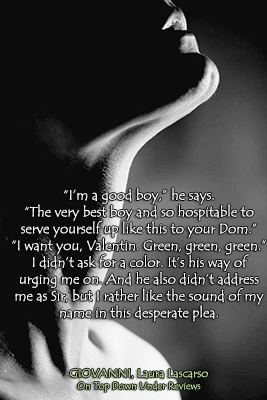 really hard about the future Giovanni could have. He doesn't ever want to be the person who keeps Gio in a metaphorical or literal cage: because of the age difference, because, at nineteen/twenty, Gio has his whole life ahead of him. Because trauma keeps him isolated and he has moments of dissociation, moments of erratic behaviour, moments of self- harm. Valentin organises a therapist for Gio as well as trying to understand what it is that he can do that is in Gio's best interests, but he cannot deny the absolute attraction and desire and love he has for Giovanni. But, the Aponte family's business could eventually be in Gio's hands, as all of New York City could be. The Aponte family is powerful and Gio is the rightful heir. Valentin is just keeping the seat warm. Gio doesn't agree and is not interested in the Aponte family throne. He's tells Valentin in his own way that he makes him happy, but do we believe that nineteen year olds know exactly what they want for their future? Giovanni remains resolute, though. He wants to serve Valentin. He wants to be collared. He sees Valentin as his future. A future without him is a 'hard limit'. Valentin worries and tries both gently and firmly to let Gio see what he could have.    
Once again this is beautiful writing by the author. Laura Lascarso uses Greco-Roman history and mythology as a backdrop to conversations and comparisons between Gio's relationship with Valentin. Gio quotes verses and writings so poetically – Narcissus and Echo. Achilles and Patroclus. Alexander the Great and Bogoas to name a few. They are perfectly placed to make Gio's determination to be Valentin's so palpable, Valentin's acceptance, their love, a fait accomplis. This doesn't mean there aren't dramatic, emotional scenes. Gio has physical and psychological scars. They show up in big ways on occasion and Valentin has the patience and love to be strong. Gio, the seduction and will to be seen and heard by a powerful man. 
One more thing to end on, the last chapter, Interlude, is one of the most gorgeous pieces of writing I've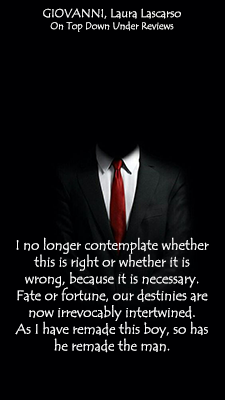 had the pleasure of reading/listening to. It really does end Giovanni perfectly and sets you up for all the feelings that Master's Schiavo evokes, and that's a lot of feelings. Even though Master's Schiavo came first, I truly do recommend you start at Giovanni. I have read this as an e-book as well as listening to the audiobook, same as Master's Schiavo. I really liked Daniel Carter as the narrator of Master's Schiavo but I loved him as the narrator of Giovanni. It's very Valentin and Gio centric. He really hit the groove of these two characters in Giovanni. He is very relaxed in tone in both books and makes the reading experience calm and thought provoking. Carter pares back the emotion to allow the reader to experience theirs. It adds an extra kick to Giovanni with narration from Valentin's POV, in my opinion. For my guys, perfetto – 5 Stars! 
"You are perfect," I murmur as I stroke his hair.
My boy, my treasure, my weakness.