Graceless (Graceless Duet, #1) N N Britt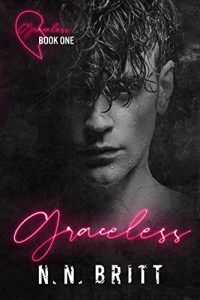 Rating: 5 Stars
Publisher: NB Creative 
Genre:  Gay Romance
Tags: Psychological – Stalker, Depression, Dark Themes. Contemporary Setting, Enemies to Lovers, Muso MC + Closeted MC. **Trigger warnings are below blurb
Length: 362 Pages
Reviewer: Kazza
Purchase At: amazon
Blurb:
One young man with a secret that can damage a political career and his family's reputation.
One superstar on the rise with a secret that can destroy the other man's life.
Their fates shouldn't have collided…
Except one of them takes matters into his own hands.
College student Dylan Watson has spent the past three years mourning the mysterious death of his beloved sister and hating her bandmate–he's convinced Iodine's lead singer Kai Delisa had something to do with Ava's "accident." When her old band unexpectedly signs a massive record deal with a major label, Dylan decides to do what he should have done years ago–find out exactly what happened that tragic night.
For an up-and-coming rock star, Kai isn't an easy man to track down. There's precious little info about him online, and what's there is more confusing than enlightening. But when Dylan's and Kai's paths finally cross, the meeting triggers a chain of events that unravels Dylan's life and shatters the cherished image of his sister.
What's worse? Kai threatens the one secret Dylan has tried to hide since high school: he likes men. And despite years of hating Kai, their time together makes two things crystal clear. Dylan's attracted to him, and that attraction is mutual.
Torn between the dark past he can't shake off and the uncertain future he might be able to have if he dares to give in to the allure of the intense chemistry he has with Kai, Dylan is now facing some hard choices.
Graceless is a high-angst, slow-burn MM romance that explores the following themes: depression, mental illness, suicide, and abuse.
Graceless is the first installment of the duet. Dylan and Kai's story concludes in Faithful.
Review:
I first grabbed this as a sample because the cover kept staring at me. I passed it over every time until it whispered really loudly that I had to pick it up. I had major cover love and it gave off a good vibe about the potential story. I know now that it's Dylan on the cover. I have on my review bio that I don't read muso/band stories but sometimes I'm like Dylan Watson and I can't let something go. Sometimes my choices let me down, sometimes they don't. So into the rabbit hole I went on a wing and a prayer, hoping like hell that this unknown to me author didn't make me regret my choice this time.
And…
Graceless delivered unto me a few of my favourite fictional things-
Obsession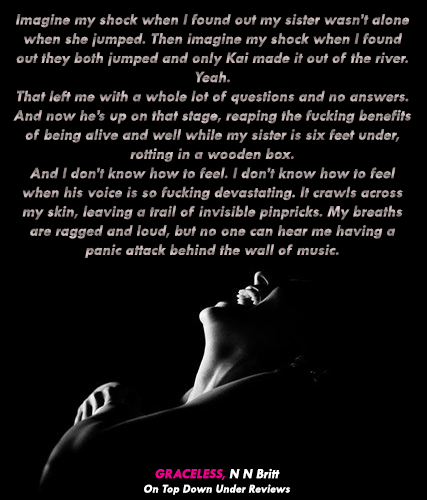 Stalker love
More obsession
Angst
More stalker love
Introspection
And yeah, more stalker love
Dark themes
More Obsession
Psychological content for days
The only thing it was missing was moral ambiguity but there is the next book in this duet to come. Book #2 awaits me.
Oh yes. Oh yes.
Overall this book is –
Well written. Well edited. Really well crafted.
I was hooked on the MCs, and don't I love that kind of addiction.
It has one POV, Dylan's, which worked for all of those delicious grey areas needed to make this book sing. Dylan can seem detached from the people he shouldn't. Also overly attached for reasons he can't define. Basically, he has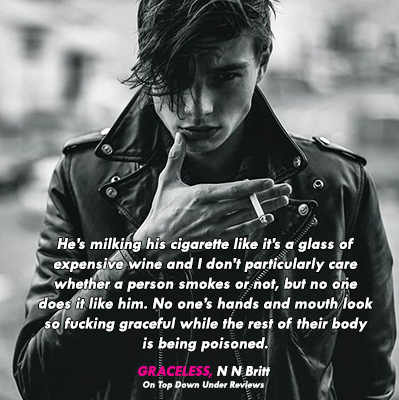 massive attachment issues that manifest in his relationship with his mother – feeling responsible – his father who he always calls Gavin, not dad – tangled hatred and hope – his self-inflicted disconnection from his best friend, Leigh – because she offers closeness that he can't handle or trust. Then there's the absolute stalkery obsession with Kai Delisa, up and coming band Iodine's very sultry, brooding, complicated and enigmatic lead singer. He blames Kai for his sister's death 3 + years ago. Dylan is twenty-two turning twenty-three over the course of the book. He's barely passing his humanities course at college. Chose it as a big old FU to his father who is a very wealthy, very powerful conservative senator. Gavin won't allow his son to be gay, he hates his degree as well. Gavin is super intrusive. No money to be made in social work. No votes in a gay son. He didn't like that his now deceased daughter took up bass guitar and joined a band and rebelled. However, when she died, he could use her death as sympathy. Dylan is angry about her death. Angry about the disappearance of his teenaged friend and lover when Gavin found out. Angry about Konnor with a K because of the control and hypocrisy that represents. He's one introspective, depressed, repressed, closeted and conflicted MC.
Kai has so many rumours flying around. His music is occult-like. He is always covered up and always wears black. There is such an enigmatic quality that only makes people more interested. His dialogue is sparse, tending toward answering a question with another question. I kept thinking Alfred Lanning from I Robot… 'you must ask the right questions.' He seems to do things on his own timetable but the information given about Kai limits the nitty gritty of what's going on behind the scenes. But it doesn't take a genius to know he has pain of his own, scars, and that we'll get more next book.
The MCs are not around one another for about half of the book, it's a very slow burn. Britt absolutely delivers an enemies to lovers story in the truest sense of the word. I liked that Dylan always thinks or talks about Kai as Kai Delisa (not just Kai) for a lot of the book. It kept the arc believable. It's the little things that help drive good stories and this is one of them.
I don't remember how to function or how to stay grounded and it's a horrible feeling, to be so adrift for no reason. Actually, scratch that. There's a reason. His name is Kai Delisa, and I won't rest until I get what I want from him. No matter the cost.
One more thing I related to. As a person whose name has been universally vilified for the past couple of years, I can totally relate to Dylan and the ninja boy meme. *Sighs in understanding
Overall: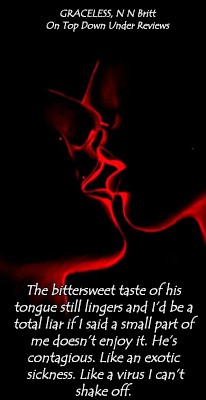 The best praise I can give Graceless is that it's not a book I'd ordinarily pick up because of a muso MC, even enemies to lovers is not my favourite, but I'm glad I did. It was the cover and the vibe in the blurb that hooked me. Still, I narrowed my eyes and dared it to make me like It. In spite of my attitude I read 362 pages, and I read them exceedingly quickly. Ordinarily a contemporary romance of 362 pages has me adding to my reviews "this is too long" unless I'm loving it. No complaints regarding the page count.
True to the tone of this book, Graceless ends on an edgy cliff hanger, one where a fix can't be had. So naturally I'm sweating on knowing what the fuck is happening, what cryptic dialogue and feelings these messy guys find on their way to… hopefully? a decent ending. Eh, at least a true to them ending. Luckily for me it's already out. No matter what comes at me I'm looking forward to being back with Dylan Watson and Kai Delisa for a while longer. Bring on more obsession, more working for their connection – just more – in Faithful. Highly recommended reading. 5 Obsessive Stars!