Awfully Ambrose (Bad Boyfriends, Inc. #1), Lisa Henry & Sarah Honey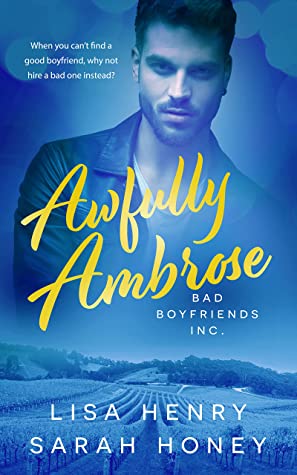 Rating: 4 Stars
Publisher: Pride Publishing
Tags: Gay Romance, Humour, New Series
Length: 260 Pages
Reviewer: Kazza
Purchase At: amazon 
Blurb:
Book one in the Bad Boyfriends, Inc. series
Bad Boyfriend, Inc.—When you can't find a good boyfriend, why not hire a bad one instead?
Liam Connelly is a university student in Sydney. He leads an orderly and predictable life of studying, working as a waiter in an upscale harbour restaurant and spending lots of time with his cat, trying to convince himself that after his last cheating boyfriend, he's perfectly happy alone. Well, mostly happy.
Ambrose Newman is a Bad Boyfriend. Professionally. Someone's parents don't approve of that long-haired unemployed bass player they want to date? Well, that's where Ambrose comes in. For a few hundred dollars a night, he'll go to dinner with them and their parents and show them that the grass is definitely not greener on his side of the fence. It's dead. When Ambrose brings a date to Liam's restaurant, it's not sparks that fly—it's glassware.
When Liam needs a date to prove to his visiting parents that he's not destined to die sad and alone, he calls Ambrose, desperate. If Ambrose can be a bad boyfriend for money, he can be a tolerable one too, right? Which works out great—right up until Ambrose is too nice, and Liam's parents invite them up to their winery for the long weekend.
Suddenly Ambrose has to be a Bad Boyfriend again, to give Liam an excuse to 'break up' with him before his mum starts planning the wedding. But as Liam gets to know the real Ambrose, real feelings start to sneak into the fake relationship on both sides. Under the watchful eyes of Liam's protective family, who have no idea what to make of Ambrose, their fake relationship evolves into a chance at something real.
When Ambrose has an ugly run-in with Liam's sister's fiancé—who's an even worse boyfriend than him—it might cost him not only any chance he had of convincing Liam's family that he's not the nightmare they think he is, but his fledgling relationship with Liam, too.
Review: 
I live in Sydney, I know the places in this book, Mac Fields, Potts Point, the beautiful University of Sydney Camperdown campus and its surrounds. I've holidayed a heck of a lot in the Hunter Valley, especially Pokolbin. It's one of my favourite places to go. Sadly, I also know the Logies – man, I hate the Logies – but I grew up watching and enjoying Bert Newton. So yeah, I was totally good with the backdrop.
Liam Connolly comes from a winery family. The Connellys live in Pokolbin in the Hunter Valley of NSW, a huge winemaking part of Australia, the world. They're a lovely family, salt of the earth, quirky, funny, from Irish stock with Grandad Billy being the Irish larrikin patriarch. Mum Connelly wants her son Liam to have what she and his father have, a loving family. I'm not big on families pushing love on their adult children. The whole 'you need a partner to be truly happy' doesn't cut it for me. That part I decided to bury in the recesses of my 'it's purely fiction, Kaz' mind.
The MCs were nice. I thought the idea of Ambrose's business to be ingenious – be an awful boyfriend for pay and make the real boyfriend look good for your client. It's a new spin on the fake boyfriend trope. The scene at the beginning in the restaurant Liam works at was hilarious. Liam later finds out from his university friend with the horrid "boyfriend" that, no, Ambrose isn't really her douchey boyfriend, he's a nice guy studying drama at USYD, trying to get into NIDA at UNSW, this is his 'I'm a uni student needing money' business.
Ambrose is from Macquarie Fields, an area known for some rioting in 2005, for lower incomes and Housing Commission homes, although the Sydney sprawl is changing a lot of that. His mum was a daytime soap star in the 90s who lived it up somewhat and is now really more dissociative than grounded. She either thinks people are going to rediscover her, or someone is stealing her treasured photo of her and Bert Newton. She gives Ambrose a lot of worry and stress all round. I had quite a lot of compassion for Ambrose because he has plenty to contend with. And Liam decides to utilise Ambrose in a friendly version to be his pleasant 'boyfriend' for when his family is coming to town. So he meets the Connelly family at a restaurant in Sydney and they like him so much they invite him back to their Hunter Valley property for a weekend. For the weekend Liam needs and pays for the Awful Ambrose experience so the family will have misgivings, Liam can easily break up with him, his mum will leave him be, and all will be well. If you read romance you know how it's going to go.
Bits and Pieces-
First off, there was an Aussie-isms list at the front of the book and yet Craigslist and ramen noodles were used in the book itself. I'm here to tell you that I had to look up whether we had Craigslist in Oz. We may, but like me, Google was unsure. However, I don't know anyone who uses it or mentions it in conversation – no one. As for ramen noodles. We call them 2 minute noodles or instant noodles.
The chasm between Ambrose's family and Liam's is real. They come from such different backgrounds. USYD is a prestigious uni and a lot of the kids there come from privileged backgrounds with some smart kids on Commonwealth Supported places mixed in. This isn't mentioned in the book but I know the system and it gives the story an authenticity. It also made me appreciate Ambrose's gig and understand his family dynamic, how in awe he is of the niceness of the Connelly's who are from money… and he isn't. He genuinely feels a part of something with Liam and his family.
What about the fact I've acted like an utter fuckwit this entire weekend? What about the fact I lied to your family? What about the fact I like them and want them to like me back and I'm not sure what I'll do if they don't?
Grandad Billy was awesome, what a card. I was into his love of life, shenanigans… and alcohol. He's a man who likes his wine, and why not? The winery is his legacy. He also has a finely tuned douchebag-o-meter. I respected that too. When the family were doubting what they saw in Sydney with Ambrose, because Ambrose hits some tone deaf notes as part of his "job," Grandad Billy knew the real Ambrose. He also spotted the real fake a mile off. I both appreciated it and thought that was cool.
The Connelly family made the story enjoyable. They were tightknit and loving and kind and decent, the whole 'you must be paired up to be happy' thing aside, but that drove the story, and I knew that.
I thought Ambrose was really kind and intuitive and sweet and hopeful. I cringed when he was being awful for the role and I didn't like that Liam pushed the envelope too far. There was a cut-off point and he needed to use that because they were falling. To begin with, he really needed to have boundaries. He needed to say, "Mum, I love you, but I'm getting over an upsetting break up" – which he was – "so let me sort this out in my own time." They're a good family, they would have been fine with this. Still, if he had said that there'd be no story and I would have missed a fun read.
I like Lisa Henry as a writer. I've read and reviewed a lot of her books. I've never read Sarah Honey before but they co-wrote Awfully Ambrose well. It's entertaining, engaging, funny, and at times it's touching. For Awfully Ambrose it's 4 Stars!