Destination Wedding, Jason Collins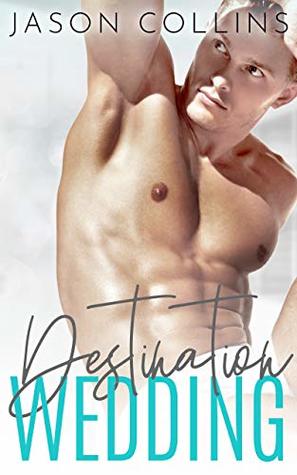 Rating: 4 Stars
Publisher: Jason Collins
Genre: Gay Romance
Tags: Contemporary, Bi Character, Opposites Attract, Out For You, Romance
Reviewer: Cindi
Purchase At: Amazon.com
Blurb –
BARRETT: 
I'm straight, single, and divorced. Two of those might change. 
Being accidentally kidnapped could be worse. I get a trip to the Hamptons, a seat at a luxury wedding, and a week with the hottest man I've ever laid eyes on. Maybe I ought to fly private more often. 
Zach's no snobby millionaire, though. He's got a good heart, and a body that makes it hard to see straight anymore. At this rate, it won't be long before we're tearing into each other like it's our own honeymoon. 
He's a groomsman for his brother, but he needs some support of his own—the kind he can only get behind closed doors. He comes from money, and his family wants things to be perfect. But we don't have time for perfection, and if we can't bring this family together, Groomzilla might call the whole thing off. 
The bouquet's in the air, but I'm reaching for Zach. 
ZACH: 
Who hasn't accidentally kidnapped a date every now and then? 
My brother's getting married in the Hamptons, and I need a plus-one. But I didn't expect it to be a stranger who unintentionally boarded the plane. I'm sharing a flight with Barrett, but it feels a lot like a first date. He's agreed to be my companion, and that means a week of chaotic pre-wedding events. 
A straight, divorced EMT isn't the kind of date my family is expecting, but then, I wasn't expecting him to start sizing me up for more than just a wedding tux. Not only is he charming my relatives, he's also making me think about jumping for the bouquet. 
My family of wealthy hoteliers can be a handful. Barrett's from a different world, but I'm hoping they'll accept him—if this week doesn't kill us first. 
This wedding needs Barrett, and he's the best man for the job. 
Note to readers: This is an extra spicy standalone MM romance, heat level 10. Readers can expect several steamy scenes that will leave you breathless.
Review –
This is a cute story. The blurb describes Barrett as straight. I'm going to go with a big, fat no on that. 😉
Zach is about to fly to his older brother's wedding in the Hamptons. His friend Theo is supposed to be his plus-one. Theo, not the most reliable friend on a good day, freaks out when he boards the private plane. With his flying being a no-go, his ride (that would be his former brother-in-law, Barrett) boards to get Theo's bag. He spends a little too long because before he and Zach know it, the plane is taking off and they're stuck in the air for the next two hours. After getting to know each other a little, Zach makes a proposition. An all expenses paid trip for Barrett if he'll pretend to be Zach's friend during the pre-wedding festivities and be his plus-one for the actual event. Barrett, an EMT, is on vacation for the next couple of weeks, so why not?
Not only is Zach relieved – he does NOT want to go the Hamptons without a date – he's thrilled because now he can look at the hottie Barrett as much as he wants until their little trip is over.
I loved Barrett. He loves his job as an EMT, is one of several kids, and has always been content with what he has, what he earns. Zach, on the other hand, is the son of a wealthy hotelier. He has his own position with the company that he works hard at. He doesn't come across as a spoiled rich boy to Barrett or to the reader. I really liked Zach too. The two men click right off.
Zach's family home is a different world to Barrett but he adapts pretty quickly. Everybody seems to like him when they meet him, never really questioning the 'friendship' he and Zach supposedly have. There are tons of things going on in preparation for the actual wedding. It doesn't take long before he and Zach have their own thing going on as well. 😉 Barrett is obviously bi. The thing I loved most about him and the book in general is that Barrett doesn't believe in wasting time. He knows he wants Zach so he goes for it. No 'should I?' or 'am I really into guys?' or 'what will my family think?'. Once he made the move there were no doubts and there was no turning back.
The sex in the book, and there's a lot, is hot as hell.
The other characters are entertaining. From the groomzilla (Joseph, Zach's brother), to the eccentric sister (Priscilla), and everybody in between, they were fun. The whole book was fun. I enjoyed watching Barrett and Zach come together. There's no real drama in the book other than a few instances with certain members of Zach's family. Thankfully that doesn't last too long.
This is a true opposites attract story. Zach is extremely wealthy where Barrett comes from a blue collar background. None of that was an issue for either one, which I found refreshing.
A very entertaining read.