Chasing Fate (Copper Creek Shifters #1), Jacki James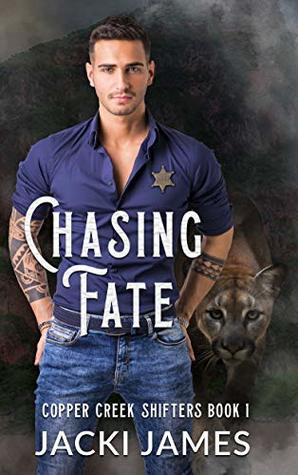 Rating: 4.5 Stars
Publisher: Jacki James
Genre: Paranormal Gay Romance
Tags: Fated Mates, Insta-Love, Paranormal, Romance, Series, Shifters
Reviewer: Cindi
Purchase At: Amazon.com
Blurb –
It's time to put away silly ideas about whether or not you should be an Alpha and accept that it was never up to you in the first place.  You can't protect what's yours unless you claim it and take your rightful place.
Chase Coleman is content with the life he's made for himself as Sheriff of a sleepy little West Texas town. He might have walked away from his role as the Alpha apparent of his home pride but he didn't regret making the choice to live as an out gay man. 
Paxton Summers could see that Chase was the Alpha of the town's shifters whether he wanted to accept the title or not. Once he realizes that he and the sexy sheriff are fated mates, it becomes his mission to make Chase see he never had to choose between his destiny and being true to himself—because Copper Creek was exactly where he was meant to be. 
Chase just needs to see that he hadn't left his future behind at all, instead all along he'd been Chasing Fate. 
Review –
Chase is a mountain lion shifter. When he was two weeks shy of graduating high school his Alpha father informed him that he was to forget his silly notion of going to college and he was to marry a female handpicked by his parents. As the Alpha apparent, Chase was to show he was a strong leader and (as the old man said) being gay portrayed him as weak. If Chase wanted a discreet playmate – female or male – on the side, no problem. Chase refused. He'd worked hard to get scholarships and had every intention of going to college, getting his criminal justice degree, and then coming back to the pride to someday lead. There was no way he was marrying anybody unless it was his destined mate who he'd hoped to find someday. His mom and dad were obviously not fated mates. I mean, the old guy was talking about his side flings in front of his wife who acted like that was perfectly acceptable. And, honestly, not many believed in the destined mate thing. They saw it as fairytales passed down with little to no truth to it. Not Chase. He was convinced he had a mate out there and refused to get too close to anybody else.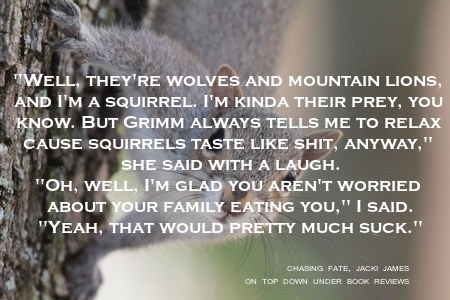 Chase stayed around just long enough to get his high school diploma, all the while hoping his father would change his mind. He didn't. When Chase didn't give in to his father's ultimatum he left the pride and the only home he'd ever known. His best friend (Dakota) left with him. I'm not really sure why Dakota (aka Kota) left too, but I'm sure I'll find out in future stories.
It's 5 years later and Chase is the sheriff in a small Texas town. Along with Kota, Chase has taken in two twin wolf shifters, Hazzard and Grimm. There are different types of shifters all over the place – humans are aware they exist – but there's some prejudice. Kota and the twins (along with others in town) are constantly pushing Chase to register as a clan and be Alpha. He refuses. He remembers all too well what his father said about appearing weak and there's no way in hell he's pretending to be somebody he's not.
Until he meets the hot little baker who's new in town, Paxton. Paxton is human, but Chase knows he's his mate. But in all the stories he's heard over the years, not one mentioned humans being able to be mated to shifters. That doesn't change the fact that his lion (that he calls Wesa) is letting him know in no uncertain terms that he's to claim Pax and do it soon.
This was such a cute story. There are different types of shifters everywhere – mountain lion, squirrel, lynx, wolf, bear, owl – among others. Pax, who is such a sweetheart, takes right to being the mate of the Alpha-who-doesn't-want-to-be-Alpha. There are bad guys, family drama, a cute little owl shifter who I totally fell in love with, and a little bit of violence.
I can't not mention the southern speak. This is a southern town, after all. 🙂 As a southerner (from lower Alabama), I hate southern speak in books with every fiber of my being. It's almost never done right. It's one of those things where it's nice to hear but rarely carries over in print.
In Chasing Fate it was written perfectly. It shocked the heck out of me. I could just hear the owner of the diner in my head. She sounded just like countless women I've heard speak my whole life. I'm told I talk like that but I don't hear it. 😉 A big kudos to the author because I tend to be kind of brutal in reviews when I see dozens of poorly spelled y'alls and bless your hearts all over the place.
This is a sweet romance. If you're a fan of overprotective Alphas who are all about mine, mine, mine, you'll love this. I'm eager to read more in this world. I adore Kota and the twins and (again) the cute owl shifter. I've been reading a lot of shifter books lately, both gay and hetero romance. Chasing Fate is one of my faves this year.