Stay, Ash Knight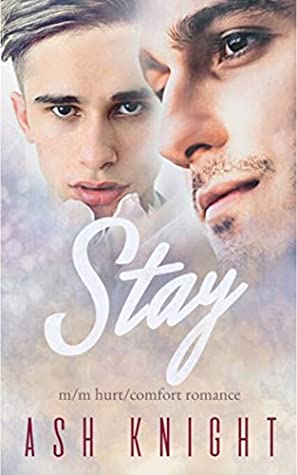 Rating: 5 Very Emotional Stars
Publisher: Ash Knight
Genre: Gay Romance
Tags: Contemporary, ASD, Hurt/Comfort, Past Sexual Abuse, Romance
Reviewer: Cindi
Purchase At: Amazon.con
Blurb –
A quiet coffee shop gives two men who have lost too much a chance at love.
Joe Calloway has been on the run since he was sixteen, homeless and alone. He never lets anyone close. Between his traumatic past and his autism, he isn't used to people taking the time to understand him.
Even so, when a stranger offers him a way to build a better life for himself, Joe finds the strength to go for it.
Madden Fields is fully devoted to his older sister, her autistic son, and his job as a nurse, but when he meets Joe, his carefully ordered life begins to pick up speed.
As their connection deepens, Madden realizes he's going to have to hold on tight if he wants to be an anchor strong enough for Joe to stay.
"Stay" is a 88,000 words gay hurt/comfort romance novel.
Review –
Stay starts with Joe as a child. The reader is able to get a glimpse of his parents. I felt sorry for his mother. His father? Uh, no. Then it moves on to Joe at twenty-two. Homeless, he somehow manages to keep a membership at a local gym so he can shower and wash his clothes. He has a makeshift tent he sleeps in and he keeps out of trouble. One rainy night he's miserable. Instead of staying in his leaking tent he starts walking. He's already wet, so why not? He ducks into a coffee shop for warmth only to be told it's closing. Thankfully the owner offers him coffee and something to eat in exchange for him helping her do some cleanup. Lulu, the coffee shop owner, is an amazing person. She sees something special in Joe so she offers him a job. It's not much, just a few hours in the shop each week, but it's huge to Joe. Nobody is ever kind to him or goes out of their way to help him. But Lulu is special. The reader is able to see just how special as the story plays out. She knows he's homeless and likely hiding from something but she never makes it awkward. She helps him get a bank account with both their names because she somehow knows him doing it strictly in his could be a problem. She and the others at the coffee shop kind of adopt him and look out for him.
Then there's Madden. Madden is a nurse at the local hospital. He and his friend and coworker (Adam) spend a lot of time at the coffee shop. There's something about Joe that has Madden wanting to get to know him within minutes of meeting him the first time.
Joe is autistic. When Madden keeps coming into the coffee shop to see him, he doesn't understand it. But Madden doesn't give up. Hell, Madden doesn't understand it either, but he knows there's something special about Joe and he wants to get to know him better. One day Madden stops by the coffee shop to see a very sick Joe. He immediately rushes him out of there and takes him home with him. Joe is understandably hesitant because at first Madden is offering to take Joe to his (Joe's) place. Joe doesn't have a home to go to but Madden doesn't know this until later.
This begins their relationship of sorts. I say of sorts because this book is super slow going with these guys. It had to be super slow going or it wouldn't have worked. There's a reason Joe is homeless and why he doesn't stay in one place for too long.
Madden is simply amazing. He has so much patience and never pushes Joe, even when Joe gives him a lot of reasons to. Joe doesn't always know how to take people. A joking comment is quite literal to him and there are quite a few unintentional (on Madden's part) misunderstandings. But through it all, Madden is right there for him. No matter how hard Joe pushes, Madden doesn't go anywhere. He takes Joe into his home and cares for him, even when he's feeling better. Joe has a problem with touch but slowly he allows himself to be held by Madden. There's nothing sexual about it. It's just Madden being there as a friend, a comfort. Of course, Madden starts caring for him as much more than a friend but, again, he never pushes. Everything is done at Joe's pace.
But then Joe's past catches up with him. That destroyed me. I just wanted to reach inside the book and hug that sweet boy and protect him from the big, bad world. When Madden did just that, I cried like a baby. Later, something else happened with regard to his past that had me doing it all over again.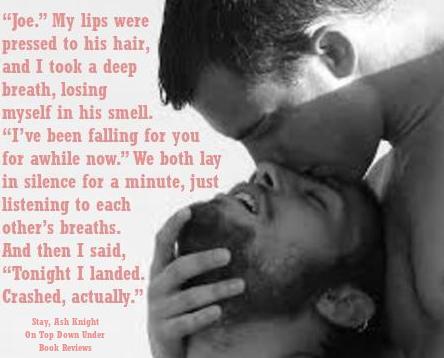 This book is an emotional roller coaster from the very first page. What Joe went through as a child, what he goes through as an adult believing he's alone… so many emotional moments. But it wasn't just Joe. Madden got me all misty-eyed too. You can see how much he really loves Joe, how much he wants to help him, but it's difficult because he's scared of pushing too much too fast. A couple of times he does but it's not intentional.
There was no rush, rush with them having sex. Had there been, the story wouldn't have worked at all. Joe, because of his past, only knew sex as a bad thing that caused nothing but pain.
"I've never been touched by someone who didn't hurt me."
It takes a lot for him to be comfortable with Madden. When something finally does happen, it's with him making the first move and Madden being patient and kind.
I've already mentioned Lulu and Adam. There's also Madden's sister Anna and her autistic son, David. Joe was able to relate to the little boy in ways most can't. I had an issue with Anna. I can understand her being concerned for her brother and wanting what was best for him. What I couldn't understand was her attitude about Joe from the very beginning. She kind of made good later, but a couple of times she annoyed me. It seems like it's the norm these days to make sisters and/or female friends in books as busybodies who feel it's necessary to tell their adult siblings/friends how to live their lives. That's a major pet peeve of mine and something I'm seeing over and over in the books I'm reading these days. I also wasn't thrilled with her reaction to Madden wanting a relationship with someone with autism when her own son was on the spectrum. Thankfully, Madden (unlike the others in the books I've recently read) put his foot down with Anna and didn't allow her to take away from what he was feeling for Joe.
"Look how much work David is, Madden. I love him to death, but it isn't easy. He doesn't see the world like we do."
"I can't fucking believe you right now. First of all, you can't put David and Joe in the same box just because they're on the spectrum," I said, using finger quotes. "Secondly, are you going to give this same advice to someone who has feelings for David in the future?"
Overall, this is an outstanding book. I've had it on my Kindle for a few weeks but held off on reading it. I'm really glad I finally did. I can't say enough good things about Madden. And Joe was an absolute sweetheart who was just trying to find his way. Something happened toward the end that was a bit too coincidental. Even so, it was beautiful and had me crying big ugly tears.
A beautiful love story.