The Last Kiss, Sally Malcolm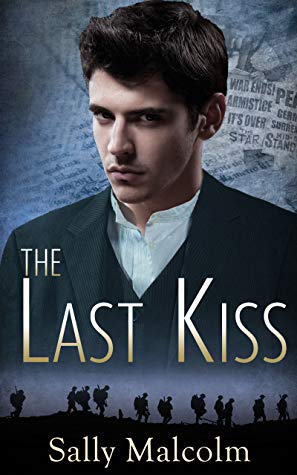 Rating: 5 Stars
Publisher: Self Published 
Genre:  Gay Romance
Tags: Historical – WW1 and After – from 1917-1920, Love Story, Disability, Psychology
Length: 327 Pages 
Reviewer: Karen 
Purchase At:  amazon
Blurb:
A tender and triumphant story of forbidden love in the aftermath of war
When Captain Ashleigh Arthur Dalton went to war in 1914, he never expected to fall in love. Yet over three long years at the front, his dashing batman, Private West, became his reason for fighting—and his reason for living.
But Ash's war ends in catastrophe. Gravely wounded, he's evacuated home to his family's country house in Highcliffe. Bereft of West, angry and alone, Ash struggles to re-join the genteel world he no longer understands.
For Harry West, an ostler from London's East End, it was love at first sight when he met kind and complex Captain Dalton. Harry doubts their friendship can survive in the class-bound world back home, but he knows he'll never forget his captain.
When the guns finally fall silent, Harry finds himself adrift in London. Unemployed and desperate, he swallows his pride and travels to Highcliffe in search of work and the man he loves. Under the nose of Ash's overbearing father, the men's intense wartime friendship deepens into a passionate, forbidden love affair.
But breaching the barriers of class and sexuality is dangerous and enemies lurk in Highcliffe's rose-scented shadows.
After giving their all for their country, Harry and Ash face a terrible choice—defy family, society and the law to love as their hearts demand, or say goodbye forever…
Review:
Some of the main reasons this book is sublime are –
.
* The history – the time and place, at first the war then the predominantly post-war world. It's totally believable, is brought to life, is a vividly living thing. It's well researched, fact and fiction mesh seamlessly. That there was a change in thinking in those who had seen the horrors of modern warfare and were then thrust seemingly back in time when they returned to their home. Nothing was the same again. I saw this in my father who fought in WW2, once I was old enough to understand.
* The stirring of emotions – whether that be about war itself or the psychology of those affected in the aftermath. The horrid class structure that stopped men (in this case) from being friends because of their station. That two people in love could not be together because of who or what they were made it so gut-wrenching.
* The characterisations – always vitally important to me – are three dimensional. I adored this book's main characters, they are developed with such clarity of who they are, the secondary characters also integral. Ash and Harry are beautifully and subtly layered. The way Harry is caring but pragmatic, as he would quite believably be, who takes the lead in private but can't in public, is resigned to his and Ash's future not being aligned. Then there's gentle Ash. He's been traumatised by the war – the nightmares about Jimmy Tilney are representative of the overall – and his injury. Then there's his Victorian, brow-beating father. Yet he has such genuine and dogged hopes for a newer, better future, including one for he and Harry. It makes for a quiet yet emotional juxtaposition.
*Everything is so breathtakingly and emotionally atmospheric – the war, the comfort of someone who understands you, the exhilaration of discovering that person loves you in return. Then having to be careful because of the law, because of people's ideas of perversion, because of prying eyes, potentially scandalising families. Still being able to steal beautiful and meaningful moments together though, because your love is worth so much.
* This is one of the best historical novels I've read. It's also one of the best love stories I've had the pleasure of reading, and at the risk of  sounding repetitive, Ash and Harry are special characters. They're wonderful, decent men who happened to find one another in a world turned upside down. I believe in soul mates and they fit that description to perfection. Thinking about them just makes me sigh. Thank you to Sally Malcolm for bringing their story to life.
And for those who need to know, Ash and Harry work for their future happiness, always the best kind of storytelling, and Sally Malcolm makes sure they find it in a fitting and satisfying manner. The Last Kiss is now on my list of favourites. Harry and Ash will never be forgotten. 5 Stars!