Fragmented (Shadow Mountain #2), Indra Vaughn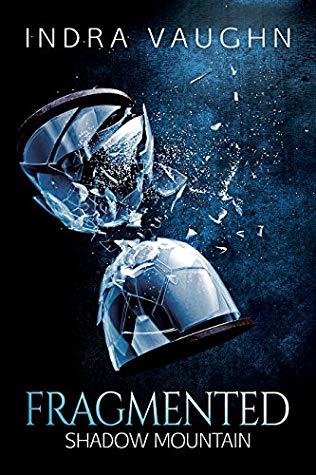 Rating: 5 Stars
Publisher: Indra Ink 
Tags: Gay Romance/Love Story, Thriller, Police Work, Supernatural, Age Gap, Series
Length: 315 Pages
Reviewer: Kazza
Purchase At:  amazon
Blurb:
The capture of the Tattoo Murderer has demanded a heavy price. Doctor Tobias Darwin is dead, Lieutenant Hart is back in Riverside licking his substantial wounds, and he needs to gather his courage and tell Isaac he made a mistake. Isaac will forgive him—he knows that—but he can't promise Isaac an easy life. Being a cop comes with its own risks, after all.
When they finally reach the same wavelength, their idyllic reprieve is cut tragically short. Hart doesn't know yet that Isaac is terminally ill, that he will take off to find the Phoenix to heal him as a last resort. This time, it will be Hart who pays the price.
In the meantime, a new killer roams the streets of Riverside. He kidnaps, tortures, and kills gay men in horrific ways, and he has the newly healed Isaac in his sights. Hart's time is running out on every level.
This book was originally published by Dreamspinner Press. Now published by Indra Ink.
Review: 
Fated
was a good book. Solid. Interesting. It had potentially two outstanding and memorable MCs.
Fragmented
takes good writing and characters with appeal from that book and ramps it up to favourite status for me.
A good study of love in action, as opposed to simply romance, Fragmented is bone-achingly visceral, the writing is pared back but strikingly beautiful. Haunting at times, sexy at others, it causes individual and simultaneous heartache and joy. The police procedural aspects, the thriller plot, is good. Very good. So is the supernatural thread. Secondary characters are rounded out, and I'm glad Toby gets a mention one more time.
Isaac won me over in this book because I got to see who he was. How determined and switched on. How beautiful a soul. Hart is someone very special but also his own worst enemy at times because of emotional walls and his inability to see just how wonderful he truly is, and we know this because it's Hart's POV.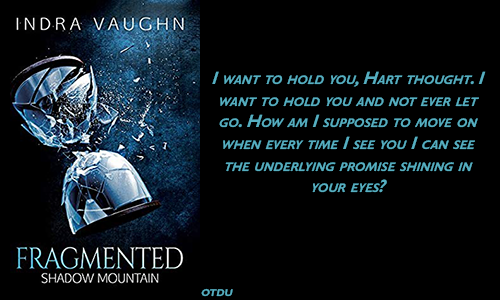 If you're looking for something that's different in the genre, if you enjoy a police case or three, if you enjoy supernatural elements, and if you love a love story, because that's what this series is, an ode to love, then you really should do yourself a massive favour and grab 
Fated
 then 
Fragmented
. This is quality storytelling. This is the reason I read and take the time to review.
5 Stars!
.
.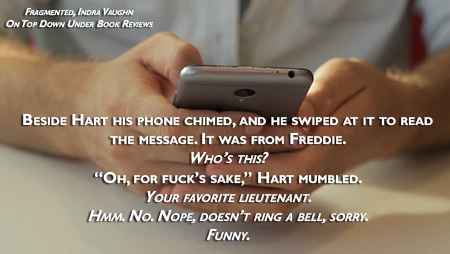 .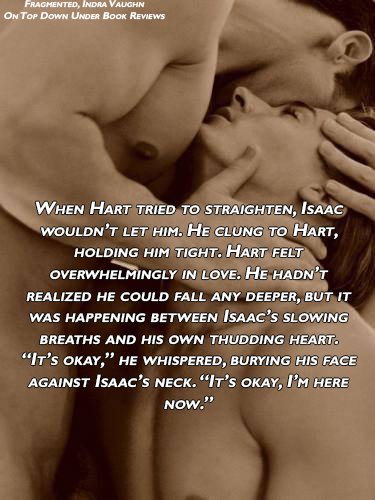 .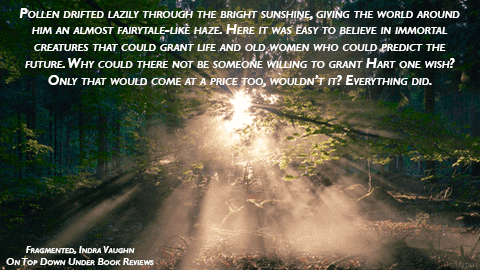 .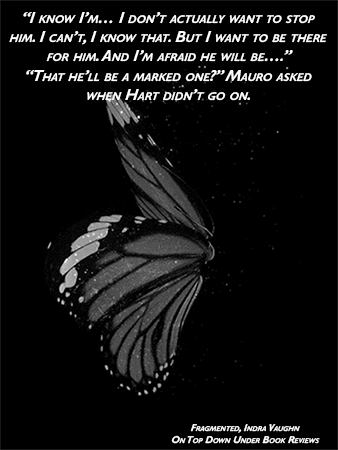 .