Fated (Shadow Mountain #1), Indra Vaughn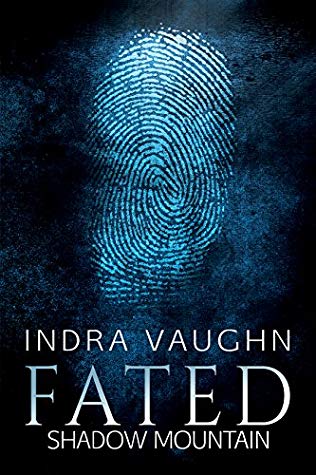 Rating: 4 Stars
Publisher: Indra Ink 
Genre:  Gay Thriller
Tags: Mystery, Law Enforcement, Supernatural, Romance, Grief, Suspense, Melancholy, Series   
Length: 338 Pages 
Reviewer: Kazza 
Purchase At: amazon
Blurb:
Two towns flank the looming Shadow Mountain. A dark myth of the Predator drifts through the dense trees, a tale Police Lieutenant Hart never paid much attention to. When one unresolved death follows another—some people dying without discernible cause while others are clearly, and often brutally, murdered—he can't ignore it any longer. Truth may lie in myth, but this one is spread to deceive everyone. The Predator exists, but he's not entirely human. Hart will have to find the connection between the mysterious figure and victims with only one thing in common: a faint tattoo on the backs of their necks, a mark left when someone healed their incurable diseases.
Isaac Lasko has been in love with Hart since he moved in across the street seven years ago. He's been helping Hart renovate his home, and their friendship grows more intense with the years, but Isaac can't help wishing for a deeper bond. When he finally breaks through the lieutenant's armor, the mystery surrounding the Predator threatens them both. Help will come, but at a price.
This book was previously published by Dreamspinner Press. Now published by Indra Ink.
.
Review: 
.
This is a re-release of Fated: A Gay Romantic Thriller but this is my first Indra Vaughn book. There will be plenty of reviews of the first edition on Goodreads. This podcast review is more my overall feelings and ramblings.
My summation would be – melancholy, sometimes a hard book to read, and the MC, Hart – who refuses to give his first name – is someone who interested me, frustrated me, but is not someone I loved. I'm unsure how I fully feel about Isaac as he wasn't in this book a lot. All of that said, the thriller and law enforcement aspects of the book are well written. The general writing around Hart paints a melancholy man well. There is a strong subtext to the actual words people say or what they think. I found this book to be metaphorical, allegorical about a number of things, with foreshadowing of what I feel in my bones will be events to come. I'll be reading book #2 as soon as I can and I know Indra Vaughn is a writer I'll be reading more of in the future. Right from the outset I felt Vaughn's overall writing was a good fit for me.
Podcast note: I meant Isaac says something during sex, not Toby.
.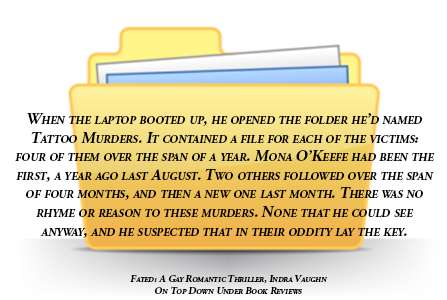 .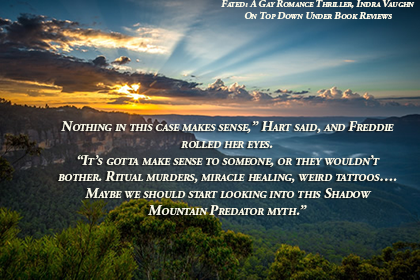 .