Peter Cratchit's Christmas Carol, Drew Marvin Frayne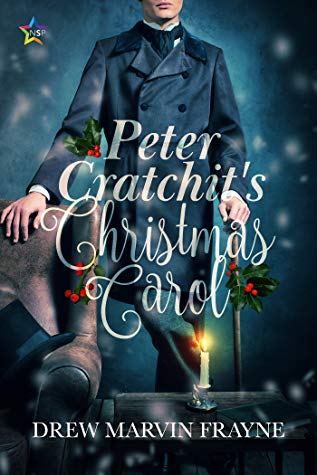 Rating: 4.5 Stars
Publisher: NineStar Press
Genre: Gay Fiction/Romance
Tags: Classic Re-imagining, Darker/Grittier Themes, Emotional, Erotic Components 
Length: 36,100 Words
Reviewer: Kazza
Purchase At:  amazon, NineStar Press 
Blurb:
Peter Cratchit, a young lad preparing to make his way in the world, is the eldest son of Scrooge's lowly clerk Bob Cratchit. Peter flourishes under the tutelage of his "Uncle" Scrooge and seeks to make his mark as a man of business, like his uncle before him.
One Christmas Eve, as Scrooge lays dying, Peter embarks on a risky ocean voyage that he believes will secure the future for his family. Onboard, Peter finds love, happiness, and success, only to lose it all by the voyage's end.
Returning to London, Peter shuns his family and instead finds himself living on the streets, haunted by his failures and his dead lover, selling his body just to survive while he waits for the winter cold to claim him once and for all. But winter snows also mean Christmas is coming, and for the Cratchit family, Christmas is a time of miracles. Can a visit from three familiar spirits change Peter's life again? Is there one more miracle in store for the lost son of one of Dickens' most enduring families?
Review: 
This gay and gritty
A Christmas Carol
retelling by Drew Marvin Frayne takes up where the original left off. This time the emphasis is on Bob Cratchit's eldest son Peter Cratchit and his (mis)fortunes and life after Ebenezer Scrooge, or Uncle Scrooge's, demise.
.
The world building and mindset of Peter is fully realised, from the biting cold that the homeless understand too well, to the dark and murky London fogs, to a life of destitution, and to the visits of the ghosts of Past, Present, and Christmas to Come. To the repercussions of those visits and why Peter has been stuck in an unrelentingly sad life for several years.
This retelling is true to the original in many ways but with its own storytelling – a romance, an erotic element interlaced into the story, and Peter Cratchit is grown and a gay man.
As the Ghosts weave their magic, the tone of the book lifts but it is still more urban and realistic than some other A Christmas Carol rejigs I've read over the years, and that's quite a few. There is love on the horizon for Peter, not just in the past, so while it has gay fiction as a tag it's also a romance. The writing completes the sense of time and place, providing a realistic feel to this period.  All up, Peter Cratchit's Christmas Carol is excellent (seasonal) reading with a touching romance.
.
.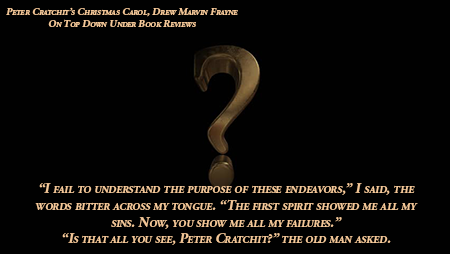 .

Tags In