Book Blitz: Peter Cratchit's Christmas Carol, Drew Marvin Frayne

Title: Peter Cratchit's Christmas Carol
Author: Drew Marvin Frayne
Publisher: NineStar Press
Release Date: November 18, 2019
Heat Level: 3 – Some Sex
Pairing: Male/Male
Length: 36100
Genre: Historical Holiday, LGBT, Christmas, romance, fairy tale, businessmen, ghost, prostitution, poverty, 19th century England, pirates, tear-jerker, time travel
Synopsis
Peter Cratchit, a young lad preparing to make his way in the world, is the eldest son of Scrooge's lowly clerk Bob Cratchit. Peter flourishes under the tutelage of his "Uncle" Scrooge and seeks to make his mark as a man of business, like his uncle before him.
One Christmas Eve, as Scrooge lays dying, Peter embarks on a risky ocean voyage that he believes will secure the future for his family. Onboard, Peter finds love, happiness, and success, only to lose it all by the voyage's end.
Returning to London, Peter shuns his family and instead finds himself living on the streets, haunted by his failures and his dead lover, selling his body just to survive while he waits for the winter cold to claim him once and for all. But winter snows also mean Christmas is coming, and for the Cratchit family, Christmas is a time of miracles. Can a visit from three familiar spirits change Peter's life again? Is there one more miracle in store for the lost son of one of Dickens' most enduring families?
Excerpt
Peter Cratchit's Christmas Carol
Drew Marvin Frayne © 2019
All Rights Reserved
Scrooge was dead: to begin with. There is no doubt whatever about that. He died some two years past on this very day, Christmas Eve. I would it were not so; yet I suspect the old man would not agree. He became rather infirm at the end, frail and forgetful, and though he did his best to remain cheerful, I know he hated to show weakness of any kind. It wasn't a matter of pride, nor vanity; no, it wasn't for his sake that he cared so. It was that, as he himself often said, he had become a sort of safeguard, a protector, to his family and to his community, and he hated the thought of us carrying on without him there, watching over us all. And we, of course, would clasp his hand and tell him that he would be looking over us in the next life, and that such thoughts brought us great comfort, and they should bring him great comfort too. And he would sigh, and agree with us, and settle in, at least for a while, until another great spasm wracked his breast, and his chest would heave with immense, raggedy gasps for air, and his worries arose all over again.
He died a good death, if it could be said that any death should be regarded as good. Though I have not spent nearly as many years as Scrooge did on this planet, I have knocked about a bit, and circumstance has shown me both great fortune and great tragedy. And as such, I have come to believe there is no good death to be had in this world. I have seen many poor wretches, past all hope of recovery from whatever it was that ailed them—whether it be an infliction of the body or the soul—beg for death, pray for it, and have watched it come in many guises, be it the cold, or the cough, or the cutthroat. I have seen their prayers answered, even if those answers came in some form of pain they had never envisioned. And yet I say, when the end did finally come, each and every one begged to stay, begged for their final breath to be forestalled, begged to live for even one moment more. Yea, though I have been on this world for less than a quarter of a century, I have come to know its horrors and have learned the greatest horror of all is that there is no world, no life, beyond this one.
Scrooge would not have agreed with this; oft he told us the tale of his visitation by his old friend, Jacob Marley, dead seven years in the grave before his return, and the further visitations by the three spirits who haunted him, also on a Christmas Eve. To Scrooge, there was no greater evidence of providence than this, and he lived such feelings in his heart for the rest of his life. I was glad of it; we all were, all of London town, though those of us who were closest to him felt his change of heart and his largesse most keenly. And many was the time, as a young man, on a Christmas Eve like this one, I sat cross-legged on the floor at Scrooge's feet and listened to his tales of Christmas ghosts and astonishing spirits, of visitations to the past, and of the wondrous things that are yet to come.
Yet even then, I was a skeptic. After his tale was complete, Old Scrooge, as wise at reading faces as he was at managing his business, would frequently tousle my hair and tell me, "Young Master Peter, you must have the conviction of your faith. It is not enough to simply believe; you must know Christmas, and keep it in your heart all the year long." Such words were enough for Tim and for the others; but I, I would only smile, and say, "Yes, Uncle Scrooge," in a manner and tone that were always respectful, but that the cunning old man also knew to be mollifying. And Scrooge would then bend quite low—for he was a tall, wizened old fellow, and I have always been inclined to be undersized—and he would say to me, "You must not fear the world so much, Peter Cratchit." And I would nod, and he would pat my cheek, or sometimes playfully pinch my nose. But what he meant by those words, I cannot say. In my experience, there is much to fear in this world, and much calamity the world will set upon the unwary soul who is not ever vigilant.
A growl in my stomach disturbed my thoughts. Time to dispense with these ruminations on the past; I was hungry. I willed my body out of its bed, a small recess in the side of a crumbling brick building used for the storage of livestock, a cramped pen to house the beasts before they were led to slaughter. The recess provided some shelter from the elements; there had been rain last night, so it was useful to keep dry, though the rain had been only a drizzle, and the weather was unseasonably temperate for so late in December. That was no small mercy.
The recess had once been a side door, now sealed up, when the building had been used for some other purpose, long forgotten to time. The smell of animal excrement that clung to the building—and to those who worked or, like me, dwelt within her—was formidable, but it also meant the alley I called my home remained deserted during the nightly hours. Safety in this life often comes at great cost. Those who have suffered at the world's hands know this lesson all too well. The men who tended the animals had assembled a small cleaning station, clean water and a strong lye soap, behind the building, and they charitably did not begrudge my use of it from time to time, provided I did not tarry, and they did not see me. I hastened in my morning ablutions and made my way out to the street.
There was a bakery on Saint Martin's Close; it was there I would seek to break my fast. Every morning, my repast was the same: two hot buttered rolls and a small tankard of ale. The only difference was whether the baker would tally the cost of his labors on my tongue or on my tail.
I made my way down Carol Street to the main Camden Road. I used to live on this very road, as a youth, but far down the other end from those places where I now worked and resided. Camden Town was named for Camden Road; the road was the heart of the ward, bisecting it in the north and making up the entirety of its western edge. It was impossible to be in Camden Town and avoid the Camden Road. And yet, in all of my wanderings through this neighborhood, I always avoided the familiar façade of my former house, with its chipped paint and ill-fitted front door. I was more interested in the thick, oaken door that led to the alley behind the bakery, where the business received deliveries of flour and other such supplies. I knocked. Some days, the baker answered promptly, as if expecting me; other days, like today, I had to wait. He was a busy man, having woke well before the dawn to assemble his breads and rolls and pastries and cakes. His bakery was a small one, but he did a good measure of custom, enough to keep him in flour and dough and sugar and coal for the ovens. Still, he had only one boy to help him prepare the daily wares—in this neighborhood, even relative prosperity resulted in genuine poverty.
Whether the boy was his son, or some urchin off the street, I do not know. The baker and I did not converse on such matters. It was, in part, because the man's well of English was so deficient that any conversation would prove inconsequential at best. I could not identify his native tongue, and he spoke only the English of a tradesman and knew the terms for barter and exchange, and little more. My own English improved greatly under the tutelage of Ebenezer Scrooge, who gave me books to read and provided college-trained tutors to sharpen my intellect. I was beyond basic schooling by the time our families came together; but my mind was quick and hungered for knowledge, and Uncle Scrooge filled it with book after book on all manner of subjects—history, literature, economics, philosophy, mythology, the principles of business. I eagerly took it all in, save perhaps the poets, who I found too disordered, too insubstantial, to truly relish. Still, for an occasion such as this, the silver portion of my tongue was not really necessary. It was my tongue's other talents that the baker was interested in. I suppose, in the end, this, like so much in life, was simply a matter of business. I needed what the baker had to offer; he felt the same. Talk would only prolong the necessities of exchange.
The man finally answered and hurried me inside. In nicer weather, he sometimes took his payment in the alley, but he did not like the cold and the damp, so he ushered me into a cramped cookery room stuffed with coal- and wood-burning ovens. I had no objection to being enveloped in warmth; it made for a pleasant change of atmosphere from my usual status at this time of year.
I could see by the sights and sounds of his distresses that my morning patron was more harried than usual. His eyes were darting around the room. His gestures were quick, and rough, and impatient. He was a large, hirsute man, with a rotund belly and a gray, prickly beard, which, at the moment, was dusted in a rather generous supply of flour.
I was no longer fond of beards; I generally preferred smooth-faced youths, like myself, and not the wooly chins of older men, though, in my line of work, older men were my main custom. And this was business, not pleasure, and the baker felt the same as I, especially today. Even as he penned me into his back kitchen, he continued to bellow orders to the boy out front. I often wondered what the boy thought of our exchanges. Perhaps it was of no consequence to him. Perhaps he was grateful he did not have to provide a similar service. Or perhaps he did. Who can say.
Purchase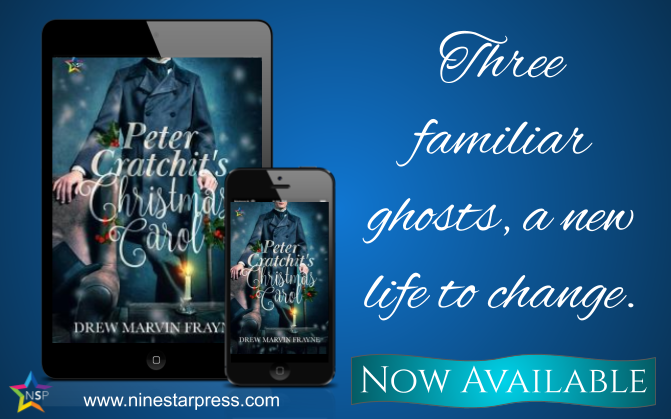 Meet the Author

Drew Marvin Frayne is the pen name of a long-time author (Lambda Literary Award finalist) who is finally taking the opportunity to indulge his more sentimental and romantic side. When not writing the author lives with his husband of 20+ years and their dog of 10+ years in a brick home in the Northeast. Find out more on Drew's Website.
Giveaway