Sort of Dead, Rob Rosen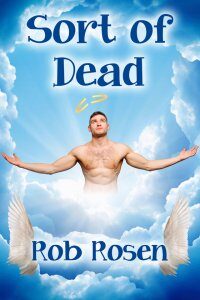 Rating: 4.5 Stars
Publisher: JMS Books
Tags: Gay Romcom, Murder Mystery, Halloween Reading, Supernatural, Drag Queens, Psychic, Size-Queenery 
Length: 198 Pages
Reviewer: Kazza
Purchase At:  amazon, JMS Books (Oct 31st Release)
Blurb:
Nord wakes up to find himself sort of dead. Well, that is to say, he's dead, alright — murdered, in fact — but not in heaven, at least not yet. In this limbo-like state, he meets Max and learns that everyone there is waiting for the final poof, hopefully to a better place. Only, with unfinished business back in the real world, like bringing his murderer to justice, Nord's poof is nowhere in sight. So he and Max set out to find the killer and make things right again. Of course, that's easier said than done when you're nothing more than a couple of randy spirits.
With the help of Voltan, a diminutive mystic with a predilection for turbans, and Clark, a nerdy computer geek eager to shed his loner past, plus a ghost accountant Bruce, Bruce's drag queen brother Eve O'Destruction, and Nord's kick-ass mom, the newly enamored pair set out to hunt for the murderer, and are quick to discover how much they'd taken for granted when they were alive.
In this hysterically funny and often poignant mystery about fate and love and family, it ultimately takes dying for our heroes to have the times of their lives.
Review:
This is a hard book to pull quotes from because, effectively, it's one of those books where one thing is linked heavily to another. It's difficult to strip Sort of Dead down to its undies, you need the naked and bared open version to fully understand the anatomy of the soul of the story and the nature of the characters.
It's a lot of fun and zaniness that I inhale from Rob Rosen. Other writers can't always get a pass from me on the things Rob Rosen says – boobies, FFS… it cracked me up here. And the irony of life – death in this case – gave me plenty of laugh out loud moments while reading.
In fact, we, the sort of dead, were in a living room. Irony, it seemed, transcended life.
I cannot begin to tell you how much I love irony. People and the things they do, the things they think and say. The irony of situations…. ahhhh.  4.5 "Poof" Stars!
Oh, and if this books sounds like it could be for you, Rob Rosen will be a part of our 8th blog anniversary, complete with a post and a giveaway of Sort of Dead on October 23rd.