On Board (Painted Bay, #2) Jay Hogan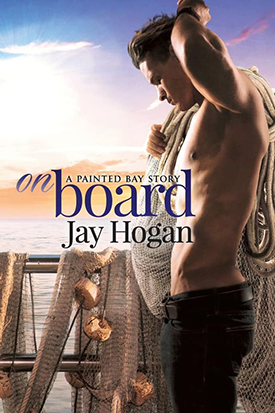 Rating: 4.5 Stars
Publisher: Self Published 
Genre:  Gay Romance
Length: 373 Pages 
Reviewer: Kazza 
Purchase At: amazon
Blurb:
Leroy Madden is in trouble. Big, handsome, Fox Carmody trouble.
Leroy has buried his attraction to the enigmatic fisherman in irritation and pointless bickering, keeping Fox at a safe distance. But with the troublesome man now living in Leroy's house, it's becoming impossible for Leroy to keep his true feelings hidden, or the fact that Leroy maybe isn't so straight, after all.
Leroy hungers for something different between them. He wants more. But Leroy's business is struggling, his newly mended relationship with his brother is at risk, Fox doesn't plan to stay, and their mothers are lovers.
Regardless of what Leroy's heart so desperately wants, his entire world is at stake, and nothing about a relationship with Fox Carmody was ever going to be easy.
Review: 
You know, I wasn't sure about this book going in. I thought I may not be on board – no pun intended – with Leroy, Judah's straight older brother who had given Judah a fair degree of grief about being gay, among other things, in the brilliant Off Balance, book #1. It won't be the first time I mention this, I love Judah, and I love Morgan too and I really looked forward to seeing them in this book. So, I get the core issues around family, etc, that were a problem for Leroy but, still, Leroy being an MC for a gay romance seemed… challenging. However, Jay Hogan pulled it off, but not without me thinking, GFY, meet very neat bi bow. However, that Leroy and Fox had me picking this up at every opportunity to read about them, that I cared deeply for them, really says it all.
Fox is the son of Martha, who works for the Madden family and is also Cora Madden's girlfriend. Cora is the mother of both Judah and Leroy – I swear Painted Bay is going to be the queerest spot in the entire universe by the time this author finishes with it. Fox used to live on Stewart Island – south of the South Island of New Zealand –  and ran a commercial finishing boat until his ex, Van, decided to cheat then leave Fox for the Affair Partner, who also used to be a friend of Fox's. Van is a Stewart Island local boy, so there's that, and he lied about Fox, and there's that. It all made things extra hard around asset settlement then being able to comfortably stay on Stewart Island. For now, Fox has come to stay at the Madden's mussel farm because of his mother and to see if he likes being in Painted Bay. He and Leroy had words about a year earlier when their mothers came out as partners at a family lunch and Leroy was an arse around it. Since then, we discover that Leroy has been left with unresolved and unsettling feelings for Fox but that is buried nice and deep. So when Cora, who seriously has no boundaries, decides Fox can stay and help out in the business and also live in Leroy's house for a while, without asking Leroy first, sparks were always going to fly in every direction.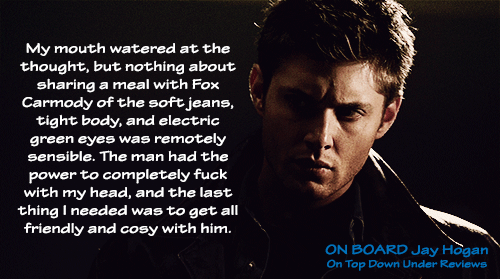 Leroy is a prickly character to warm up to, a seamless carryover of his character from Off Balance. That Fox could see underneath the crabby exterior meant he needed a merit award, in my opinion, because Leroy is a special kind of rude. You can call it what you like, poor Leroy, or Judah got more attention, which isn't exactly true, but no matter what, it's Leroy's MO. I adore Judah, he was, in my opinion, thrown under the bus somewhat in this book. Let the record show a loud GRRR coming from me. There were also some moments of fence-mending between the brothers that I greatly enjoyed but then there was some unfair drama that had Judah at the centre, and I'm not talking about Kane here. I don't blame Judah one iota for the residual anger he carries toward Kane. Although I'm personally looking forward to Kane's story next. Very excited.
Fox is an amiable guy right from the outset and he remains an even-keeled person throughout, although he's understandably hurt by what's occurred in his own life. That pain doesn't stop him from oddly fancying the very stormy, guarded Leroy Madden from near the start, patiently being there through some firsts, some family situations, and as needed for support. He sees below the surface, someone needed to. That they both lost their fathers when they were younger is something that binds them too. Fox also comes with a dog, Mack, and who doesn't love a dog? I know I do. Although the story didn't need the whole Mack-Van situation.
Anyway, Leroy tussles with his feelings for Fox but not especially about being bi or fancying Fox, which I appreciated. It was more because they both have current issues in their lives. Leroy has a lot of responsibility and has done for a while, and they've both walled off little pieces of their hearts around trust and around their respective business ventures. Also about being in love – again for Fox, for the first time in Leroy's case. I found myself very much invested in what was to come next, what would happen, and that both Leroy and Fox were happy.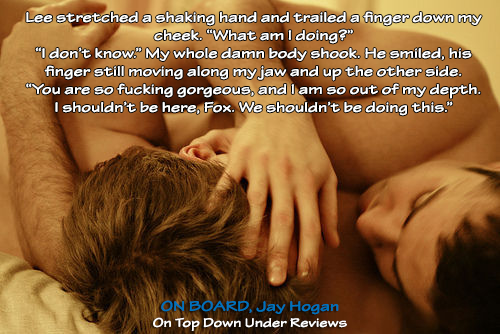 In spite of my reservations going in, I really did love these guys together. They clicked. They were sexy. They were right for one another. It didn't feel forced, which can happen when someone suddenly 'realises' in mm that they are bi. I also love the cover of On Board, I'm a cover lover. I also adored Off Balance's cover. Covers make a huge difference as to whether I pick up a book or not. Add to that that Off Balance is a fairly high-rotation re-read book of mine, so I was always going to read Painted Bay #2… but with fingers partially over my eyes. I also waited for a bit first because that whole Judah-Leroy thing was in my head. How would this work? I was waaaaayy beyond surprised at just how much I got into Leroy and Fox and their overall story once I started. I liked that Judah and Leroy are making a real go of being close brothers.
Jay Hogan writes beautiful prose when she's got some soulful characters in her hands. When they have some everyday speedbumps attached she seems to feel it in her bones. The author is good at writing something most readers can relate to in some way, that's when Hogan soars, in my opinion. I'm now a rusted-on fan of this series. It's very good. Of the books I've read of Jay Hogan's, Off Balance, Pinot & Pineapple Lumps, now On Board all shone for me because there was perfect emotion leaking out into the words and the stories with all of them. Humour as well. Humanity. Width and breadth of love. Characters you can get right behind. All the good stuff. And to be very honest, after a current series I've been reading I truly needed characters who would give me an adult resolution. Thanks for that, Leroy and Fox.
Overall: 
The Painted bay series is an excellent contemporary gay romance series in the most beautiful setting of northern coastal New Zealand. Every time I read these books I want to go back. I want to be in NZ. It's also a different vibe to most book's settings, so that makes it that little bit extra special. The MCs are a great contrast and work well together. I loved seeing Judah and Morgan again. I won't ever get tired of them. It's a delight to see this family grow. Passionate and heartfelt writing from Jay Hogan makes On Board a must read. 4.5 Stars!