Off Balance (Painted Bay #1), Jay Hogan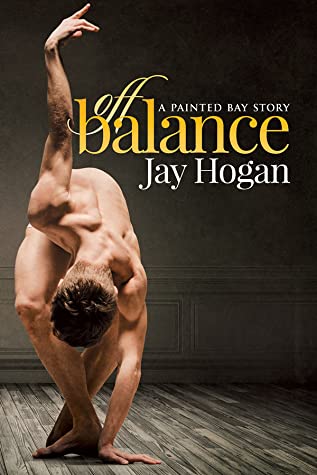 Rating: 5 Stars
Publisher: Self Published
Genre:  Gay Romance
Tags: Ballet Dancer, Emotional, Humour, Love Story, Bi MC, Policing/Poaching   
Length: 396 Pages
Reviewer: Kazza
Purchase At:  amazon
Blurb:
When JUDAH MADDEN flees his tiny suffocating home-town in New Zealand, for the dream of international ballet stardom, he never intends coming back. Not to Painted Bay. Not to his family's struggling mussel farm. Not to his jerk of a brother. Not with his entire life plan in shreds. And certainly not into the tempting arms of MORGAN WIPENE, the older, ruggedly handsome fisheries officer who seems determined to screw with Judah's intention to wallow in peace.
But dreams are fickle things. Shatter them and it's hard to pick up the pieces. Hard to believe. Hard to start again.
But the hardest thing of all? Finding the courage to trust in love and build a new dream where you least expected it.
Review:
I've never read Jay Hogan before but the cover of Off Balance absolutely screamed read me! and I couldn't resist it. Teamed with that blurb, I had zero chance of resisting. If you're looking for a cracker of a love story with characters you can fall so hard for, then look no further than the well named and visceral Off Balance.
Two men who should have nothing in common on the surface have so much in common, and find love in the small New Zealand town of Painted Bay. They're surrounded and supported by secondary characters who give you a sense of a small community. The community is flawed, there's no two ways about it. Although it's a current haven for Morgan Wipene, it's been unkind to Judah Madden in the past, it doesn't seem to him like it's much better now. Judah wanted to leave as soon as he could get out of there. He did just that at sixteen as a prodigious ballet talent. But Meniere's has brought him home, because that's where we tend to go when our world comes crashing down – home. Here he is, eight months later, trying to find some balance, lick his wounds, having to work his family mussel farm with his older brother, Leroy, who is exceedingly angry. Judah doesn't want or need that but it's like so many things that are tough(er) when you have a chronic condition.
Being so reliant on people was screwing with my sanity. I couldn't even drive to get away from the place, from Leroy, from my mother, God bless her. My world had shrunk to a tiny boathouse in a two-bit town, and I was backhauling mussels to earn my keep when only months before I'd been sailing over the boards in Boston—the ballet world at my talented feet.
We meet Morgan not too long into the book. He's had five years to learn to live again after the loss of his wife, Sally. He's retreated to Painted Bay as a fisheries officer to escape the city and, to an extent, his family. He's captivated by Judah from the get-go – how graceful he seems, how he looks, his quick wit and sharp words that hide something more, a sorrow, but Judah is his fellow rugby buddy's brother (Leroy) and a decade younger than him. Then he discovers Judah has Meniere's and he knows Judah needs to find his feet, understands what it's like to have them kicked out from under you. But we know they're going to be "it" for each other, and neither of them puts up too much of a fight either. But it is emotional, they do have to work for it. You can't help but feel for them as they do. It's perfectly balanced writing.
No one gets away without their vulnerability and honesty being seen in Off Balance, especially Judah and Morgan.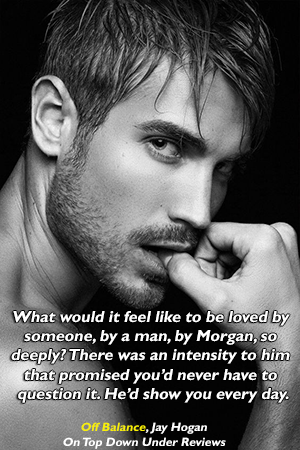 However, Hannah, the nine year old daughter of Judah's good friend Terry, also has her difficulties and is a real-feel young girl who gives hope to Judah as he does her in return – not that Judah sees this at first –  which makes this story and him even more relatable.
I do have investment in a ballet danseur, and Judah Madden didn't let me down. He of the ballet tights, pink jeans and fishnet top and (sometimes) makeup, the wearer of his heart and passion on his sleeve – he's worked and fought hard to be who he is, and he owns it.
Morgan Wipene is, well… everyone deserves a Morgan to come into their life. Kind. Generous. Steadfast. Loving. Knower of the right things to think and feel and, better still, say. What a perfect pair they make.
I loved that Morgan talks to Sally. It's what we tend to do when we lose someone who is our bedrock. We especially do it when we meet someone who (potentially) means more than a simple dalliance, and Judah means so much more.
"On second thought, you probably had something to do with it, you little minx. Pulled a few strings? Badgered the bearded old guy till he gave in? You were always trying to loosen me up. But you might've overshot the mark with this one, sweetheart. He's too young, too prickly, too . . . something." 
The sex in Off Balance is smouldering. Hot. They tear up the sheets, or should I say ballet tights? Read it and you'll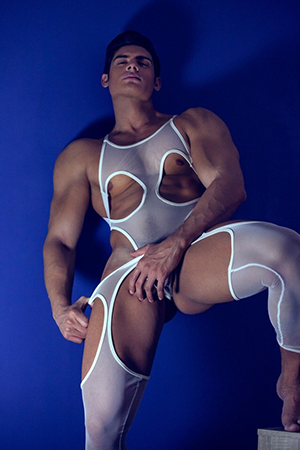 see what I mean.
Say what you like about men in tights, there's not a gay man alive who doesn't appreciate the way they frame a package in all its glorious detail.
Even though both MCs have had events that rate highly on the SRRS, or life events scale, Off Balance is never maudlin. This book has a little self-deprecating humour, some pointed snark, certainly some bravado, and definitely silver linings. I believe in looking for silver linings in my own life. I think they make our life bearable when hard times call, and both of these MCs have had hard times come for them yet they bear it in the most humanly relatable  of ways. I felt like I was their reading moral support and in return they gave me a beautiful love story to smile at, cheer for, believe in.
Just a Few Extras:
This is a superbly crafted character driven story. I love and seek out memorable characters. I got that in abundance in Off Balance  
Like a few others reading in romance, I'm not keen on contemporary stories being lengthy. This book should be too long at 396 pages… it isn't. There was such a connection and pull to the MCs that it's made easy to read on, and I would have read more.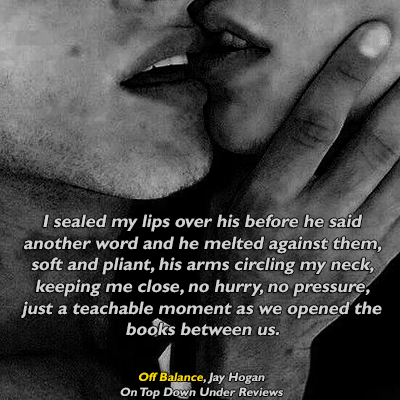 Morgan is a well portrayed bisexual character. Too many authors write OFY, even GFY, as if it's bi rep. It. Isn't. Thank you, Jay Hogan.
The author uses (Commonwealth) New Zealand English in her writing. No Americanising the language. It's a pet peeve of mine, Americanising other counties English by authors or their editors. As an aside, I laughed at seeing  brass razoo in print. I use these two words in conjunction with people or situations more often than you would think.
This is a very sensitive portrayal of someone coming to grips with a chronic condition, also the prior death of a loved one, and nothing was overdramatised.
When Judah told off Kane, his primary childhood bully, I cheered. I raised a gay ballet boy. I know how hard it is, the nastiness about being a young and gay male ballet dancer. It will be interesting for this reader when Kane's story comes out.
This may be the first book of Jay Hogan's that I have read but it certainly won't be the last. I do find it hard to believe any character this author will write, or has written, could surpass the addictive, truly wonderful Judah and Morgan, but I'm happy to check that out for myself. Off Balance is 5 star reading from the very first page to the very last. Highly recommended.