The Ghost and Charlie Muir, Felice Stevens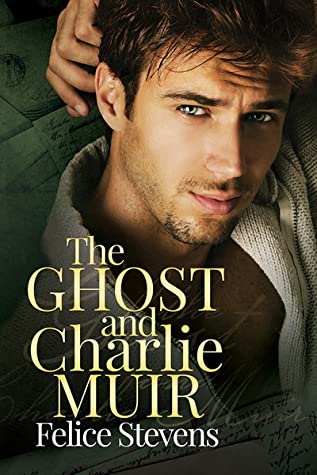 Rating: 4 Stars
Publisher: Felice Stevens
Genre: Gay Romance 
Tags: Supernatural, OFY… Bi, Contemporary Meets Historical 
Length: 328 Pages
Reviewer: Kazza
Purchase At:  amazon, Felice Stevens
Blurb:
Bad enough the big old house Charlie Muir inherits is next door to Ian Gregg, the most gorgeous guy he's ever seen—it also happens to be occupied by Rachel, the ghost who keeps running off his dates. It's impossible to get any loving when the bed starts shaking…and not because you're having fun in it.
When Ian helps Charlie search for the source of strange noises in his house, they stumble upon a stack of photographs hiding century-old secrets. Curious of the friendship between the two men pictured, Charlie and Ian set off to solve the mystery of their relationship. With the help of the meddling ghost, a magical mirror, and a way too Smart TV, they find answers…and more.
And as things heat up between Charlie and Ian, they begin to wonder if Rachel's meddling has gone too far.
Doesn't Rachel know Ian is straight?
Or is he?
That kiss they shared the other night sure didn't seem like it.
Or the one after that…
Review:
I'll always be with you. You'll hear my whispers in the wind, and my love will warm you in the heat of the sun. Stand under our oak tree and gaze up at the stars, knowing I'm there, waiting for you.
Okay. I'm starting another review of a Felice Stevens book with a virus. I bought The Ghost and Charlie Muir and I was fine. I started reading it and, bam, another virus. This is getting seriously weird, Felice.
I love the original movie of The Ghost and Mrs Muir, based off the book by Josephine Leslie. The movie, starring one of my favourites in Gene Tierney, also Rex Harrison and George Sanders, wasn't box office gold at the time, but it's one of those movies that has gained classic status as time has gone by. I also really enjoyed the TV series spin-off, starring Hope Lange. When I saw this title and I looked at that cover, because that cover is gorgeous, I knew I had to read this contemporary iteration of a beautiful, haunting love story originally set at the turn of the last century in England.
While The Ghost and Charlie Muir is a tale set in current-day New York, there is also a corresponding romance from 100 years prior playing alongside it. And there is a ghost, Rachel, who makes her presence more than known as she haunts the house Charlie has just inherited, and quite purposefully. He's the last surviving family member of Lucy Muir, something that made me sigh in gratitude… and also feel wistful.
Charlie Muir has grown up in the foster system and never known his family. Learning that he's inherited a beautiful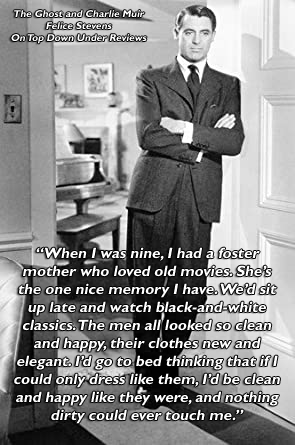 old house in Brooklyn is something of a shock, but also amazing. He'd never be able to afford to buy something like this. He works as a sales assistant at A Vintage Affair, a clothing store of older style attire, and he loves dressing up in straw hats and waistcoats, so the home's aesthetic definitely appeals. The location is perfect and, speaking of location, his next door neighbour is gorgeous… and, bummer, seems straight. Charlie has had his heart trodden on by guys just like him before, so keeping his distance would make sense. However, Rachel doesn't share in those sentiments, she does everything supernaturally possible she can to make sure Charlie and his neighbour, Ian, are thrown together.
There are several integral arcs in this story. There is the burgeoning relationship of Charlie and Ian and I'll start with that. I'm not such a fan of GFY/OFY. I do read them from time to time but very sparingly. Ian comes to the conclusion he is, perhaps, bi. Not straight away though, this is a revelation for him. But Ian has never thought of, looked at, or wanted another man before. That the foreman at his worksite, Dave, is bi adds a nice touch. Because Dave helps break down stereotypes that Ian has in his head about how gay men or bi men should look or act. Felice Stevens really did a great job of letting you feel the difficulties of any generation, even now – especially 100 years ago – of being same-sex attracted. The corresponding story of Eddie and Robert damn near broke my heart and added to the primary and contemporary story of Charlie and Ian.
Speaking of Eddie and Robert. They're the reason we're all here. They are the why behind Rachel currently haunting the lives of Charlie and Ian. There is more to it, she shows them snippets of the past via a mirror in Charlie's room, a window pane, or Ian's TV. She has some supernatural mojo going on, and when the guys find a lockbox with a death certificate in it, they're both invested in finding out what happened. Why Rachel is really here, and how they fit into it all. Rachel was very well intentioned, I had great empathy for her, I liked her, but she could be quite meddlesome. I won't linger on this part of the story so as not to spoil it. It's a very good arc though.
Charlie has a problem trusting because he's been let down quite a bit in his life, and worse than that, he's been badly hurt. That Ian goes from dating women and having the reputation of being a ladies man to suddenly interested in him is flattering, confusing, certainly not realistic. Not in Charlie's world. He's known, has had experience with straight guys looking for their dick to be sucked, promising more to get what they want before they flit off to their regularly scheduled 'heterosexual' life. Charlie has serious concerns, not without substance, that Ian will be the next in line.
Ian is confused about his growing attraction to Charlie. It has to be Rachel pulling some magical/supernatural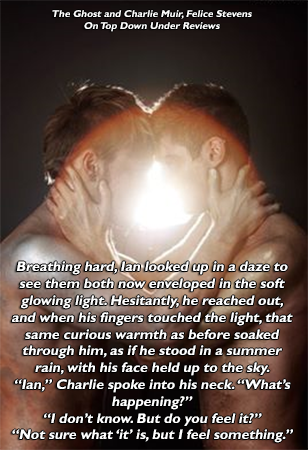 strings. Charlie glows for Ian and Ian alone. He's like looking at the brightest star, which I found charming. Although Ian gave me some whiplash – neighbourly, closer, sexually interested, friendzone then a little bit of wash, rinse, repeat. However, Felice Stevens wrote it so that Ian's developing desire for Charlie was pretty believable. It was a work in progress throughout. While he found it more easy to be comfortable in his growing relationship with Charlie when it was just the two of them, he struggled being able to admit openly to being attracted to him. So the author had to make sure Charlie was no longer hurt, that Ian worked through his confusion, wasn't an arsehole, and that we believed in that as well. She did a good job. When it was right for things to come together for the primary romance, it pulled together well.
I liked the mystery aspect of why Rachel was around the MCs. I liked the way they discovered snippets of information. I liked how it pertained to their lives now and their growing attraction. I really liked and felt for Charlie, Ian took me time to warm up to. But Felice Stevens has a habit of writing her MCs like that. Well, that's been my experience with her books. I'm fine with that. I like personal growth of an MC and Ian certainly matures throughout the book.
Last but not least. I shed tears and grabbed my chest about Eddie and Robert, the pacing around their lives, their love story. That arc was really, really good, it made this book all the better for them being such an integral part of it.
I'm now listening to my favourite Felice Stevens book – Fool For Love – in audiobook. That review to come soon. Meanwhile, 4 Stars! for the charming and thoughtful The Ghost and Charlie Muir. It added a contemporary  variation to the original by Josephine Leslie that I can add to the list of all things The Ghost and Mrs Muir I've now thoroughly enjoyed.