Remember When, B.L. Maxwell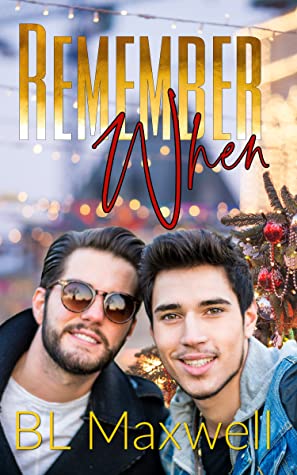 Rating: 4.5 Stars
Publisher: B.L. Maxwell
Genre: Gay Romance
Tags: Contemporary, Holidays (Thanksgiving, Christmas), Friends to Lovers, Slow Burn, Small Town Romance
Length: 192 Pages
Reviewer: Cindi
Purchase At: Amazon
Blurb –
A night to remember, a confession, and a lifetime of love in this small town, friends to lovers Christmas romance.
Andrew Lawson's life in Sacramento has turned from being everything he dreamed of growing up, to a lonely place where finding someone special to share his life with is impossible. When the first person he meets on returning home for Thanksgiving is his childhood friend Link, it's a reminder of happier times when his whole future lay in front of him. Agreeing to a drink before heading to his parent's place is a way to reconnect, and a great way to start the holiday.
Link Stanton never considered leaving the small farming town he grew up in, but he misses Andy more than he'll ever admit. Secretly lusting after a friend is bad enough but being in love with him is so much worse. One drink with friends seems harmless enough, after all, catching up on old times can't be a bad thing, until beers turn to shots, and Link reveals how he really feels.
Everything could change, and if Andrew doesn't remember Link's heartfelt confession, they could carry on as friends. But, if he does remember, this could be either the worst, or the best, Christmas of all.
Review –
This is a super sweet story. Link and Andrew (Andy at home, Drew at work) have been close friends their entire lives, both growing up in the tiny town of Occident. So close Link spent more time with Andy's family than his own. It was only natural that they'd all stay close even when Andy moved away to Seattle to begin his life as a stylist.
It's the night before Thanksgiving and Andy is driving home for the holiday. He's barely in town before he's being stopped by Link outside the local bar. A few games of pool with friends, and a lot of shots later, Andy finally makes it home to his parents house, though he's not told how he made it home until the next day.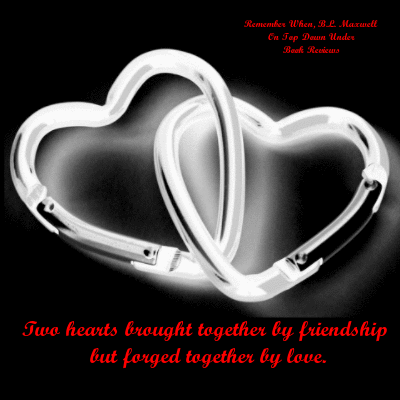 Andy noticed something at the bar he'd never noticed before… Link wasn't just an old buddy. He was now showing interest in Andy that went way beyond friendship. Andy had always assumed Link was straight, so it was really a surprise when Link's hands would end up on his waist or they'd be dancing close on the dance floor. Unfortunately, Andy only remembers bits and pieces. When I say they had shots, they had A LOT of shots. Apparently during Andy's drunken time at the bar Link confessed something to him, something that Andy can't for the life of him remember. It's like it's a big secret that everybody knows but him. No matter how hard he tries, he can't remember many details. Even so, he's seeing a different side of Link. They go back to the bar again and this time Link shocks him by kissing him. One kiss turns into texts (when Andy goes back home) and phone calls, and even a few visits by Link here and there.
To Andy, it's obvious that Link wants him. Link had finally told him that he's pansexual, something Andy never would've suspected. Even so, he's enjoying his new relationship with his old friend, even if he can't remember what it was Link had told him that first night in the bar.
"Last night was the best night of my life, well, one of the best. And it's really important to me that you remember everything before anything else happens between us."
Most of the book is spent with Andy trying to remember what Link had said. A few memories here and there come back, but when he thinks he finally has the main thing figured out, he's scared to tell Link in the event that 'memory' is only a dream.
As they spend more and more time together any 'just friends' feelings he had for Link goes out the window. He's falling for his old friend and he's falling hard. I liked the way everything finally came together with these guys – to an extent. There's an epilogue that takes place a year later. It was very sweet. What kind of bugged me was there wasn't much said about where they'll live or how they'll make the relationship work with both men still living in two different places in the state. Other than that, I was very happy with the way things came together and the epilogue.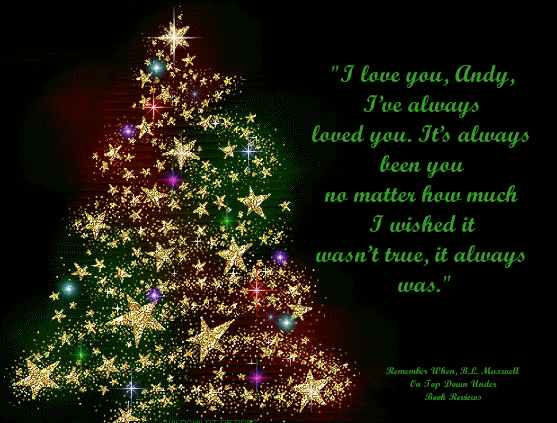 I absolutely LOVED Link. He's one of those characters you can't help but adore. He's been head over heels in love with his friend for so long but has kept it to himself all these years. I liked Andy well enough, though he was a little slow on the uptake with pretty much everything. Remember When is told strictly in Andy's point-of-view. While Link's feelings came through clearly, I wanted his POV too. This is the second book I've read this week (in a row, actually) where the character telling the story isn't the one I want to hear from the most. Even so, I enjoyed watching these two finally come together as a couple.
This is a very slow burn story, so slow I felt certain things went on for too long. Once they finally got it together, it was very nice. I just (as with the last book I read) needed to see more actual 'together as a couple' time, not just what led to them getting there. It was nice watching Andy go from being kind of bleh about the holidays to looking forward to them. With Link, who was full of all kinds of Christmas cheer, Andy really had to just go with it. His going with it showed that maybe all the gift buying and other things weren't so bad after all.
Overall, a very sweet romance between two old friends. I love friends to lovers stories and this one fit that well.
My first by this author.